Citing Threats Of Trump, SEIU To Slash Budget 30 Percent
03:53
Play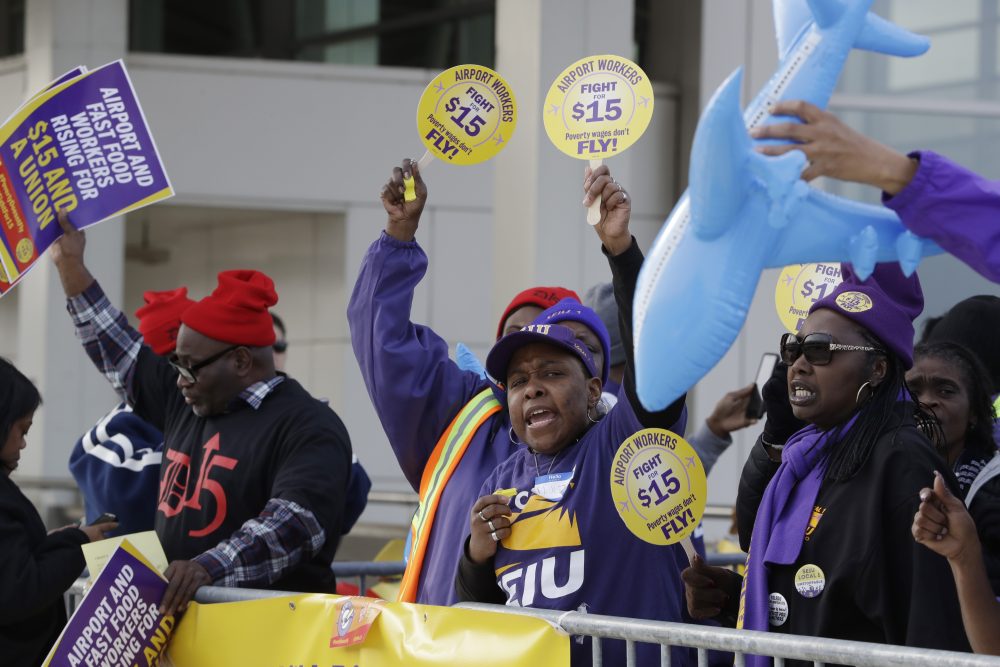 This article is more than 4 years old.
The Service Employees International Union (SEIU) — the second largest union operating in Massachusetts, with some 87,000 members in the state — is slashing its roughly $300 million national operating budget by 30 percent, citing the "threats" posed to organized labor by President-elect Donald Trump.
SEIU's international president told staff earlier this month that because the far right will control all three branches of the federal government, workers will face serious threats to their ability to join unions.
SEIU local 32BJ is fighting for a $15 minimum wage and to unionize 1,500 workers at Logan Airport. 32BJ's Roxana Rivera said it's still too early to know the local effects of the budget cuts. But she does not expect organizing to diminish.
"SEIU and the locals that are under the umbrella of SEIU that carry out the organizing plans, from many years ago we've made organizing a priority," Rivera said.
The SEIU's 30 percent budget reduction will be complete by 2018, with a 10 percent reduction going into effect Jan. 1. The union would not say what exactly will be cut, though the local budgets are not tied to the national budget.
Organized labor is on high alert for coming judicial appointments by Trump. They include more than 100 federal judgeships and a Supreme Court position. And a conservative Supreme Court could decide that non-union workers covered by union contracts can opt out of paying fees that cover the cost of contract negotiations.
Massachusetts AFL-CIO President Steven Tolman said the need to cut could spread to other unions, including his own.
"We always look very closely at the budgets, and if our affiliates are cutting back, it's a sign that the whole industry is going to have to tighten up their belts and be more responsible financially," he said.
But Tolman also said the need for unions will increase.
"Our mission in the fights that we take on are certainly not going to diminish, in fact they're going to augment very rapidly when the new administration is in place," he said.
Some experts feel the coming political climate will demand more political action from unions — and less organizing. Clark University industrial relations professor Gary Chaison said the SEIU budget cuts indicate that's what's happening. But he said the predominance of pro-labor Democrats in the state Legislature make Massachusetts unique.
"The battles to be fought in Massachusetts are different than in other states — but nothing should be taken for granted," Chaison said. "There may have a favorable political climate, but they should allocate funds to make sure that the climate always stays favorable."
Barbara Madeloni -- head of the Massachusetts Teachers Association, the state's largest union at 110,000 members -- said the best defense against Trump is to expand grassroots organizing. She cites the successful "No on 2" campaign, which beat back efforts in the November elections to expand charter schools in the state.
"The question of political power will follow deep organizing," Madeloni said. "That's what we discovered in No on 2 ... the power of people working in coalitions for public education."
Union membership has seen a decline in recent decades, down nearly 50 percent since 1983, according to the U.S. Bureau of Labor Statistics.. The rate of union membership is slightly higher in Massachusetts, where about 14 percent of the workforce — or 402,000 workers — belonged to unions in 2015.
This segment aired on December 30, 2016.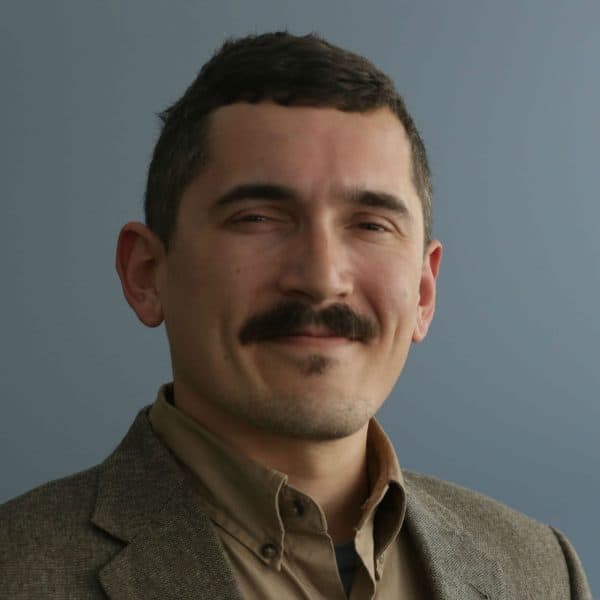 Simón Rios Reporter
Simón Ríos is an award-winning bilingual reporter in WBUR's newsroom.