This article is more than 12 years old.
State lawmakers and Patrick Administration officials are calling for greater oversight of the mortgage lending business.
At a Statehouse hearing yesterday, they expressed concern over failing loans to people with poor — or sub-prime — credit and worried about the impact of increasing foreclosures on an already sluggish housing market.
However, some experts say the trend will not stop the spring housing market from heating up and that too much regulation could have the opposite effect. More now from WBUR's Business and Technology Reporter Curt Nickisch.TEXT OF STORY
CURT NICKISCH: Fraud, fiction, foreclosure. That was the theme of the Statehouse hearing yesterday on the subprime lending market. Isabel Frias testified through a translator a mortgage broker lied to her:
ISABEL FRIAS: When she expressed her concern, he said do not worry, you are only going to be paying two thousand dollars per month.
NICKISCH: Instead, it was three thousand. Frias lost her home in Lawrence after just six months. And she's not alone. Last month, mortgage lenders filed petitions to foreclose on more than two thousand Massachusetts properties. That's almost double the year before. State Senator Jarrett Barrios has sponsored a bill to regulate subprime lenders more tightly.
JARRETT BARRIOS: What we are trying to do in this legislation is create a series of good faith and fair dealing requirements for subprime lenders. Those institutions, which are lending at four, seven, nine percent interest above the market rate.
NICKISCH: Barrios is worried rising foreclosures will create a financial crisis. And some in the real estate market are worried it will depress housing prices for everyone.
Here's the thinking. Thousands of foreclosed homes are going back on the market.
Meanwhile, there are fewer buyers out there, because lenders are now shying away from risky borrowers. High supply, low demand sounds like a recipe for a price crash, but Wellesley College economist Karl Case is not so worried.
KARL CASE: The sky is not falling. I think there's some storm clouds and a little rain, but the sky is not falling.
NICKISCH: Case says house prices may drop a little bit, but mainly in the low-end market. Subprime loans make up seven percent of Boston's mortgage market — which is half the national average.
CASE: The amount of this mortgage paper that's actually at risk — it's not nearly as large as you'd think given the amount of press time and the amount of Congress' time that's being spent on it.
NICKISCH: Case agrees some lending practices should be outlawed, but he's worried the new urgency from Congress and the Commonwealth to clamp down will go too far. He says mortgage lenders don't want foreclosure any more than homeowners do.
CASE: These institutions have an enormous financial stake in getting the default rates right and predicting them and reserving against them in an adequate way. I think the last thing we need is wholesale government involvement.
NICKISCH: Larry Katzman agrees. He's senior sales manager at First New England Mortgage in Newton. He says daily the lenders he works with are growing more conservative with borrowers and brokers. Katzman sees this lending turmoil as an opportunity for the industry to police itself.
LARRY KATZMAN: From our standpoint as a mortgage broker, cleaning up the market, getting rid of marginal competition that is misleading the public, putting a bad name to the industry, we would love to see them by the wayside so we can get back to health competition, good business practice, and being able to educate our clients. That's how we earn our keep.
NICKISCH: At Nuestra Communidad in Roxbury, Sandra Clarke counsels low-income people trying to get loans or avoid default. She definitely wants more regulation to crack down on bad and predatory loans. But Clarke does not want that to discourage fair subprime lenders. After all, more than forty percent of homeowners in Roxbury have subprime loans. Without them, Clark says many people would not be homeowners today.
SANDRA CLARKE: There are some of our clients who are on the edge of being a renter or being a homeowner and isn't that the American Dream? I'd want to ensure that there are good products out there that can meet the needs of all levels of our clients.
NICKISCH: So as state lawmakers and Congress debate new regulation of subprime lending, Clarke and others hope it will combat fraud and unfair foreclosures, without putting the lid on critical financing for low-income borrowers.
For WBUR, I'm Curt Nickisch.
This program aired on March 28, 2007. The audio for this program is not available.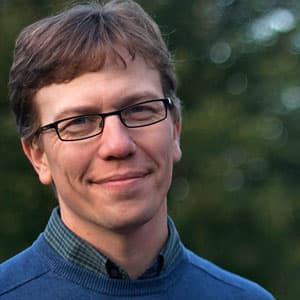 Curt Nickisch Business & Technology Reporter
Curt Nickisch was formerly WBUR's business and technology reporter.