"The Uninsured Will Decide What is Affordable" by Bill Walczack
This article is more than 14 years old.
The first thing I want to say in this edition of my blog is that my earlier entry produced some very negative comments from some good people that I'm generally on the same side with on issues dealing with health care for poor and working class people. It seems that questioning the impact of Chapter 58 on the poor has become the equivalent of wanting to destroy Chapter 58 to some advocates who worked so hard to pass it. So, not that it matters, but let me say that I've spent over 30 years trying to get the poor and working poor access to care, and I do not mean to have my questioning of Chapter 58 indicate that I'm not in favor of providing insurance for everyone, or that I think Chapter 58 is a failure, or cannot be changed sufficiently to ensure this is done. My questions on Chapter 58 are to make sure that someone is asking questions about the impact of Chapter 58 on the working poor, who are the large majority of patients at the Codman Square Health Center.
What's amazing about the debate is that it's still mostly a debate among health care professionals. I've asked many people, even people who work in health care, about the law, and overwhelmingly people tell you they don't know much about the law, and many are astonished (still) that the law requires people to purchase health insurance. So I'd guess that the reality of Chapter 58 is still off in the future for many people who by law will be required to buy insurance.
That being said, the most important issue in the implementation of Chapter 58, indeed the issue that will make or break it, is the issue of affordability. It will be interesting to see how the Connector board deals with it, but in reality, no matter what they ultimately decide, it'll be the uninsured who will determine whether the new Commonwealth Care and Commonwealth Choice plans are affordable. They'll vote with their decision on whether they'll buy it.
So when it's finally put in front of them, will they buy it? My best guess is that people who need health insurance will buy it (whether they will make the monthly payments is another question), but most of those who don't need it won't. Certainly the first year's penalty (loss of your personal exemption for next year's taxes) isn't going to convince people to buy it if they feel they don't need it. So a major goal should be to get people to understand why they need this insurance. Then, there's the issue of value. What are you getting for the money you're putting out. Will it work like auto insurance, where you don't really get much value, unless you're in an accident, but most still purchase it? Or will people think that they never had to pay for this before, why should they now?
Another question is whether any price is affordable to the working poor or even working class. We know that virtually the entire working class, and all poor people, are in debt, many of them up to their ears. The cost of living is quite high in the Bay State, American culture promotes consumption beyond your means, and our credit card debt reports and subprime mortgage crisis both say the same thing - - most working class and working poor people are very seriously in debt, way beyond where they should be. And health care is not only very expensive, it's one of the primary causes of personal bankruptcy. So where's the money going to come from for this additional expense? Hopefully not from plastic money.
The Connector board has made some decisions that should be encouraging to working poor people who are deciding whether to purchase insurance - they kept pharmaceuticals and some pre-deductible primary care visits in the new insurances. Although the current issues are all about money, the real issue, when these issues are resolved, should be about creating a healthy Massachusetts that is able to avoid the hugely expensive system that kicks in when you're not healthy. Managed care at its best is about caring for the whole person, not just about cutting the cost of health care.
My last point in this edition of the blog is another question: Whatever happened to community rating? When I started in health care, which is not that long ago, insurance was community rated, meaning that everyone pretty much paid the same for health insurance - we all shared a burden of making sure everyone could get covered for medical care. So if you were older and required more care, younger people subsidized you. With the ratings established in Commonwealth Choice, you're on your own in your bracket, which is a 5 year period. So if you're young, health insurance is relatively cheap, but God help you if you're in (gulp) your 50s. The difference in insurance premiums is in the thousands of dollars.
The good news is that we'll know the answers to most of these questions (except what happened to community rating) soon.
Bill Walczak, CEO, Codman Square Health Center
This program aired on April 7, 2007. The audio for this program is not available.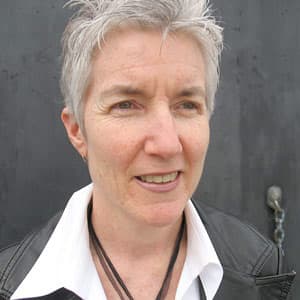 Martha Bebinger Reporter
Martha Bebinger covers health care and other general assignments for WBUR.