A Compromise on What is Affordable - WBUR
This article is more than 14 years old.
A few days ago, the debate about how much of their income uninsured residents will have to pay for required coverage was an exchange of shouts and threats. Today, it looks like the Connector board will get unanimous approval on a compromise plan. W-B-U-R's Martha Bebinger has some details and insights into how they bridged the divide.
MARTHA BEBINGER: As Massachusetts gets ready to impose mandatory health insurance, setting rules about how much uninsured residents will be required to spend on health coverage is one of the most difficult practical and political decisions. Earlier this week, there were dueling proposals. Major business and health insurance leaders told the Connector that the vast majority of the uninsured must be required to buy coverage, while religious, community and medical groups urged broad exemptions. Celia Wcislo, a union leader on the Connector board, says the diverse sides were both committed to covering the uninsured.
CELIA WCISLO: It kept us coming back at each other at points where we were very frustrated and upset. This need to get people insurance, to do it right and to be a model that other people can look at, kept us coming back at it.
BEBINGER: The compromise offers free health insurance to more of the lowest income residents. There are 2 improvements for those who earn up to $30,000 a year, and qualify for subsidized insurance. They will pay a little less, and adults with families in this bracket won't pay anything extra for their children. The changes could cost the state an additional 16 million dollars to next year…although the Connector hopes to recoup some of that because fewer people would use the free care pool. For residents who must buy health insurance on their own, there is a sliding scale for incomes up to $50,000 a year for individuals, more for families. Health Care for All's Brian Rosman says the plan is a milestone.
BRIAN ROSMAN: The proposal represents a compromise that we think makes tremendous strides in making the health care reform law work. We are over a major hump.
BEBINGER: The connector estimates that 99% of the state's population will have health insurance using these affordability guidelines. That leaves about 60,000 residents for whom there will not be affordable health insurance available, so they won't be penalized for not having it. Massachusetts Taxpayers Foundation President, Michael Widmer says that's a reasonable number while still requiring that individuals share the cost of insurance.
MICHAEL WIDMER: I wish it were less, on the other hand, what the advocates wanted would have waived out most of the uninsured population and clearly that's not health reform.
BEBINGER: Connector Director Jon Kingsdale says he thinks the compromise reflects a growing acceptance about the value of health coverage.
JON KINSDALE: While any payment for health insurance for people of low or modest means, of course is a burden. Being uninsured, which means emergency room or clinic care when things flare up as opposed to having a personal physician and comp benefits, its really not more affordable to be uninsured than it is to pay something and be insured.
BEBINGER: But while a wide variety of religious, civic and business groups may be in agreement, selling that idea to many of the healthy uninsured will be tough. John Kerr of Quincy is a full time musician who qualifies for subsidized coverage. But Kerr says even if he could afford health insurance, he is turned off by the idea that he'll be required to buy it.
JOHN KERR: I don't understand why something, especially in a free market economy, has to be forced on people in order to have privilege. That seems to be almost a paradox.
BEBINGER: For those who won't face any penalties…the waiver is bitter sweet. Susan Butterworth is a 56 year old English professor at Salem State College who works just less than full time and isn't offered health insurance. She earns just over $30,000 dollars a year. Matching her age and income in this proposal, there are no affordable health plans.
BUTTERWORTH: Which is actually a relief, because I knew I couldn't afford it and yet there was going to be a penalty if you weren't insured. So actually I'm happy about the waiver, but I'm still going to be uninsured.
BEBINGER: Those who aren't as lucky, or unlucky, as Butterworth will be able to appeal the requirement they have health insurance. The Connector may begin discussing criteria for those appeals today.
This program aired on April 12, 2007. The audio for this program is not available.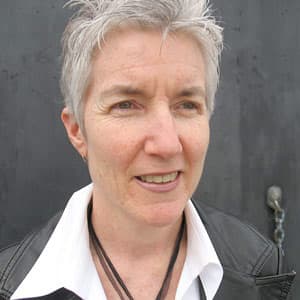 Martha Bebinger Reporter
Martha Bebinger covers health care and other general assignments for WBUR.