Reunion in "No Man's Land" at ART
This article is more than 13 years old.
The American Repertory Theatre is hosting a reunion of sorts with its new production of Harold Pinter's "No Man's Land."
It brings director David Wheeler back to the city where he started the influential Theater Company of Boston in the 1960s...and helped launch the careers of actors including Al Pacino, Stockard Channing, and Paul Benedict.
Benedict is widely known for playing Harry Bentley on the TV sitcom 'The Jeffersons,' but now he too is back in Boston, with Wheeler, doing Pinter.
More on the story from WBUR's Andrea Shea.TEXT OF STORY
ANDREA SHEA: David Wheeler has been directing plays for decades...in Boston, on Broadway, and beyond. He's staged fourteen by British writer Harold Pinter...but Wheeler says he's never done 'No Man's Land.'
DAVID WHEELER: I was fascinated to have the chance to do the play I looked at it for many years and yearned to do it but not had actors who had sufficient age, I had to wait until my actors aged, and now they're the right age to do 'No Man's Land.' I loved it because it's both a funny play and at the same time searching.
PAUL BENEDICT: I've been calling it lately the funniest play I've ever encountered about old age, alcoholism and death. (laughs)
SHEA: That's longtime stage, film, and television actor Paul Benedict. He's one of Wheeler's longtime actors. They both have a 'thing' for Pinter.
BENEDICT: His games that he plays in all of his plays are really emphasized here so that the audience hopefully doesn't have a clue from moment to moment who's telling the truth and who's lying about what.
SHEA: The connivery begins when Benedict's character, Hirst...an aging, successful writer...brings a disheveled poet named Spooner back to his North London home for drinks. Lots of drinks. Max Wright plays Spooner here with Benedict.
SCENE FROM PLAY: Do I detect a touch of the hostile? Do I detect with respect a touch of too many glasses of ale followed by the great malt which wounds? Tonight, my friend, you find me in the last lap of a race I had long forgotten to run. A metaphor. Things are looking up. (laughter) - FADE
SHEA: Hirst's young, thuggish servants join the party and a wordy, often hallucinatory power struggle ensues. It's the kind of Pinter scene Benedict and Wheeler have tackled in the past. The director says the actor never fails to convince and always understands the writer's ambiguous style.
WHEELER: I can miss the humor but Paul will never miss it. He loved the chance and the pauses and silences to be finding another vein of subtext of what the character is actually thinking, because of course that's what Pinter is focused on, what are you thinking, it's not just what are you saying, which is the normal actor's province, but what are you thinking.
SHEA: At a recent A.R.T. rehearsal Wheeler and Benedict huddle, fleshing out Hirst's shifting psychology.
SCENE FROM REHEARSAL: I've never played all of it as distress and I never will but a lot of it is distress it's true, it's true, a lot of it is. - FADE
SHEA: Wheeler and Benedict's working relationship began in the 1960's in Boston. They're both from here, and, as the director recalls...
WHEELER: I was seeking actors desperately in 63, and I went to a little theater called the Image Theater.
SHEA: That's where Wheeler first saw Benedict on stage...playing an old man.
WHEELER: And then suddenly I looked again and said my god! He's an incredible actor because he's a young man, he's just a kid and look what he's doing with his role!
SHEA: Benedict joined Wheeler's fledgling group...the Theater Company of Boston. The actor remembers how Wheeler then set his sights on a crop of undiscovered talent in New York.
BENEDICT: He had a great great eye. And not because I was in the company because I was a local boy, I was just easy to use, you know, but he'd go down there with all these young, beginning actors who couldn't get arrested in New York, and he'd go and look at a hundred of them and he'd come back with Dustin Hoffman, Robert Duval...WHEELER: In a given 5 year period we had 4 Academy Award winners...let's see who were they, Dustin Hoffman, Robert Duvall, Pacino, Robert DiNero and Jon Voight.
SHEA: That's five Academy Award winners...but who's counting?
WHEELER: We were very good at grabbing the best that was emerging from the scene.
BENEDICT: We didn't know who we were seeing except that we were seeing great actors.
SHEA: Theater critic Ed Seigel describes Wheeler's Theater Company of Boston as edgy, low-budget and 'legendary.' He says the plays...by Pinter, Albee and Brecht...and the actors in them...changed the way he looked at theater and inspired him to review.
ED SEIGEL: At the time there was not American Repertory Theater, there was no Huntington Theater Company, there was no real national support of the arts, so companies like the Theater Company of Boston which was really their un-doing had to make it on their own.
SHEA: The Theater Company of Boston made it until 1975 before folding. Wheeler went on to teach at Harvard and direct at the A.R.T. Benedict hit the stage in New York and also found work on TV and film. Seigel says he's glad to see Wheeler and Benedict back in Boston doing Pinter.
SEIGEL: Paul Benedict as we all know from 'The Jeffersons' is always a funny actor, he's almost cast completely in comedic roles and I think that Wheeler gets all of that, plus he gets something a little more dangerous out of Benedict, he's almost grabbing you by the lapels even as he's entertaining you.
SCENE FROM REHEARSAL: 'Give me the bottle! Give me the bottle!'
SHEA: But Wheeler admits directing 'No Man's Land'...a play about aging, memory and loss...is tricky. Especially considering his own advancing age...and the age of his actor.
WHEELER: The problems change as you get older. I get fogged, Paul doesn't get fogged...in this play particularly, the proposition of dying and where are your friends that are dead, which Pinter in this play is exhuming his friends...and you get it, you get it very clearly.
SCENE from rehearsal - Who is this man do I know him? He says he's a friend of yours. My true friends look out at me from my album. I had my world. I have it... FADE
SHEA: 'No Man's Land' is Wheeler's twenty-second production at the A.R.T. And, as it turns out, he's creating some new memories for his own personal album...because his son, actor Lewis Wheeler, is one of the thugs in the play.
For WBUR I'm Andrea Shea.
This program aired on May 18, 2007. The audio for this program is not available.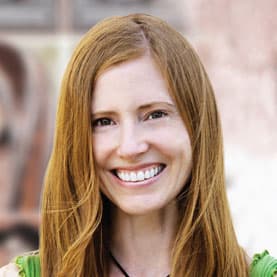 Andrea Shea Senior Arts Reporter
Andrea Shea is WBUR's arts reporter.