Under the Bridge, A Skater's Haven
This article is more than 13 years old.
What does the 70-year old artist who created the famous bronze ducklings in Boston's Public Garden have to do with skateboarders?
She and they are pushing the construction of a state-of-the-art skate park under the Lenny Zakim Bridge.
Last week, the skate park's architect shared the plans with sculptor and grandmother Nancy Schon and with area skaters.
WBUR's Andrea Shea was there.TEXT OF STORY
SOUND FROM SKATEBOARD PARK
ANDREA SHEA: There are dozens of skate parks in and around Boston. One of the largest is in Hyde Park, and it's a little hard to find. 27 year-old skater Sean O'Brien comes here from Roslindale a few times a week to practice kick-flips, mid-air twists and grinds.
SEAN O'BRIEN: You want a nice street section but ramps are fun, half pipes, mini ramps.
ANDREA SHEA: The 'street section' replicates an urban plaza. Skating stairs and rails planted in a park is okay, but O'Brien confesses: nothing is quite as seductive as the real thing.
SEAN O'BRIEN: The good spots you can't skate basically and if you're hard core into it you just have to skate it (laughs) it's hard to explain I guess.
ANDREA SHEA: Some notorious 'good' spots in Boston include Post Office Square, City Hall Plaza, the steps at the Public Library and Copley Square. But it's illegal to skate on public property in the city. Police frequently detain kids, issue them tickets, and take away their boards.
NANCY SCHON: The fact of the matter is that they have been and are destroying the city. But it's a catch-22. If you have no place to go what are you gonna to do?
ANDREA SHEA: No place that's challenging enough and convenient enough to entice skaters off Boston's streets, according to public artist Nancy Schon. She made the bronze 'Make Way for Duckings' figures in the Public Garden, along with other works around town.
NANCY SCHON: Some people call me the 'Dragon Lady' because of the dragon I did in Dorchester. Some people call me the 'Duck Lady' because of the ducks. (laughs) So now I'm the grandmother of the skate park.
ANDREA SHEA: The proposed 40,000 square foot Charles River Skate Park promises to be the biggest and most modern on the East Coast. Schon became its 'grandmother' back in 1995 after installing her 'Tortoise and Hare' sculpture in Copley Square. The artist says it took seven grueling years to get the piece approved by the city and set in the ground. Then she says skateboarders started doing tricks on her hard-won work.
NANCY SCHON: An Ollie is the major move that the skateboarders do and they go back on their skateboards and they can jump over things, that's how they go down stairs and on the railing, well they just loved my tortoise and the hare they thought it was a new toy for them to play with (laughs) so I ran down there very very angry and I started to talk to these kids, and all of a sudden something very strange happened. I found they were good kids. They weren't hoodlums. They were dressed like vagabonds, but then I later learned that of course in order to skate you have to dress is very loose clothes.
ANDREA SHEA: Schon's encounter with the skaters inspired her to launch an effort to build a big, impressive park that would be centrally located and close to public transportation.
SOUND OF TRAIN AND HIGHWAY TRAFFIC
ANDREA SHEA: The new 2.2 million dollar park is sited for construction under the Lenny Zakim bridge on a swath of under-developed land between the Charles River and the Museum of Science. While forty acres of parkland will eventually surround it as part of the Big Dig's greenway, right now it's just dirt and mud. Even so, Schon calls that progress.
NANCY SCHON: It was literally a dump. It was awful (laughs) I can't believe it's even flat at this point.
ANDREA SHEA: Last week skateboarders, parents and supporters gathered at the Boston Public Library for the latest in a series of workshops and got an update on the skate park's progress.
ZACH WORMHOUDT (from podium addressing the crowd): Although the design for fundraising purposes and initial design purposes are hard-lined as it's shown here we know that change is still going to occur, we actually are soliciting after a meeting like this...
ANDREA SHEA: Architect Zach Wormhoudt flew in from Santa Cruz, California to present the design. His company has developed about eighty facilities in the U.S. but also in Hawaii, Israel and the UK. He says half of the park here will have street elements like stairs and railings...
ZACH WORMHOUDT: ...and then the other half of the park is what we call transition or pool or bowl skating, which is more curvilinear, organic forms and shapes like empty swimming pools.
ANDREA SHEA: The overall design will be unlike anything available in the North East, according to Wormhoudt. Skaters flock to a park he built in Louisville, Kentucky. But the terrain and conditions at the proposed site here make it one of the most challenging he's ever worked on.
ZACH WORMHOUDT: Looking at all the underground utilities that exist, the depth of the water table, it's under bridge structures and there's the columns, footings, all of the associated set backs there, the list just goes on and on.
PATRICK LEARY: It's really like the big dig in everybody's eyes.
ANDREA SHEA: Patrick Leary manages The Underground, a skate shop in Boston.
SOUND FROM RAMP SKATERS IN SHOP
ANDREA SHEA: A donation bucket for the skate park sits by the register, but Leary says after hearing about the project for ten years many area skaters have given up hope.
PATRICK LEARY: You know we can sit here and do interviews all day and have meetings and tea parties and you know slap high fives all day long but when it comes down to it nothing's happening.
ANDREA SHEA: Greg Daliber, a twenty-one year old BMX biker, says he was excited about the park throughout high school.
GREG DALIBER: I was psyched to be able to ride it every day and high school came and went now I'm 4 years through college and it's a lot of talk.
ANDREA SHEA: But manager Leary says if they actually do build it there's no doubt the skaters will come.
PATRICK LEARY: It will have a huge draw and there will be a legit place to go and skate and people will love it, but ultimately I don't think it will keep skaters off the streets.
ANDREA SHEA: Charles River Skate Park proponents say they hope to break ground this year, but problems associated with the Big Dig tunnel collapse have caused delays. And while they've obtained some of the 2.2 million dollar cost of the project from donors such as the Tony Hawk Foundation, they still need another million dollars for their dream to be fully realized.
For WBUR I'm Andrea Shea.
This program aired on May 29, 2007. The audio for this program is not available.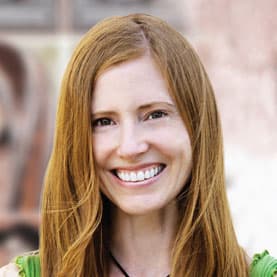 Andrea Shea Senior Arts Reporter
Andrea Shea is WBUR's arts reporter.