This article is more than 12 years old.
Forget Red Sox and Patriots tickets. This weekend, one of the toughest tickets to get is for Sunday's match of the New England Revolution. That's the Major League Soccer team that plays in Foxborough.
The reason for the sold-out Gillette Stadium is global sports icon David Beckham. His new US team, the Los Angeles Galaxy, is taking on the Revolution.
The local players want to win, but local team owners want to win financially...and not just at Sunday's match. WBUR's Business and Technology Reporter Curt Nickisch reports on the impact of 'Beckhanomics.'
TEXT OF STORY
SOUND OF FANS CHEERING AND GROANING
CURT NICKISCH: At New England Revolution home games, the most die-hard fans stand behind the goal, swear at the referee, insult the other's team's goalie, and basically sing songs for ninety minutes:
SOUND OF FANS SINGING "You know we love New England, we do, we do!"
NICKISCH: Stop and ask any one of them about David Beckham and his two hundred fifty million dollar deal to play Major League Soccer, and you'll get a sneer. To them, there was a big record money transatlantic transfer this year. But it was their star player — New England midfielder Clint Dempsey went the other way — to Old England, for $4 million, the most ever for an American in English soccer.
SOUND OF STADIUM ANNOUNCER: "And at number 23, our new signing from the USA, USA international Clint Dempsey!" THEN SOUND OF CROWD CHEERING
NICKISCH: At Dempsey's debut for the London team Fulham earlier this year, 16-year-old Matt Heal was already wearing a #23 Dempsey jersey. He acknowledged the irony, since 23's the number David Beckham now wears for the Los Angeles Galaxy now.
MATT HEAL: We'll hope Beckham going to America does his bit, and you're American player comes to Fulham and does his bit for us!
NICKISCH: Selling jerseys and marketing abroad is what Fulham wants --and what Major League Soccer in America — or MLS - has in mind, too. Greg Lalas calls Revolution games for TV and radio, and says Beckham changes everything.
GREG LALAS: One of the things that's going to happen is people are going to watch. And then somebody's going to say, hey, there's an interest here. And if there's an interest, there's a market. And if there's a market someone's going to buy the game of the week.
NICKISCH: While branding abroad and new TV contracts may help the entire league, the local franchise has its own designs. First, to sell more tickets. Lalas says many people in this sport-obsessed region around Boston have no idea how inexpensive Revolution games can be:
LALAS: A Revolution ticket is much less than a Bruins ticket, and the Bruins are horrendous! Who would ever want to pay that amount of money to watch the Bruins, when you could pay half that price, and come and watch the Revolution, who are a top team in the league? So in terms of value for the dollar, MLS and the Revolution are amazing that way.
NICKISCH: One reason for the low prices is that the league has kept player wages down. The minimum yearly salary for developing players is $30,000 — a light-year away from the $250,000,000 David Beckham is to earn over five years. And Beckham's injured and hasn't even played an full MLS game yet, says Rob Feigenson, an agent who advises a few on the Revolution roster.
ROBERT FEIGENSON: And I've spoken to some players who were both thrilled to have him here, but also can't really just grasp how it's possible, just given the fact that in one day sitting on the training table the way David Beckham has so far, he makes more than any one of these developmental players makes in a full season.
NICKISCH: Feigenson says if Beckham brings the league more dollars, eventually more dollars are going to have to go to the players. That future may bring higher ticket prices. But New England Revolution have always wanted to grow, says the team's chief operating officer Brian Bilello. He says the Revolution were looking at building a new soccer stadium in Somerville even before Beckham came on the scene.
BRIAN BILELLO: Soccer doesn't need saving in this country by any stretch of the imagination. We're in a very good position right now in the league, our club is in a good position. But there's always room to do more. You know we want people to be fans of David's, we want people to see the stars and some of the other teams, but more so we want them to become Revolution fans in our market.
NICKISCH: That's the big challenge, to get those folks coming Sunday to see David Beckham, to end up Revolution fans like these, cheering against the soccer superstar.
SOUND OF FANS CHEERING AND CLAPPING: "New England! New England!"
NICKISCH: Maybe this weekend's MLS first-timers will take a lesson from the New England Revolution of the 1770s, when Boston sent the British packing, licking their wounds. Today's New England Revolution wants to send Beckham packing, and start counting their profits.
For WBUR, I'm Curt Nickisch.
This program aired on August 10, 2007. The audio for this program is not available.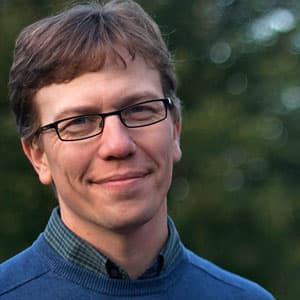 Curt Nickisch Business & Technology Reporter
Curt Nickisch was formerly WBUR's business and technology reporter.