This article is more than 12 years old.
The housing credit crunch is giving investors a wild ride on Wall Street, but how's it playing in Massachusetts neighborhoods? The rules keep changing for getting home loans, so it's giving buyers headaches.
But those who do fight their way through the paperwork may have a better chance of getting a good price on the home they're buying. WBUR's Curt Nickisch reports.
TEXT OF STORY
CURT NICKISCH: It's like junk mail you have to read.
SOUND OF OPENING ENVELOPE
NICKISCH: Thick envelopes from Lucia Sullivan's mortgage company keep showing up in her mailbox. That's because the terms and interest rates keep changing.
LUCIA SULLIVAN: I guess they're computer generated. So every time the banker enters a scenario, we get this big packet which sort of explains the whole loan. There's a different one every day, and I don't: horrifying!
NICKISCH: At first, Sullivan was quoted a loan that saved her from paying a fee for not being able to put twenty percent down. Now she and her husband will have to pay it — an extra two hundred dollars a month.
SULLIVAN: Even now, I don't really know what the monthly payments going to be. Every day it's a little different. You know its a hundred dollars, two hundred dollars, it goes up, it goes down. I don't have any hard numbers and we're buying this house allegedly Friday.
NICKISCH: Lenders like Sullivan's are changing the rules left and right just to stay clear of the mortgage credit crunch on Wall Street. One person who's been dealing with this every day is Larry Katzman. He brokers loans through First New England Mortgage in Newton.
LARRY KATZMAN: With the tumultuous times we're going through, we have had lenders that have cancelled mortgage programs, have changed rates, and have not honored some of the rate locks that we have provided to borrowers.
NICKISCH: It's enough to make the uneasy shy away from the market for now. That means there are fewer buyers competing for an already high number of homes for sale. So homebuyers who can navigate this loosey-goosey lending landscape might see a payoff.
RONA FISCHMAN: The buyers that have been waiting for a break in the clouds, this is probably it.
NICKISCH: That's Rona Fischman, a real estate broker in Somerville who represents buyers only. She says with speculative investors running from the market... with for sale signs going up and staying up... with fewer buyers qualifying... Greater Boston might just see its first buyer's market in years. And Fischman says homebuyers who don't max themselves out have a better chance of getting a loan.
FISCHMAN: People who have borrowed way up at the tippy top of what they can borrow, when the rules change, and suddenly the investor says, I want them to borrow twenty thousand less, those people are out of luck. But if you're only borrowing seventy or eighty percent of what you can borrow, then those little vagaries aren't effecting you.
NICKISCH: Fischman also advises her buyers before making an offer to fill out loan applications with different lenders to lock in rates. Each app costs a few hundred dollars, but that's a small price to pay for certainty, she says. She also tries to talk her clients out of thinking of their houses as investments, instead of places to live. Manny Schiffres agrees. He edits Kiplinger's personal finance magazine.
SCHIFFRES: It can be a piggy bank if you have home equity, but I think the reason you don't treat your house as an investment is because it's illiquid. You can't trade your house.
NICKISCH: A lesson that's hitting home, now that it's become harder to buy and sell.
SOUND OF BOY CRYING
SULLIVAN: Does your head hurt, did you bump it in your crib?
NICKISCH: At her Cambridge condo, Lucia Sullivan comforts her son who's woken up early from a nap. She hopes her own home buying headache ends soon — Sullivan's supposed to close on Friday, assuming her mortgage really does go through.
SULLIVAN: I remember years ago, everyone was talking about their interest rate. It was like cocktail party conversation, who was under six percent and who had this and who had that. It was great fun. I feel like now, I'll just feel grateful to buy the house...
NICKISCH: A feeling more homebuyers are no longer taking for granted, but at least they're more likely to get that feeling for a better price.
For WBUR, I'm Curt Nickisch.
This program aired on August 28, 2007. The audio for this program is not available.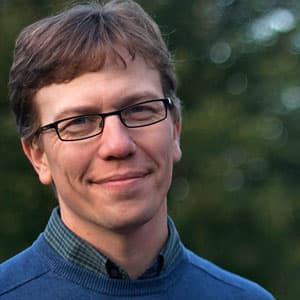 Curt Nickisch Business & Technology Reporter
Curt Nickisch was formerly WBUR's business and technology reporter.