Workers Drive Corporate Giving
This article is more than 12 years old.
This morning, Boston business leaders are gathering to honor the top givers among them.
The Corporate Philanthropy Summit is sponsored by the Boston Business Journal, which is publishing its annual corporate philanthropy report.
The newspaper says, increasingly, younger employees are driving the giving and volunteering at their Boston-area firms.
More now from WBUR's Business and Technology Reporter Curt Nickisch.
TEXT OF STORY
CURT NICKISCH: At Aveo Pharmaceuticals in Cambridge, Tom Mullin is packing up socks and children's books in black plastic bags.
SOUND OF PLASTIC BAGS RATTLING
NICKISCH: Then the mid-level manager carries them down the elevator, past security, and across a corporate plaza, to the Salvation Army a block away. It's there that 38 boys and girls are taking a nap.
TOM MULLIN (whispering): And then we'll take a look through here...
NICKISCH: It's the city's only day care for homeless children.
MULLIN: They only had one microwave and one toaster oven, and they're trying to feed 38 children, two or three times a day. So we got them three microwaves and three toaster ovens, and then we got them chairs to put at their tables with little seatbelts!
NICKISCH: All of this was Mullin's idea. He delivers donations twice a week on company time. As he walks back past across the corporate plaza, Mullin says the need at the Salvation Army might seem a world away, but it was easy for him to get Aveo workers to donate these items.
MULLIN: People want to give and donate, they just don't know how to get started. So if you can get something started, they're more than willing to get involved and help you out. It's been terrific; this company's a very generous company. From the top all the way down, it's been wonderful.
NICKISCH: It turns out that a growing number of people such as Tom Mullin are changing the way companies do philanthropy. Brad Googins runs the Center for Corporate Citizenship at Boston College. He says especially younger workers are trying to leverage their company to make a difference in the community.
BRADLEY GOOGINS: This generation is wanting to know, yeah, this sounds like a good job, benefits and so forth, but what about citizenship and a broader set of issues?
NICKISCH: For instance, Googins says recruiters for General Electric this year found that the single most requested information about the company was its corporate responsibility report.
He says that's because people entering the workforce have come of age in the social networking era, where old models of a company writing a check to the United Way or volunteering at a soup kitchen once a year just don't cut it anymore.
And that trend is apparent at William Gallagher Associates in downtown Boston.
PHILIP EDMUNDSON: Ideas that come from the grass roots, rather than ideas we impose down.
NICKISCH: That's CEO Phil Edmundson, talking about his company's approach to philanthropy. He set up a committee of mostly younger workers to look at request for volunteer work or donations and decide what to get involved in.
EDMUNDSON: And given that there are so many good charitable causes, I might as well support the ones that the group through its committee want to support. I think that's a better way for me to cut through the sometimes cluttered world of charitable giving.
NICKISCH: Still, letting employees take more control of company giving can have its downsides, because everything they do reflects on the firm. Boston College's Brad Googins says what if workers want to get the company involved in a right-to-life campaign, or a gay pride activity?
GOOGINS: And so that's a new learning for companies that have sort of siloed investor relations over here and employee relations over here and the foundation over here. And it all has to be authentic. What do we really believe in?
NICKISCH: But Googins says the potential outweighs those downsides. He says the public values corporations less today because of excesses in recent years. But that trust can be restored, he says, if companies let their workers harness their dollar and human wealth in meaningful ways.
For WBUR, I'm Curt Nickisch.
This program aired on September 6, 2007. The audio for this program is not available.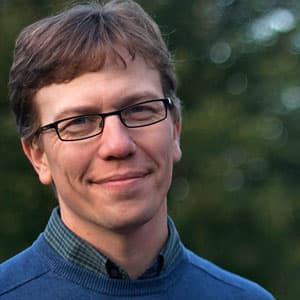 Curt Nickisch Business & Technology Reporter
Curt Nickisch was formerly WBUR's business and technology reporter.