Colleges Face Fewer Applications
This article is more than 12 years old.
Manufacturing and financial services are no longer the New England industries they once were. Could higher education be the next to lose dominance?
The region's colleges and universities are a $20 billion industry. But recent figures show the New England's share of the nation's high school graduates is dropping.
Experts fear the demographic trend could squeeze scores of colleges out of business.
That story now from WBUR's Business and Technology Reporter Curt Nickisch.
TEXT OF STORY
CURT NICKISCH: Greater Boston's colleges and universities are home to more than two hundred fifty thousand students. But maybe not for long.
EVAN DOBELLE: What's coming down the pike for New England colleges and universities is we have less and less eighteen-year-olds available to go to college.
NICKISCH: Evan Dobelle heads the New England Board of Higher Education. He says the region's stagnant population means the number of high school graduates here is about to drop. Meanwhile, California, Texas and Florida are seeing double-digit increases. Those are states that don't buy into the idea as much that New England is where America goes to college.
DOBELLE: There is going to be a tsunami going to hit New England higher education in the next ten or fifteen years that is going to be extraordinary. And there's going to be a lot of empty granite, Gothic buildings standing that used to be colleges and universities in the six New England states.
NICKISCH: Many of New England's two hundred seventy colleges are waking up to that reality, and trying different ways to get ready. Much the same way some universities build lavish locker rooms to attract athletes, Bentley College in Waltham has invested heavily in technology for an edge.
SANDRA KING: In our dorms you can check on the computer when the washing machine is done!
NICKISCH: For Marketing Director Sandra King, the mantra for selling this business-focused college to prospective students has become: Distinguish or Perish.
KING: Particularly the technological resources that we have that are highly integrated in every single class that our students take, if we can tease out some of those message points to the market, then they'll take a look at us.
NICKISCH: But those investments come at a cost that eventually trickles down to tuition bills. At Tufts University, the rising cost of higher ed worries admissions director Lee Coffin. The yearly tally for tuition, room and board at Tufts is closing in on fifty thousand dollars.
LEE COFFIN: That cost is finally to the point where families remember buying a home and it cost less than that.
NICKISCH: Coffin says the trend is coming at the same time that more of the country's high school graduates hail from the West and the Sunbelt, where private universities are a little cheaper and public universities have gotten better. These converging market forces are forcing Tufts to broaden its search for students. Coffin's hired more recruiters to canvas Texas and California, and he's put more money into campus tours on the web.
COFFIN: I think over the long run, the traditional idea of going to college in New England will still have resonance. Whether every family will be as charmed by the leafy campus and the kids under the tree and the Frisbee remains to be seen, and there are a number of families that are becoming more immune to that mythology. And that's where we have to be focused on: what do we offer people?
NICKISCH: Colleges that don't have good answers to that question could be in trouble. And losing them would be bad news for the region, says Evan Dobelle at the New England Board of Higher Education. He wants colleges here to band together, by branding together.
DOBELLE: They all have the ability to advertise, if you will, themselves. Much like you do about going skiing in Colorado. Go to college in New England.
NICKISCH: At the moment, little is being done collectively to adapt to the increasingly competitive higher ed landscape. For now, it's up to each New England college to explain why its leafy green campus is worth the pricey gold.
For WBUR, I'm Curt Nickisch.
This program aired on September 20, 2007. The audio for this program is not available.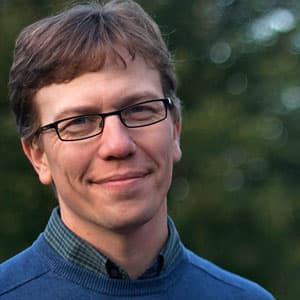 Curt Nickisch Business & Technology Reporter
Curt Nickisch was formerly WBUR's business and technology reporter.