SENATE PRESIDENT THERESE MURRAY LAYS OUT HEALTH CARE COST CONTROLS
This article is more than 14 years old.
DISSECTING HEALTH INSURANCE PREMIUMS, PAYING HOSPITALS AND DOCTORS BASED ON PERFORMANCE…AND MAKING PRIMARY CARE A MORE ATTRACTIVE FIELD FOR DOCTORS ARE PARTS OF A PACKAGE OF HEALTH CARE COST CONTROLS FROM SENATE PRESIDENT THERESE MURRAY. IN HER FIRST MAJOR ADDRESS SINCE SHE BECAME THE SENATE PRESIDENT…MURRAY OUTLINED PLANS TO TACKLE HIGH ENERGY AND HOUSING COSTS AS WELL. BUT HEALTH CARE IS THE MAIN ATTRACTION.BEBINGER: Therese Murray was a key player in passage of the health care law...still in an early phase...that includes mandatory health insurance.
MURRAY: Now comes phase two: out health care costs are squeezing young people, families, small and large businesses, and our state finances…So how do we make health care sustainable for the next 20 years?
We have some ideas…about how to meet that challenge.
BEBINGER: Murray told an audience at the Greater Boston Chamber of Commerce that she will take on one of their top issues… health insurance rates that are rising by about 10-percent for the 8th straight year.
MURRAY: In a market where we are requiring every citizen to purchase health insurance, there should be a process to document the need for premium increases in excess of 7% in any given year.
BEBINGER: Murray proposes hearings triggered by any increase of more than 7%.
CHARLIE BAKER: I think given the rate of health care increases in Massachusetts I think that's an idea whose time may have come.
BEBINGER: Harvard Pilgrim Health Plan CEO Charlie Baker.
BAKER: I'm a big believer in a more informed conversation about what's driving up health care costs and if that kind of a process is the only way to put that question before the public and the body politic and everybody else, then it is worth considering, although it does come with significant downsides.
BEBINGER: The hearings could be costly and time consuming says Baker and it would be difficult to explain how and why premium increases vary among different size companies and different insurance plans. Some business leaders may stake out front row seats. Jon Hurst is President of the Retailers Association of Massachusetts.
HURST: I'm really glad to hear a leader who is willing to go after, not only the big hospitals who are doing some questionable expansion which we're all paying for, but also these health insurers who are doing pretty well under the new law but have some significant reserves. Let's take a look at this and whether these double digit increases are warranted.
BEBINGER: Hurst touches on several parts of Murray's plan. The Senate President wants to the state to be more assertive in deciding where and when to allow hospital and clinic expansions. And she wants to take a close look at how much hospitals and insurers set aside…after expenses.
MURRAY: Some non-profit and insurance companies have reserves almost as large as the state's reserve that are use for purposes other than health care. Why not re-invest this money to bring down costs and add access for health care and research.
BEBINGER: Records filed with the state show that Massachusetts' four largest insurers had 2.4 billion dollars in reserve last year…although a good portion of that is required for emergencies. Murray also wants to reverse the shortage of primary care doctors by expanding medical school loan forgiveness programs, offering mortgage assistance and shrinking the gap between what primary care physicians and specialists earn. She proposes wider use of electronic health records and will try to restructure financial incentives so doctors and hospitals are paid based on the quality, not volume of patient care. Most of the key players in health care see some things they like and others they question. Tom Glynn is the COO at Partners Health Care.
GLYNN: She was pushing everyone, pushing the hospitals, pushing the payers, but appropriately and you know, saying, lets have a broader discussion about these things. I was very, very impressed.
BEBINGER: The Senate is putting Murray's ideas on the fast track. Senator Richard Moore hopes to have the package, which is still a work in progress, passed in the Senate by the end of next month.
MOORE: The Senate is very collegial and receptive to things and we'll get it worked out. But we'll see whether that's doable or not. It depends on what other distractions we get.
BEBINGER: Several members of the audience said Murray dispelled the notion that the Senate is waiting around to see what will happen with one distraction…casinos.
To read Senate President Therese Murray's full speech, click here.
This program aired on October 25, 2007. The audio for this program is not available.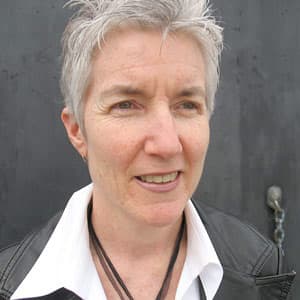 Martha Bebinger Reporter
Martha Bebinger covers health care and other general assignments for WBUR.