This article is more than 13 years old.
'Holy Caped Creators,' as Batman's sidekick would say. Some Boston artists, tired of living in the shadow of New York's scene have transformed themselves into crusaders for a publicity shoot.
Why? To win this 'Gotham City' the creative respect they say Boston deserves. They're calling themselves 'The Superheroes Project,' but a rival artist collective has risen up to foil their scheme. WBUR's Andrea Shea takes the story from here.
ANDREA SHEA: The 18 mild-mannered sculptors, painters and mixed-media artists in The Superheroes Project see something of themselves in their comic book personas.
Superhero theme music
SUPERHERO ARTISTS: My name is Nick Rodriques, a.k.a.The Mighty Thor and me and Thor both work with hammers doing sculptures. — My name is Samantha Fields and I am Supergirl and to be honest I chose her because she wears a skirt (laughs) and there's no way I was putting my body into a suit of spandex. — Matthew Nash, the only blonde superhero I could think of off the top of my head who was relatively scrawny was Aquaman and so I became Aquaman.
ANDREA SHEA: Aquaman and his fellow crusaders posed for a glossy group photo that's being sold as posters to fund The Superheroes Project. It's an artist-driven campaign to boost Boston's visibility. They've created a website and their superhuman photos are featured in the current issue of Boston Magazine. Again, sculptor Nick Rodriques.
NICK RODRIQUES: One of the things that Spiderman said was 'with great power comes great responsibility and I've felt that being an artist and having an ability to do something that with that I have the responsibility to take action.
Sound of party chatter
ANDREA SHEA: Collector Barbara Lee is taking action too. On this night she's hosting a party in her art-filled Chestnut Hill home to introduce the superheroes to area dealers and collectors. About one-third of Lee's impressive trove is Boston-made. The rest she says she bought in New York, London, LA...or at international art fairs. But Lee loves local. For years she worked for the annual art sale at The School of the Museum of Fine Arts.
BARBARA LEE: There were collectors that I would call to say, 'come and see this amazing art,' and some of them would say, 'oh I've moved beyond Boston. I go to New York, I go to the Venice Bienale, Miami Basel, I've moved beyond Boston.' And what I've tried to say is, but why?
ANDREA SHEA: Why is the reason Boston artist Brian Burkhardt is waging a battle against that dominant mentality with photographer Tanit Sakakini. They're the brains behind 'The Superheroes Project.' Burkhardt's secret identity is Professor X...who emerged earlier this year after Burkhardt was in a gallery show in New York with some international artists who asked...
BRIAN BURKHARDT: 'Where are you from?' And I said well I'm from Boston...and they were like, where's Boston? And I turned to them and told them it was a small island off of Africa and basically said that I was sick and tired of this mentality that you have to either live in New York, London or L.A. to be a successful fine artist because we choose to live in Boston rather than we aren't good enough to go to New York.
ANDREA SHEA: But other artists who choose to live and work in Boston are attacking the Superheroes Project. An archrival collective called 'The Agents of Change' rose up last week with their own website and poster campaign. The agents use comic book motifs in their own work...and criticize The Superheroes Project for being superficial, for lacking ethnic diversity, and for creating a crass campaign that doesn't fully represent Boston arts. An artist who calls himself Agent #3 agreed to be interviewed anonymously for this story.
AGENT #3: If you want to approach selling art and artists and an art scene in a PR fashion, like you want to sell furniture, that's what I find a little offensive because art is after all about creating a dialogue and what happens when that dialogue is cut off by a bunch of market speak.
BRIAN BURKHARDT: It's totally gimmicky.
ANDREA SHEA: And has been from the get-go...according to Superhero Project founder Brian Burkhardt.
BRIAN BURKHARDT: It's a total goof and we're totally laughing at ourselves, we're acknowledging that and that's the purpose of this.
ANDREA SHEA: Burkhardt is taking The Superheroes Project to Florida in December for the Miami Basel international arts fair. He and his spandex-clad cronies are planning 'spontaneous superhero incidents' and distributing playing cards hoping to convince the rest of the planet that the Boston arts scene is a force to be reckoned with.
For WBUR I'm Andrea Shea
Music: theme from 'Batman'
This program aired on November 1, 2007. The audio for this program is not available.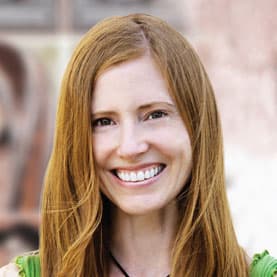 Andrea Shea Senior Arts Reporter
Andrea Shea is WBUR's arts reporter.