This article is more than 13 years old.
After 10 years as head of the Boston Public Library system, Bernard Margolis is now out of the job.
The BPL's Board of Trustees met yesterday at a branch in Dorchester and voted against renewing Margolis' contract, which expires in June next year.
WBUR's Andrea Shea was there and has more on the controversial move.
ANDREA SHEA: The Adams Branch in Dorchester is much much smaller than the main library in Copley Square...a fact that wasn't lost on Jeffrey Rudman, Chairman of the Board of Trustees for the Boston Public Library.
JEFFREY RUDMAN: This is quite an attendance for a meeting in a branch, and I guess we know what's driving the attendance.
ANDREA SHEA: Rudman is referring to what's been called 'The Bernie Issue.' Bernard Margolis has been BPL President for ten years. Over the past two weeks or so word has spread that his employment contract would not be renewed. The library's nine-member Board of Trustees stated that the library hasn't evolved with the city's tech-savvy populace...and that, among other concerns...has driven their decision to reconsider Margolis's tenure. Concerned writers, booksellers, and citizens are rallying to defend his accomplishments. Anthony Pena is a professor at Northeastern University points to the twenty-seven library branch libraries around the city.
ANTHONY PENA: Each is a wired internet facility, each has a unique collection of local history, each has a pre-school program, each has an adult evening program.
ANDREA SHEA: But the branches...like this one in Dorchester.... are also feeding the fire. Some say Margolis has focused too much energy and capital on renovating the main branch at Copley Square. Many supporters here today say new exhibitions and special collections have attracted visitors and make the 'mothership' vibrant...but Christine Chester, a librarian at the West Roxbury branch, says that isn't what she sees where she works.
CHRISTINE CHESTER: I've seen repairs that haven't been taken care of for years. I've seen water leaking from the roof. I don't attribute that all to Bernie Margolis no more than I do all the wonderful things that are happening downtown. To my way of thinking I'd love to see more of these lovely displays and collections and so forth I'd like to see them come to where we live.
ANDREA SHEA: The Board of Trustees has said it wants to focus on the branches like never before. Scott Martin Kosofsky says he wants accountability. He's the President of the Society of Printers...which houses its archive at the BPL's main branch.
SCOTT MARTIN KOSOFSKY: We require from you, as the city's trustees, a full and complete explanation of what it is that you plan to do.
ANDREA SHEA: Chairman Jeffrey Rudman responded by saying this about Margolis.
JEFFREY RUDMAN: We honor his service and we value your affirmation. We are not going to offer you the critique that you want.
ANDREA SHEA: Instead the nine-member Board of Trustees offered their votes.
JEFFREY RUDMAN: So that seven to two is the vote. And Bernie's contract will not renew on June 30th, 2008.
Sound from outside the library
ANDREA SHEA: Just outside the meeting room Bernard Margolis says he isn't surprised by the outcome. He thinks the Library board is caving to political pressure from City Hall.
BERNARD MARGOLIS: Clearly this doesn't represent the public will. I've been told that the Mayor hates me...and that seems pretty irrational...but that's the only reason that I've been given so I hope he doesn't have that kind of personal animus but clearly he is the mayor.
ANDREA SHEA: In response the Mayor's office says it respects the trustees' vote...and looks forward to taking part in the search for a new president for the BPL. One that will lead the library into the 21st century. Keith Fields is the Executive Director the American Association of Libraries and says while a library might seem an unexpected place for a political skirmish...it isn't.
KEITH FIELDS: It's a big institution, it's an important institution, a lot of people care about it, a lot of people have different opinions about what is most important, so it's a very very political position.
ANDREA SHEA: The BPL Board of Trustees says they plan to begin a national search for Bernard Margolis's replacement immediately.
For WBUR I'm Andrea Shea.
Audio for this story will be available on WBUR's web site later today.
This program aired on November 14, 2007. The audio for this program is not available.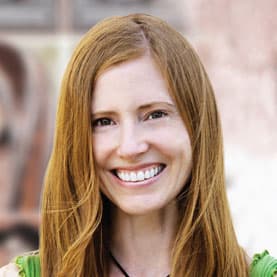 Andrea Shea Senior Arts Reporter
Andrea Shea is WBUR's arts reporter.