"Massachusetts Health Reform: Objectives, Results, and Next Steps" by Senator Richard T. Moore
This article is more than 13 years old.
When we embarked on the mission to expand access to health insurance three years ago, our goals were to expand access to Medicaid and Children's Health (SCHIP), restore Medicaid cuts necessitated by the Recession of 2002-4, expand access for small businesses and their employees to the Insurance Partnership, provide affordable insurance to the middle class, and get to universal coverage, in part, through an individual mandate. We wanted to reduce cost-shifting in health care and maintain or expand the partnership with employers in providing access to health insurance. Of course, the goal was not simply to expand the actuarial pool to ease the double-digit premium rate increases, but to connect the newly insured to primary care providers in order to reduce the reliance on emergency departments and their high quality, but expensive care.
Our goal in expanding Medicaid and SCHIP was to enroll about 85,000 adults and children, and we are well on the way with over 73,000 now enrolled. We sought to enroll 160,000 in Commonwealth Care (subsidized insurance), and we have reached that goal. We have also enrolled 56,000 in Commonwealth Choice (non-subsidized, "affordable" insurance), although we believe there could be as many as 150,000 more to be reached in this category.
We have succeeded in increasing provider rates for hospitals and physicians and more support is scheduled, and will be needed in the coming fiscal year – especially in the recruitment and retention of primary care physicians.
We have launched a statewide infection prevention program, made more progress in health information technology, and established a first in the nation pediatric palliative care program that has already helped over 150 families with seriously ill children. We have restored Medicaid benefits that were cut during the hard fiscal times, and hope that we will never revisit such policies. We have launched the Quality and Cost Council, and the Health Disparities Council which promise to drive significant improvements in the quality of care and to focus efforts to contain the spiraling cost of health care.
In December, the Patrick/Murray Administration submitted its request to extend the 1115 Medicaid Waiver in consultation with representatives of both the House and Senate for the first time since the Waiver was initially requested. In short, no other state has yet achieved the level of success in expanding access to care that Massachusetts now enjoys!
However, as we said when Chapter 58 became law, health care reform is not a one-time event, but an evolving process over a period of several years. We have not enrolled every resident. We cannot guarantee that having insurance guarantees access to health care. We cannot guarantee that health care is being delivered at the best quality and safety at the most reasonable cost. We cannot sustain our success without continuing to cooperate toward further reform.
Not long ago, Senate President Therese Murray set forth a framework for the next phase of health reform in Massachusetts. House Speaker Salvatore DiMasi, on this blog site, has joined in support of several of the key elements expressed by Senator Murray.
In the coming months, we will begin discussions on how to expand access to primary care providers. If Massachusetts residents, even with health insurance, must wait to see their primary care physicians, cost will not be reduced because they will turn to emergency departments for timely care. The approval of limited service clinics by the Public Health Council should be applauded for this step to revise the business model for primary care, but we must also expand the base of primary care physicians and nurse practitioners.
Among the options being explored are forgiveness of educational debt which can reach $200,000 for an individual physician; continued increase in levels of reimbursement for primary care services by all payers beginning with the public sector; assistance with housing costs; assistance with medical malpractice premiums; and expansion of the number of medical students and residents devoted to primary care practice.
We want to make the financing of health care more transparent by such mechanisms as a public process for justifying increases in health insurance premiums, including the costs charged by hospitals, physicians, and other providers on which those premiums are based. It would help to expand the use of health information technology, reduce unnecessary administrative burdens if insurance companies and providers used the same billing codes and if we reduced the medical record storage requirements. We need to continue efforts to prevent infections, patient falls and medical errors making health care more safe for patients. We ought to reform our medical malpractice insurance system so that more patients are helped, the veil of secrecy is lifted, trust is restored, lessons are learned to improve the system, and costly defensive medicine would no longer be needed.
Other reforms such as use of the "medical home" concept to incentivize physicians and other providers to coordinate patient care such as we are now doing with some Medicare-Medicaid dual eligible elderly would go a long way toward treating those with chronic illness who are among our most expensive patients.
We've come a long way in a short time toward improvements in our health care system, but we still have much work to do. All of us – every resident – needs to be part of this reform by being better health care consumers and by paying more attention to staying well in the first place. We need the continued cooperation of the federal government by renewing the 1115 Waiver along the lines proposed by the state. We need the continued partnership of employers who want to make health reform work, not the few who look for ways to get around their social responsibility to their workers and society. We need the continued support of insurers to resist taking the easy path of raising premiums in Commonwealth Care and Commonwealth Choice when devising premium rates for the New Year. We need the engaged leadership of our Governor to keep us all together to make health reform the unprecedented success that is, and should continue to be!
Senator Richard T. Moore, Senate Chairman
Committee on Health Care Financing
This program aired on January 25, 2008. The audio for this program is not available.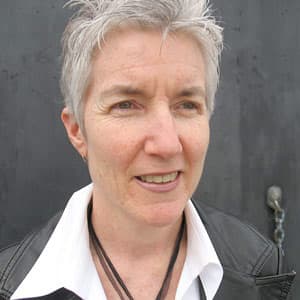 Martha Bebinger Reporter
Martha Bebinger covers health care and other general assignments for WBUR.