COMMONWEALTH CARE UNDER PRESSURE
This article is more than 13 years old.
THE RISING COST OF SUBSIDIZED HEALTH COVERAGE FOR THE UNINSURED IN MASSACHUSETTS IS PUTTING NEW PRESSURE ON SUPPORTERS OF THE STATE'S MANDATORY HEALTH INSURANCE LAW. YESTERDAY THE CONNECTOR BOARD CAST SEVERAL CRITICAL UNANIMOUS VOTES THAT RE-ASSESS "AFFORDABLE" COVERAGE. ADVOCATES FOR LOW TO MODERATE INCOME SUBSCRIBERS AGREED TO SIGNIFICANT INCREASES IN CO-PAYS AND PREMIUMS…WITH THE EXPECTATION THAT HOSPITALS, INSURANCE COMPANIES AND EMPLOYERS WILL ALSO SOON CONTRIBUTE MORE TO KEEP THE STATE'S ATTEMPT AT UNIVERSAL COVERAGE SOLVENT.
BEBINGER: 10% is the first number to keep in mind for this story. That's how much the state's cost of providing free and subsidized insurance is expected to rise under contracts the Connector approved yesterday. It could have been higher, but Connector raised premium costs for members of the subsidized plan, Commonwealth care by 10%. For both the state and subscribers the program may still be unaffordable. Board member Celia Wcislo said yesterday that the higher premiums and co-pays are a reasonable compromise given the budget problem the state faces.
WCISLO: This was the opening round. I think there's going to be much bigger battles. The consumers stepped up to the plate but now we have to find some more fundamental financing.
BEBINGER: Wcislo says now that low and moderate income consumers will help fund the rising costs of subsidized health insurance…businesses, hospitals and insurers must do the same. The Reverend Hurmon Hamilton with the Greater Boston Interfaith Organization echoed that message after the Connector board meeting.
HAMILTON: We appreciate to some degree what the administration has done, but from this day going forward, we will not rest until all the stakeholders are at this big table of shared responsibility and shared sacrifice.
BEBINGER: Connector Board chair Leslie Kirwan.
KIRWAN: The broader message is we all need to step because this program is bigger than maybe was initially thought.
BEBINGER: It's not clear how much bigger. The state expects to enroll 225,000 Commonwealth Care members by the end of the next fiscal year...but that's a bit of a guess. Another unknown is how much the federal government will contribute past July when a Medicaid waiver expires. Negotiations are underway. But Kirwan, who is also Governor Deval Patrick's top budget official, says the 869-million dollars in the governor's proposed budget, known as "House 2", won't be enough, despite the Connector's success negotiating lower insurance bids.
KIRWAN: Even with the considerable progress and the enrollee cost sharing, we are not expected to be able to live within the budget.
BEBINGER: Hospital, business, consumer and insurance industry leaders who've been briefed by the Patrick administration say the short term gap is around 150 million dollars. Earlier this month, Patrick invited those leaders to a private meeting where he asked for ideas about how to stabilize financing of the state's mandatory health insurance law. There's been talk, for example, about increasing an assessment hospitals pay to help fund free care. Tim Gens with the Massachusetts Hospital Association says its committed to supporting the law.
GENS: Hospitals will certainly consider ways that they can help make chapter 58 a continuing success. It has to be fair. It has to include all the stakeholders and we have to understand the size of the problem, but certainly willing to engage in a discussion.
BEBINGER: But other groups that support coverage for the uninsured say they are already doing enough. Rick Lord, President of Associated Industries of Massachusetts points to a survey released yesterday that shows employers are spending an additional 3-400 million dollars on workers who have signed onto their company's health plan since insurance became mandatory. He adds that employers are maintaining coverage even though costs are rising rapidly…and that those who aren't are paying penalties.
LORD: We're the only state already that imposes a penalty on employers who don't do anything. I'm concerned about the economy and heading into a recession, how much more we want to ask of these folks.
BEBINGER: Massachusetts' largest health insurer, Blue Cross, says it is tackling rising health care costs by trying to shift providers into contracts where they are paid based on the quality of care, not their volume. The Patrick administration is expected to report ideas on cost savings and new revenue to cover the uninsured early next month.
This program aired on March 21, 2008. The audio for this program is not available.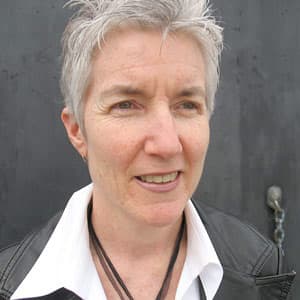 Martha Bebinger Reporter
Martha Bebinger covers health care and other general assignments for WBUR.