DO WELLNESS PROGRAMS WORK?
This article is more than 13 years old.
AS THE COST OF HEALTH INSURANCE PREMIUMS CONTINUE TO RISE TWO, THREE OR FOUR TIMES FASTER THAN INFLATION…LARGE EMPLOYEES ARE HOPING THAT HELPING WORKERS STAY HEALTHY WILL REVERSE THAT TREND. SO CALLED "WELLNESS PROGRAMS" OFFER GIFT CARDS OR CASH REWARDS FOR WORKERS WHO PARTICIPATE AND FURTHER REWARDS FOR THOSE WHO LOSE WEIGHT, STOP SMOKING OR LOWER THEIR CHOLESTEROL.
BEBINGER: Vivian Pera glances both ways as she descends the stone steps of one of John Hancock's Back Bay buildings for her daily walk.
PERA: I will probably go down to Newbury St. and walk around because its really nice. Just walking, moving around, uh huh.
BEBINGER: Pera began walking about two years ago after her first screening at a program John Hancock offers workers who want to improve their health. Her insurance company, Harvard Pilgrim runs the program and paid for the nutritionist to help Pera, who is 5'1'' lose 45 pounds.
PERA: I learned how to eat healthy and flavorful food, these type of food are not like pieces. of cardboard, they are really nice. And I lowered my cholesterol by like 21 points, which is a lot. I feel like I took 10 years off me, I really feel great.
BEBINGER: Along the way Pera stacked up gift certificates that helped her buy new clothes to fit her slimmer body. John Hancock hands out $20 gift cards just for signing up, $10 for coming to a screening, and another $10 for meeting a quarterly goal. Pera says she appreciates the incentives and support for choosing low fat pudding over ice cream. You might expect employees to worry when a company becomes interested in their health habits. But Pera says she does not feel that Harvard Pilgrim or John Hancock crossed a line into her personal affairs.
PERA: It's the way they presented the program. You didn't receive an e-mail saying are you overweight, no. It's trying to help us be healthier and eventually control how much you have to pay for health insurance.
BEBINGER: About 35% of John Hancock employees in Boston participate…more than twice what the company projected.
MONGEAU: Absolutely it's been a success.
BEBINGER: Peter Mongeau, Vice President for Human Resources, says this employee wellness program has helped John Hancock beat average health insurance premium increases in Greater Boston. Most companies are paying 10-12% more this year.
MONGEAU: Last year we saw an avgerage increase a little shy of 8%, not singularly attributable to Healthy Returns, but certainly a factor.
BEBINGER: Programs that help employees improve their health have other even more significant pay-offs. David Chin is with the Health Research Institute at Price Waterhouse Coopers.
CHIN: Lost productivity, which is defined as being sick at work and being less productive while you're at work and absenteeism, a sick day, those costs typically run 4x more than health care costs.
BEBINGER: Most large employers, those with 3,000 or more workers have some kind of wellness program, says Mike Taylor a principal health care consultant at Towers Perrin. They usually recoup their investment 2 or 3 to 1. But Taylor says to make it work, companies must figure out what the major health concerns are for their employees, and then focus on large issues such as smoking or obesity.
TAYLOR: We've conclusively determined that wellness programs do have a return, but it has to be targeted and it has to be done effectively. That's the problem for the medium and small size firms that they don't have the scale to customize things for their populations.
BEBINGER: Taylor estimates that only about 20-30% of small to medium size companies, which are the bulk of employers in Massachusetts, offer wellness programs. But talking to employees about their health can be tricky. Two years ago, Eric Schultz, the CEO at Fallon Health Plan, floated a plan to reward employees for not using tobacco or for losing weight. He proposed the weight loss program for employees considered clinically obese.
SCHULTZ: The idea was if you were at that level or above and you were doing something about your weight, you would get an incentive in your paycheck. I got a lot of pushback that that was too far too fast and so we're focusing first on tobacco.
BEBINGER: For now, Fallon employees who simply pledge not to use tobacco get an extra $10 in their paycheck every 2 weeks. The company encourages employees to attend smoking cessation programs and talk to counselors by phone during the work day. Cheryl Madison, Fallon's customer research manager, says the counseling made all the difference.
MADISON: I was really stressed, on the job you can get that way, and the gentleman on the other end just talked me through it and I did that quite often when I needed the help.
BEBINGER: Madison says she beat a 32 year two pack a day habit. She and her husband, who quit at the same time, are stashing the 12 bucks a day they used to spend on cigarettes in a safe place.
MADISON: He's doing the same thing, So, at the end of a year we may have enough for a cruise.
BEBINGER: The State's 2 year old mandatory health insurance law lets insurers charge smokers more for health coverage. So far the major health plans, including Fallon, are not offering such plans. But Fallon's Eric Schultz wonders when employees will start to ask why co-workers who take risks with their health aren't held responsible.
SCHULTZ: If you have two 35 year old male employees, both are diabetic. One is doing whatever he can to manage his condition. The other is eating all the wrong foods, is not doing the right things for his health. Should those two individuals be required to pay the same for their health insurance benefits.
BEBINGER: That question gets even more complicated when you take into account a spouse or children of employees. Most wellness programs don't include dependants, although Fallon does reimburse for swimming lessons, soccer fees or other athletic programs up to $300 a year in the push to keep employees healthy and reduce health care costs. Those are the types of initiatives some health care economists say are essential to help control spiraling health care costs.
This program aired on March 25, 2008. The audio for this program is not available.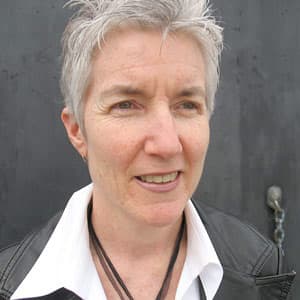 Martha Bebinger Reporter
Martha Bebinger covers health care and other general assignments for WBUR.