IMPROVING HEALTH CARE QUALITY AND CONTAINING COSTS by JudyAnn Bigby
This article is more than 13 years old.
Last week, the Massachusetts Health Care Quality and Cost Council (HCQCC) issued its first Annual Report, which identifies specific strategies for providers, insurers, employers and consumers that are designed to improve health care quality while containing costs. The Council's recommendations address a range of issues that have long been acknowledged as needing attention to improve patient safety and the quality of care while at the same time decreasing inefficiencies and unnecessary costs in the system. The Council's recommendations are unique in that they reflect discussion and collaboration among a wide range of stakeholders and represent hundreds of hours of work by individuals Council members.
These recommendations reflect the overarching goals set by the Council last year. We are committed to reducing the annual rise of health care costs to no more than the unadjusted growth in Gross Domestic Product by 2012;
ensuring patient safety and effectiveness of care; eliminating racial disparities in health and health care; and improving screening for and management of chronic illnesses.
The Council's Annual Report makes specific recommendations for action in these and other key areas. For example, in an effort to improve care and management of chronic diseases like congestive heart failure, diabetes and asthma, the Council recommends that the Commonwealth develop a blueprint for a statewide model system of care that improves the health status of people with or at risk for chronic conditions. Unnecessary hospitalizations related to chronic conditions are a major source of inefficiency and represents a major opportunity for decreasing health care costs. Preventable hospitalizations have been increasing in Massachusetts; the highest rates of preventable hospitalizations are among black Massachusetts residents with 21.3 preventable
hospitalizations per 1,000 compared to 18.2 among whites. The Division of Health Care Finance and Policy estimates that up to 15% of hospital admissions are due ambulatory sensitive conditions that could be prevented through the timely and effective use of primary care. Clearly, preventing unnecessary hospitalizations is beneficial to patient's health, quality of life, and productivity. But in addition preventing even a fraction of these hospitalizations would result in considerable savings for the Commonwealth. In 2005, the cost of hospitalizations in Massachusetts was $60 million for diabetes and related complications; $30 million for asthma; and $100 million for congestive heart failure cost.
The Council recommendations call for convening a working group of a broad range of stakeholders to design a plan that focuses on patient self management; physician practice coordination and support; transitions from one patient care site to another; community resources; health information systems; and payment system alignment. We are fortunate that many leaders in Massachusetts are committed to joining together to address chronic diseases. Massachusetts was recently informed that we are one of nine states chosen to participate in a State Quality Institute sponsored by the Commonwealth Fund and Academy Health. Our partners in this initiative include the legislature, ably represented by Senator Richard Moore and Representative Patricia Walrath, and the Massachusetts Hospital Association and Tufts Health Plan representing private providers in the state. Through this effort the state will have access to experts who have developed meaningful transformation of the chronic care system in other states.
Earlier this month the Dartmouth Atlas Project released a report that demonstrates ongoing variation in the practice of medicine and in the use of medical resources. This finding is particularly prevalent at the end of life. The report provides data that suggests that more utilization of health care does not correspond with increased quality of life or better outcomes and, in fact, can be harmful. The Council includes very thoughtful recommendations about improving the quality of care by enhancing processes of care that would guarantee that individuals get the care they want. The Council recommends that hospitals, nursing homes, physicians and other providers should implement, by 2010, a process for communicating patients' wishes for care at the end of life, similar to the Physician Order for Life Sustaining Treatment (POLST) processes currently in use in Oregon, Washington, New York, West Virginia, and other states. This is an important initiative that will have implications for many individuals in Massachusetts since there is widespread evidence that many patients and families are not aware of their options for care at the end of life. Even those patients and families who clearly communicate their wishes may not have their wishes honored.
These are just two of the recommendations made in the HCQCC Annual Report. To download a copy of the full report, visit the Council's website. The Council's diverse strategies complement and build on other state efforts to improve health care quality and contain costs underway through the HealthyMass initiative and at the Department of Public Health, the Office of Medicaid and elsewhere.
Achieving the goals the Council has set will require multiple changes in the system, including increasing resources on prevention and wellness, reforming the payment system to better align payment with quality of care, and other large system changes.
Health and Human Services Secretary JudyAnn Bigby, M.D.
This program aired on April 28, 2008. The audio for this program is not available.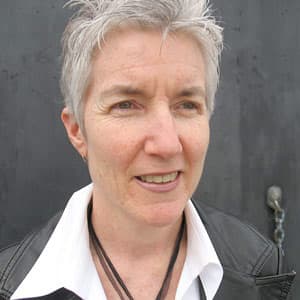 Martha Bebinger Reporter
Martha Bebinger covers health care and other general assignments for WBUR.