INSURERS CAN AFFORD TO CONTRIBUTE MORE by Celia Wcislo
This article is more than 13 years old.
Connector Board member and former First Deputy Commissioner of Insurance, Nancy Turnbull has written often about how health insurance companies are doing under Massachusetts' healthcare reform.
In a nutshell, they have done well, very well indeed. 2007 data shows hefty profits for the state's "non-profit" health insurance companies. More importantly, the data shows these companies are well positioned to contribute more towards the rising costs of healthcare reform. Over the last five years, the major health insurers in the state have earned more than $2 billion in profits, and at year-end 2007 had combined reserves of nearly $3 billion. The majority of profits and surplus have been accrued by BCBS, the state's largest health plan, but most other carriers have done well also.
Since 2006, close to 100,000 people have privately bought health plans (which based on an average annual premium of $3,000-$4.000 a year means an estimated $ $300-$400 million in new revenue).
In addition to revenues from those who have purchased private coverage, the state's four Medicaid Managed Care Organizations will be paid $869 million to over a billion dollars next year for the coverage of 225,000 Commonwealth Care enrollees. In total that is $1-$1.5 billion dollars in new revenues flowing to insurance companies.
Meanwhile, health insurance companies are not contributing a penny more to the "free care" assessment that they pay. Those payments have been capped for the last three years at $160 million per year – a small sum compared to the dollars reform efforts have produced for insurers. In truth, this assessment is borne by the insured, not the health plans. Additionally, most of the larger Massachusetts insurers are "non-profits", they pay less in taxes than most companies do.
Everyone has been calling for health care cost controls and shared responsibility from all the stakeholders to help fund reform. While consumers and taxpayers have begun to pay more through higher premiums and a new tobacco tax, no other stakeholder has come to the table.
In light of this new data on the financial performance of insurers, here is a fresh idea. The "assessment" for the Safety Net Trust Fund (formerly the free care pool) on all insurers doing business in Massachusetts should be increased. Let's put the assessment on all of insurers' income, including income from interest earned on their reserves. We could then use that new source of revenue to fund subsidized coverage through CommCare, while also setting some of this revenue aside to fund cost containment measures such as electronic medical records. As one insurance representative explained to me, financing cost containment measures makes sense since cost savings, in the end, go back to insurers and their members.
It's past time to take a closer look at the financials of health insurance companies in Massachusetts and to make those companies pay a more reasonable assessment. The health insurance industry is doing well, very well. Who else can say that right now?
The data shows there is no excuse for cost-shifting to employers and consumers at this. Clearly, the insurers can afford at least a $100 million from their ample and ever-increasing reserves. It's important to note that these "reserves" are essentially premiums that have already been generated from the premiums that have already been paid. There is no need to pass this on in our premiums so we pay it again!
Assessment? Tax? Surcharge? Payment in Lieu of Taxes? Whatever you call it, it's time we asked for more "shared responsibility" from those who have benefited most from healthcare reform.
Celia Wcislo
Assistant Division Director, 1199SEIU
and Connector Board member
This program aired on May 1, 2008. The audio for this program is not available.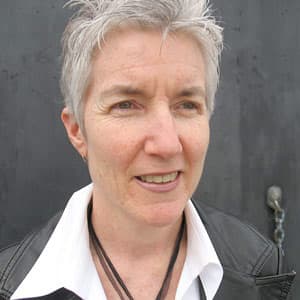 Martha Bebinger Reporter
Martha Bebinger covers health care and other general assignments for WBUR.