"Shared Responsibility" for Health
This article is more than 13 years old.
The Patrick administration says it's time to redefine "shared responsibility" for the state's universal health coverage law.
Under the plan outlined Tuesday, employers, hospitals and health insurance companies would pay new charges and higher fees. The administration hopes to raise $300 million to $400 million for the fiscal year, which begins next month. WBUR's Martha Bebinger reports on the proposal.
TEXT OF STORY:
MARTHA BEBINGER: The state's subsidized insurance program, Commonwealth Care is expected to cost 1.1 billion dollars next year, a 20% increase over estimates in January. MassHealth, the state's Medicaid program, is also over budget. Governor Deval Patrick told an annual meeting of health care leaders yesterday that the state's pledge to cover the uninsured is straining the state budget.
GOVERNOR DEVAL PATRICK: The challenges we face to fully achieve and sustain its promise are almost as significant as those you faced in creating it in the first place. And I'm asking you to join with us with the same spirit and the same commitment and the same creativity that you brought to inventing this wonderful reform to assure that it lasts.
BEBINGER: The Governor delivered a similar message three months ago, in a private meeting, where he asked health care leaders to help find more money to cover the uninsured. Health and Human Services Secretary JudyAnn Bigby chairs on-going meetings of that group. She says everyone agrees that government, employers and individuals should continue to share responsibility for financing the law.
SECRETARY JUDYANN BIGBY: Since individuals have already seen increased sacrifice, we believe it's only fitting that other stakeholders participate in the shared responsibility.
BEBINGER: For employers, Bigby is proposing two changes that would bring in an additional 80 to 120 million dollars (after subtracting the state's share of these charges). The state would start charging employers whose workers get free or subsidized insurance through Commonwealth Care. The second change is a tougher standard for employers who must prove they provide "fair and reasonable" coverage...or pay a $295 fine for each worker.
PAUL GUZZI: Looking for additional revenues from employers at this time clearly is not our first option.
BEBINGER: Paul Guzzi says this is a bad time to ask employers to do more. The Greater Boston Chamber of Commerce president says companies in Massachusetts have proudly covered an additional 85,000 workers since the insurance mandate kicked in last year. Other business leaders say a modest increase is possible...but not the amount the administration hopes to raise.
MIKE WIDMER: We will continue to try to move forward and find a way to not just say no.
BEBINGER: Mike Widmer is president of the Massachusetts Taxpayers Foundation.
WIDMER: Absolutely want to be helpful, cooperative, but at the same time careful about not taking steps that would have a short term gain in additional revenue but long term consequences that would undercut universal access for all of our citizens.
BEBINGER: On the other side are consumer advocates. They've been saying for months that raising co-pays and co-premiums for Commonwealth Care members, without asking more from businesses, is unfair. Reverend Hurmon Hamilton, president of the Greater Boston Interfaith Organization, is pleased with the administration's proposal.
REVEREND HURMON HAMILTON: I don't think its all on employers. When will insurers and when will providers step forward and do their fair share of the next level of sacrifice to under-gird the cost of health care?
BEBINGER: The administration's plan does include health insurers and hospitals. A 160-million dollar charge that each sector already pays towards care for the uninsured would increase, temporarily, when the number of people in Commonwealth Care hits a threshold. (The trigger number is either not yet set, or not public.) Vice President for Health Care Services at Blue Cross, Andrew Dreyfus, says insurers would have to increase premiums to cover any additional state assessment.
ANDREW DREYFUS: There's a careful balancing act that we have to try to maintain between trying to support health care reform and trying to make sure premiums are affordable for individuals and businesses.
BEBINGER: Lynn Nicholas, president of the Massachusetts Hospital Association, says some of her members can afford to contribute more and others can't.
LYNN NICHOLAS: There is room to explore this, but we have to be careful that we don't put some of our more vulnerable hospitals over the edge with a broad sweeping change of some type.
BEBINGER: (Secretary Bigby also warned hospitals that the state will be reviewing reimbursement rates and plans to stop paying for re-admissions to correct medical errors on treat infections.) The Patrick administration can launch some, but not all of these changes independent of the legislature. In all, this is an ambitious package to put in place or even in the works for the fiscal year that begins July 1st. For WBUR, I'm Martha Bebinger.
This program aired on June 4, 2008. The audio for this program is not available.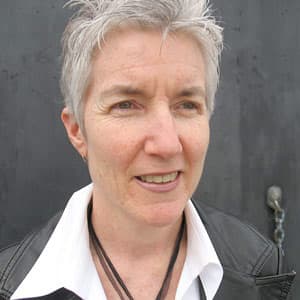 Martha Bebinger Reporter
Martha Bebinger covers health care and other general assignments for WBUR.