"Extending the Massachusetts Health Reform Waiver: A Critical Step in Our Continued Success" by JudyAnn Bigby, M.D.
This article is more than 13 years old.
As "CommonHealth" blog readers have surely been following in the news, Governor Patrick and I traveled to Washington to meet with key Bush Administration officials about our Medicaid waiver renewal application.
Extending the state and federal partnership embodied in Massachusetts' Medicaid waiver is critical to our historic effort to reach near universal health insurance coverage.
Why should the federal government support our waiver renewal?
Evidence of the successes of health care reform continues to come in. The 1115 Medicaid Demonstration Waiver has helped us dramatically reduce the number of working-age adults in Massachusetts who are uninsured. Not only are more people insured, but we have seen an expansion in access to health care. Primary and preventive care are on the rise as we continue to implement health care reform. More low-income adults report having a primary care provider and fewer have unmet health care needs.
The Medicaid Waiver is a large part of the success.
Compared to January 2006 approximately 55,000 more individuals have been enrolled in MassHealth programs. With the current waiver we are able to cover more low-income adults who are chronically unemployed in the MassHealth Essential program. Some low-income individuals who are not able to afford employer sponsored health insurance qualify for premium assistance through the MassHealth program. The waiver is also instrumental in helping to fund affordable coverage for other low-income individuals who qualify for the CommonwealthCare program. Covering these populations is key to the Commonwealth's goal to reach near universal coverage.
The Medicaid waiver has been instrumental in transforming coverage for low-income individuals in Massachusetts. As coverage for individuals has increased, the number of individuals who have been dependent on the so-called "free care pool" has declined. The total number of hospital inpatient discharges and outpatient visits billed to the pool declined by approximately 11% overall from Pool Fiscal Year 2006 to Pool Fiscal Year 2007. Community health center Pool visit volume decreased by 25% during the same period. The decline in the number of individuals who depend on the "free care pool" represents the success of the Commonwealth in increasing the number of uninsured. With insurance, those who have previously depended on the pool for emergency care, have access to primary and preventive care.
With this success have come challenges. Our tremendous success in enrolling people in Commonwealth Care and MassHealth and the continued demand for these programs requires on-going commitment from both the state and the federal government. I am proud that the Patrick Administration, our legislative leaders and all of our health reform stakeholders are steadfast in their commitment to reach near universal coverage and are actively engaged in doing their part to make that happen. The Commonwealth has made a commitment to this demonstration project by investing state resources. We need the federal government to continue their commitment with us as well. We rely on federal funding for roughly half of all state spending for subsidized insurance. In our meetings Secretary Leavitt and other Bush administration officials again voiced their support for the Massachusetts model, as they have in the past. They were clearly pleased with the results we have been seeing in Massachusetts, particularly in our ability to maintain private insurance rates and prevent "crowd out."
The Commonwealth has made a commitment to continue this successful demonstration and to address the cost and quality of the care we deliver and support through our Medicaid program. I am hopeful that we will be able to announce shortly that we have an agreement that will allow health reform to continue to be the success that it has been with federal support.
Health and Human Services Secretary JudyAnn Bigby, M.D.
This program aired on July 2, 2008. The audio for this program is not available.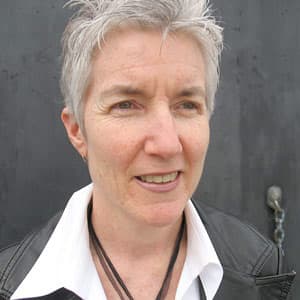 Martha Bebinger Reporter
Martha Bebinger covers health care and other general assignments for WBUR.