Patrick Vetoes $122.5M in Budget
This article is more than 12 years old.
Two weeks into the new fiscal year, Massachusetts finally has a state budget.
Governor Deval Patrick signed the bill yesterday, after vetoing $123 million dollars in spending included in the $28 billion plan, much of it targeting the pet projects of lawmakers.
The governor is also asking lawmakers to expand his power to cut state spending any time in the next year, if state finances get worse and revenues fall short.
And he's floating a controversial plan to raise
$130 million from employers, health insurers and health care providers to help pay for the state's universal health insurance law.
WBUR's Martha Bebinger reports.
BEBINGER: Governor Patrick says he's generally pleased with the budget approved by the House and Senate. But he says it must be trimmed to prepare for economic challenges that most expect Massachusetts, like the rest of the country, will face. So the Governor is sending the budget back minus 260 earmarks for special projects as well as cuts that total 122.5 million dollars. The Office of Travel and Tourism would lose almost 11-million dollars, about 41% of its budget. The University of Massachusetts would see a 4 million dollar cut.
DEVAL PATRICK: While there is merit to many of the budget items that I have eliminated or reduced, our present fiscal challenges simply demand fiscal restraint.
BEBINGER: The House and Senate have historically voted to override budget vetoes, but leaders say this is year when there will be extra scrutiny to make sure each item is worthwhile. The Governor is asking the legislature for expanded authority for deeper cuts, if needed. He has the power to trim executive branch spending...but wants the power to trim from anywhere in the state budget during this fiscal year. That request is part of a supplemental budget Governor Patrick is filing along with the main budget. The supp budget includes a controversial 130-million dollars in new revenue to help fund the state's health coverage law. The Governor says newly insured residents are seeing their costs go up...and it's time for employers, insurers and health care providers to take on more of the burden of covering the uninsured.
PATRICK: These increased contributions are in the same spirit of shared responsibility in which consumers contributed earlier this year through higher enrollee premiums for Commonwealth Care.
BEBINGER: Advocates for those Comm Care members are applauding the Governor. The Reverend Hurmon Hamilton is president of the Greater Boston Interfaith Organization.
HURMON HAMILTON: The Governor took some real leadership here to make sure that everyone can now come to the table and do their fair share to get through O9. And then we've got to figure out where we go from there, together. That's the only way to make it through this, we've got to resolve it together.
BEBINGER: The groups that would pay more under the Governor's new "shared responsibility" plan are coming together...largely in opposition.
MARYLOU BUYSE: We're against any new assessments on hospitals, health plans or employers.
BEBINGER: Marylou Buyse, president of the Massachusetts Association of Health Plan, says the one time 33-million dollars the Patrick administration wants to draw from insurance company reserves makes no sense.
BUYSE: Taxing health care to pay for health care makes no sense. We don't need more money in the system, what we need to do is control health care costs.
BEBINGER: The Massachusetts Hospital Association, whose members would pay an additional 20-million dollars has said it would consider the assessment, although it will be more of a burden on some hospitals than others. Hospitals may pass the charge along to patients in the form of higher charges. Teaching hospitals would lose an additional 8 million dollars annually through a reimbursement cut for specialists. The administration would also draw up to 35-million dollars, in increments, from a fund that pays health benefits for unemployed workers. Right now that fund has a surplus, but the AFLCIO says dipping into it is unwise because unemployment is expected to rise. The most vocal opposition to the "shared responsibility" package will likely come from employers, from whom the administration plans to raise an additional 33-million dollars.
There would be a stricter definition of what it means to offer health coverage which would trigger more fines on employers. Jon Hurst, president of the Retailers Association of Massachusetts says that stricter definition will turn many in the business community against the law.JON HURST: This is a very, very important change that is going to hurt perhaps thousands of small businesses across the Commonwealth. This is the wrong proposal at that wrong time.
BEBINGER: The Massachusetts Taxpayers Foundation gives the administration credit for trying to be reasonable. But the Foundation, and the state's largest business group are urging the legislature to hold off on any new assessments until the state and federal government wrap up negotiations on a multi-billion dollar Medicaid spending agreement. These new "shared responsibility" charges are, in part, a way to show the Bush administration that all the key players in the state are contributing more to cover the uninsured in Massachusetts. House leaders aren't sure how soon they'll take up budget vetoes and amendments. Ways and Means Chairman Robert DeLeo says he says he knows the "shared responsibility" plan is controversial. But he says it will get a careful review because funding health coverage for the uninsured is straining the state budget.
ROBERT DELEO: We have to take a look or a second look at the state's share of that involvement and if this could ease some of that pressure then we have to take a look at it very closely.
BEBINGER: DeLeo says he expects the House to take up both the budget vetoes and the supplemental budget at the state...which will be tricky given how many other bills the legislature hopes to pass before it adjourns in 3 weeks. And the state still may not know by then how much the federal government will contribute towards its health coverage plan. The state is waiting for a counter proposal.
This program aired on July 14, 2008. The audio for this program is not available.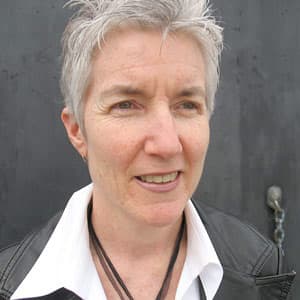 Martha Bebinger Reporter
Martha Bebinger covers health care and other general assignments for WBUR.