"Public Backs Health Reform Law" by Jarrett T. Barrios
This article is more than 13 years old.
Pity the poor cigarette smoker.
When it comes to raising revenue to pay for health care reform, the public is ready, willing, and (thanks to a law just passed by the legislature and signed by the governor) able to whack tobacco users with another tax. A public opinion poll conducted earlier this month by the Harvard School of Public Health and the Blue Cross Blue Shield of Massachusetts Foundation finds strong public support (57 percent) for increasing the cigarette tax to raise money to fund budget shortfalls related to the health reform law.
This isn't necessarily surprising. What is surprising is that despite months of what can only be described as negatively-tinged media coverage of the health reform law (stories on million dollar-plus cost overruns and bureaucratic glitches in enrollment to name just two examples), the public nonetheless strongly supports the state's landmark health reform law.
More than two-thirds of those polled (69 percent) for The Massachusetts Health Reform Survey support the two-year-old law.
A whopping 77 percent like the concept of subsidized insurance coverage for low-income state residents. More than half (58 percent) support the mandate on individuals to purchase insurance. And 71 percent say that the state has been successful in reducing the number of uninsured Bay State residents.
What's interesting about this poll, which is the third in a series of surveys designed to measure the public's attitude toward the 2006 health reform law, is that it shows clear evidence that the public has a more sophisticated understanding of the law and its requirements.
Since 2006, when the first survey was taken, the percentage of those who say they've heard or read either "a great deal" or "quite a bit" about the law has increased from 22 percent in 2006 to 54 percent in 2008. Those who say they've heard or read "nothing at all" about the law dropped from 20 percent in 2006 to six percent in 2008. And the percentage of those who say they don't know enough about the law to offer an opinion about it has dropped from 18 percent in 2006 to nine percent in 2008. Opposition to the law, meanwhile, has remained virtually steady (20 percent in 2006 and 22 percent in 2008) while support has gone up (61 percent in 2006 to 69 percent in 2008).
Seventy percent of respondents say they want to see the law continue "with changes." It's unclear exactly what those changes are, but the public does give some direction. First and foremost, the public does not want to see cuts or caps in coverage. Only 27 percent of respondents favored (either strongly or somewhat so) the idea of limiting those eligible for subsidized health insurance coverage. When asked if they supported the concept of "providing subsidized insurance" 77 percent of respondents agreed; only 18 percent opposed the idea.
The public is concerned about the law's impact on small business. Although 75 percent of those polled support the assessment on employers who fail to offer health insurance to their employees, 56 percent say that they believe the law is hurting small businesses. (It's interesting to note, however, that fewer than half of small firms polled for a 2007 NORC Survey of Massachusetts Employers believe health reform will be a financial burden.) The public is also concerned about law's impact on those who remain uninsured; 33 percent say the law is hurting people who are uninsured.
As state leaders adjust the law, they need to make sure changes meet concerns without jeopardizing its promise to provide near universal coverage ― which the public clearly support. Massachusetts residents care about health coverage. They think universal coverage (or the closest we can get to it) is important. There is little appetite for restricting benefits or enrollment. This is markedly different from what can be found in some other states, where significant percentages of residents oppose the very idea of using taxpayer dollars to pay for health insurance for the poor.
But another, equally critical, key to this public support is the coalition of stakeholders who have continued to work together to keep the law intact. If our public airwaves were inundated with million-dollar ad blitzes by advocates for the business community, health care providers, health insurers, and/or health care consumers attacking various pieces and portions of the law, the public support the law enjoys today would likely erode. And quickly.
We are entering a crucial phase of the law's implementation. There's no question that we have only come as far as we have by sharing the work involved in implementing reform. The public has spoken and it wants to see the law continue. It's up to all of us to make it happen.
Jarrett T. Barrios is president of the Blue Cross Blue Shield of Massachusetts Foundation.
This program aired on July 15, 2008. The audio for this program is not available.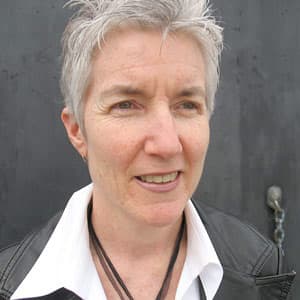 Martha Bebinger Reporter
Martha Bebinger covers health care and other general assignments for WBUR.