Circus Smirkus is in Town
This article is more than 12 years old.
A good clown is hard to find, according to this report. It takes us to Cirkus Smirkus, a touring training camp for aspiring pranksters, trapeze artists, and jugglers.
Circus Smirkus is an incubator of sorts, where scouts for big time big tops recruit new talent, such as those elusive clowns. WBUR's Andrea Shea stopped by the show in Wellesley.
TEXT OF STORY:
[Music and effects from Circus Smirkus]
ANDREA SHEA: Circus Smirkus sounds, looks and feels like a traditional show, with its canvas big top overhead, all covered with stars. But there's a difference. The performers here are kids, some as young as 10. Eric Allen is 18.
ERIC ALLEN: I pretty much taught myself to do flips on my couch.
SHEA: Allen says his uncle showed him how to juggle. His grandmother took him to see Buster Keaton in "The Navigator." Now he's an aspiring clown. Allen grew up in Shelburne, Mass. and discovered Circus Smirkus when one of its clowns performed at his school. Intrigued, Allen joined Smirkus camp for two summers. This is his third summer on tour with the troupe. For his act Allen wears white grease paint, a rubber nose and a lab coat.
ALLEN: My character is kind of like the Jekyll and Hyde clown so I'm a nerdy scientist who drinks a potion and then changes into a monster and so there are some clown gags with that.
[Sound from Eric Allen's clown act]
SHEA: But Eric Allen isn't just a clown. He and a bunch of the other kids also perform in straps suspended from the ceiling.
[Sound of aerialists]
ED LECLAIR: They do the aerials, the juggling, the clowning, there's unicycle, there's hand balancing, all the things that you see in professional big tops we do here.
SHEA: That's Ed LeClair, the Executive Director of Circus Smirkus, which is based in Vermont. He likens the Smirkus experience to boot camp where the kids develop their acts and train and rehearse rigorously. In the dressing room tent a juggler tosses bowling pins and clowns put on their makeup.
[Sound of juggling]
SHEA: The 30 young performers stage more than 70 shows each summer, all over New England. And it can get pretty hot under the big top, especially if you're wearing a costume.
[Circus act sound]
SHEA: LeClair says the deep immersion prepares aspiring performers for life in the real circus world. Between 10 and 15 percent of Smirkus performers go on to land jobs with big professional shows, including Cirque du Soleil and Ringling Brothers Barnum and Bailey.
[Cymbal crash sound]
SHEA: On this day Tim Holst, the Vice President of Talent for Ringling, is here on the lot in Wellesley, Massachusetts. He scouts the globe to keep Ringling's 3 enormous touring shows staffed.
TIM HOLST: Anywhere and everywhere I just came back from an extended trip in the Ukraine and Russia, Hungary, Romania. I'm often in China, Brazil, Peru, Chile. Whether it's in a club or a variety theater in Germany, to find talent.
SHEA: What kind of talent?
HOLST: I'm looking for tumblers and wire walkers and jugglers and clowns oh my! (laughs)
SHEA: Good clowns are hard to find, according to Holst. Especially since the Ringling Clown College shut its doors in 1997. But the scout found a few here at Smirkus.
ANNOUNCEMENT DURING PERFORMANCE: Ladies and Gentlemen. Eric started in our school residency program, went to our camp, ended up here on tour, Book started in our camp ended up here on tour, and both of them, right here in Wellesley, yesterday and today, received contracts to tour with the Ringling Brothers Barnum and Bailey Circus." (APPLAUSE)
SHEA: The contracts are for Ringling's "Red Unit," which tours North America 11 months of the year. Eric Allen, the young clown we met earlier, says he committed to a one-year contract.
ALLEN: It was pretty weird I didn't really know what to think it's like I've never signed anything that big before and I'm like literally right out of high school too, like I just graduated and then I came here.
SHEA: Allen says his hands were shaking as he signed the contract on the hood of a car in the parking lot. He called his parents and says they support his decision to take the job. He'll be making $350 a week. That's an improvement, says Peter Bufano. The former Ringling clown says he earned $180 a week when he signed his contract with the very same talent scout 20 years ago.
PETER BUFANO: You know it was everything I thought that all my problems were solved. I thought I'm a clown on the biggest circus in the world, that's it that's all I have to do for the rest of my life (laughs) I was so wrong. (laughs)
SHEA: Wrong because Bufano says being a clown day after day, show after show, is grueling. And boring even. But it's a great way to see the country. Now Bufano says he steers clear of painted frowns, whoopee cushions and floppy shoes. He was a musician for Ringling for 2 years and has composed scores for Circus Smirkus. On this day Bufano is guest conducting the show in Wellesley. The ex-clown says he hopes the rookie clowns are planning their exit strategies. But Eric Allen, who also dreams of acting, is embarking on this career with open eyes.
ALLEN: I'm a clown. Yeah. I'm going to stick with that for now. (laughs)
SHEA: And who knows. Tim Holst of Ringling admits that his company is taking a risk on Allen too.
HOLST: Is he a great clown now? No, I don't think he's a great clown now. But he has potential.
[Sound of Eric Allen performing]
SHEA: Like the other kids Eric Allen is learning the ropes, but not just as a clown or aerialist.
[Sound of bleachers being broken down]
SHEA: They all break down the bleachers as Circus Smirkus packs up its big top and moves on to the next town.
[Fork lift sound fades into music from the show]
SHEA: For WBUR I'm Andrea Shea.
This program aired on July 31, 2008. The audio for this program is not available.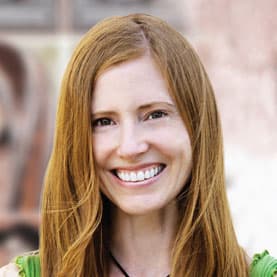 Andrea Shea Senior Arts Reporter
Andrea Shea is WBUR's arts reporter.