Health Care Costs Compromise Angers Industry Groups
This article is more than 12 years old.
A major health care cost control bill was approved in the final hours of the legislative session over strong objections from pharmaceutical and medical device industry leaders. They say that new rules governing payments to doctors will drive medical research to other states.
(here's the transcript of the report filed by W-B-U-R'S Martha Bebinger)
BEBINGER: This bill has dozens of measures designed to slow the rise in the health care spending. It includes 25-million dollars for electronic health records. It requires more public scrutiny of health insurance rate increases and hospital expansions. It creates incentives for doctors to practice primary care and establishes a pilot project for patients with chronic diseases. The bill was a top priority for Senate President Therese Murray.
THERESE MURRAY: Health Care is the single more important issue facing our economy and our citizens. And with this legislation we will install an impressive set of reforms to change the way our health care system operates.
BEBINGER: Murray and other Senators say they aim to bring health care costs in Massachusetts, which are among the highest in the country, down to at least the national average. Brian Rosman with Health Care for All praises most of the bill.
BRIAN ROSMAN: This bill really has the potential to make major progress in controlling the growth in health care costs and we're encouraged that both the House and Senate have put health care costs front and center as the second stage of health reform.
BEBINGER: Health Care for All and other consumer advocacy groups are not as pleased with a compromise on payments or gifts providers receive from medical device makers or the pharmaceutical industry.
The original Senate bill included an outright ban on gifts. The House came back with a voluntary code of conduct that appeased the industry. The compromise is a code of conduct the state will write and a requirement that all payments or gifts of $50 or more must be made public. Life sciences firms argue that the reporting provision will discourage continued medical research in Massachusetts. Why, they ask, would a company hire a doctor here where they would have to report payments for work testing a drug or new hip joint, for example…payments that competitors or anyone else could see. Mark Leuchtenberger is chairman of the Massachusetts Biotechnology Council.
MARK LEUCHTENBERGER: There's going to be a natural preference on the part of industry to work with physicians outside of Massachusetts because we've really set ourselves up now as the one state in the union to make these requirements mandatory.
BEBINGER: Minnesota does have a $50 and above disclosure rule, but there are a few exceptions for proprietary research and it does not apply to medical device makers. Senator Mark Montigny says there are good reasons to make all financial arrangements between doctors and medical device makers or pharmaceutical firms public.
MARK MONTIGNY: Why wouldn't your patients and the taxpayers have a right to know that as you are prescribing medicine, you are also on the payroll of that company, why wouldn't that be good for the taxpayer.
BEBINGER: Because, according to the pharmaceutical industry, it might cost the state's largest private industry, health care, jobs and money. Some House lawmakers who worked on the bill tried to remove this section…but did not succeed. Industry representatives hope to persuade Governor Patrick to amend or veto this section of the bill. His office declined comment last night.
This program aired on August 1, 2008. The audio for this program is not available.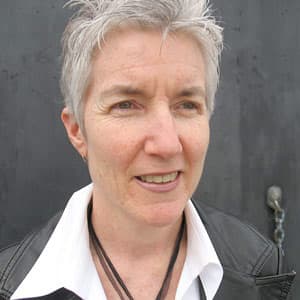 Martha Bebinger Reporter
Martha Bebinger covers health care and other general assignments for WBUR.