"Any Serious Effort at Health Care Cost Containment Must Include Regulating Drug Marketing Practices!" by Senator Richard T. Moore
This article is more than 12 years old.
Editor's note: For opposing views, read this letter to Governor Patrick from House lawmakers or this letter from Wyeth Pharmaceuticals.
The Massachusetts Legislature recently adopted a comprehensive proposal to improve the quality of health care and to contain the rapidly increasing cost of care. Both goals are essential to sustaining the Commonwealth's landmark health care reform law and keeping high quality health care affordable to all our residents.
Some of the most exciting and meaningful reforms in the bill – promoting reform and efficiency in the health care system, improving access to health care services, enhancing transparency of health care costs and quality, and encouraging the adoption of health information technology – will dramatically improve the care provided in Massachusetts as we expand access to care for all of our residents. However, one provision of the bill – regulating drug marketing practices – has generated heated, but not well-informed, discussions with representatives of the bio-pharma industry.
Those of us who helped to draft the Massachusetts Health Care Quality Improvement and Cost Containment legislation firmly believe that marketing practices of pharmaceutical and medical device manufacturers are an important factor in driving up health care costs without, necessarily improving the quality of care that's delivered to patients here, and across the country. There are numerous books, articles, and academic research papers that clearly demonstrate the pervasive, even corrupting, influence of such marketing practices as gifts, travel, honoraria, and other valuable incentives offered by industry to those with the state licensed power to prescribe medication. Legislators are not alone in our sincere concern.
Dr. Mark A. Levine, Chair of the American Medical Association's Council on Ethical and Judicial Affairs recently wrote: "While industry and medicine share the overall goal of improving health, their interests and obligations diverge in important ways. Commercial entities have a responsibility to their shareholders and other vested stakeholders to thrive as businesses and maximize returns on investment. Medicine has a responsibility to put the needs of patients first. As relationships between medicine and industry continue to expand, there is growing concern about the impact of industry funding on the integrity of professional education and its implications for public confidence in medicine as a profession."
As Harvard Pilgrim CEO Charlie Baker wrote in his blog: "A task force that was put together by the Association of American Medical Colleges to study industry funding of medical education just issued a report that recommends, among other things, banning free food, gifts, travel and other services to doctors, staff and students at medical colleges. The report will be reviewed by the AAMC's Executive Council shortly. He added that, "David Korn, the AAMC's Chief Scientific Officer, didn't deny the need for ongoing interaction between practicing clinicians and pharmaceutical and device manufacturers, but said, in effect, that whatever happens needs to be cleaned up, transparent, and tied to the specific practice of medicine."
This is exactly the goal of Section 14 of Senate Bill No. 2863 which would add a new chapter to the Massachusetts General Laws – Chapter 111N "Pharmaceutical and Medical Device Manufacturer Conduct." It directs the state Department of Public Health to develop regulations to establish a standard marketing code of conduct for all pharmaceutical or medical device manufacturing companies that employ a person to sell or market prescription drugs or medical devices in the commonwealth.
It's important to understand that this new code must be based on applicable legal standards and incorporate principles of health care including, without limitation, requirements that the activities of the pharmaceutical or medical device manufacturer agents be intended to benefit patients, enhance the practice of medicine and not interfere with the independent judgment of health care practitioners. In other words, the Massachusetts law puts patients first, the integrity of physicians a close second, and enhancing corporate profits further down our list of priorities.
These regulations that DPH develops must be no less restrictive than the most recent version of the Code on Interactions with Healthcare Professionals developed by the Pharmaceutical Research and Manufacturers of America and the Code on Interactions with Healthcare Professionals developed by the Advanced Medical Technology Association. In other words, the codes that the industry itself has developed would be the basis for the Massachusetts code, and it will be legally enforceable if violated – something that the industry code does not provide. If the industry is serious about its own code of marketing and wants its member companies to follow, how can it be opposed to adopting that same code as the law for such companies doing business in Massachusetts?
The other industry concern – some say "red herring" – relates to the requirement to report payments to physicians in excess of $50 per year. Drug companies suggest that this reporting requirement and subsequent public disclosure will put them at a disadvantage to competitors in other states. However, information from all clinical trials is already public information through a federal clinical trials database. Other states already collect and publish information about research and clinical trials. Certainly, if there are any legitimate issues with the reporting and disclosure provisions, the Department of Public Health can address them in the regulations that must be developed to implement this section of the Quality Improvement and Cost Containment Law.
Massachusetts is not alone in passing legislation to require reporting of payments by pharmaceutical and medical device manufacturers to those who prescribe medication for their patients. Minnesota, Vermont, Maine, the District of Columbia, and West Virginia have all enacted laws to achieve this goal. Eleven other states, including New York and California have seriously considered legislation of this type during the current term, and more will undoubtedly take action in the next session. In every case, the pharmaceutical industry has vigorously opposed such legislative initiatives claiming that they can regulate themselves. However, professional lobbyists for the Pharmaceutical Manufacturers Association traveled all the way from Washington, DC to Boston to testify in opposition at a public hearing on a similar bill that was considered during the current session of the Massachusetts Legislature.
Massachusetts sincerely values the research and products of the Bio-pharma industry. We believe that the industry is a vital part of the state's economy, and we've offered to invest a billion dollars to encourage the development of that industry in the Commonwealth. We accept the word of the industry – as stated in their marketing codes – that the industry wants to preserve the integrity of the medical profession. And our legislation will help them attain this most laudable goal. Therefore, we urge the Governor to sign the Senate Bill No. 2863 into law without amendment!
Senator Richard T. Moore, Senate Chair, Committee on Health Care Financing
This program aired on August 7, 2008. The audio for this program is not available.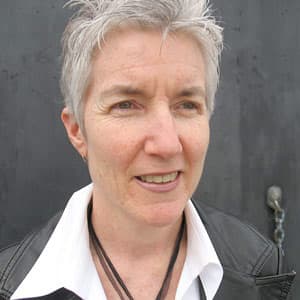 Martha Bebinger Reporter
Martha Bebinger covers health care and other general assignments for WBUR.