"Safety Net Cuts Hurt More than Just Care" by Celia Wcislo
This article is more than 12 years old.
The dramatic cuts in funding proposed for Cambridge Health Alliance (CHA) and Boston Medical Center (BMC) are causing an increasing stir among caregivers and the communities these key safety net hospitals serve.
These cuts have local and national implications. With cuts looming, and with no apparent plan in place to ensure access and care, patients and caregivers in the communities where minority and low-income neighbors are served by BMC and CHA are feeling increasingly alarmed by a proposal which would be devastating for their community hospitals. Community, labor, and religious groups are taking measure of the impact the proposed cuts would have to essential care for minority and low-income neighborhoods. And advocates, safety net providers, and policymakers across the country are watching to see if Massachusetts can develop a plan to ensure the continued viability of its safety net system in the face of the dramatic changes wrought by health reform and the current economic and budget crisis.
A plan is essential because Massachusetts cannot afford to lose the vital services provided by BMC and CHA.
Consider:
CHA provides 150,000 visits annually for patients with behavioral or substance abuse problems. CHA provides 10% of all the state's mental health inpatient stays, and 14% of all Medicaid mental health and substance abuse care. With the cuts proposed to CHA this year alone, it is possible that 10% of all the acute care psychiatric beds in Massachusetts could be closed.
Where would 10% more beds be found in the surrounding areas for this patient population? If the proposed cuts are not rescinded, it is reasonable to expect that many of these patients will not be able to find accessible beds at all, creating unthinkable circumstances for the patients, their families, and the community at-large.
BMC serves over 150,000 low-income patients every year, 70% of who are ethnic and racial minorities. 93% of low-income children served by BMC are minorities. 88% of maternity patients served by BMC are also minorities. At a time when Massachusetts is a leader in efforts to reduce racial and ethnic health disparities, the impact of the cuts at BMC will fall mainly on minorities.
Between them, BMC and CHA staff five emergency rooms and the major Trauma center in the state. At a time when many hospitals are on daily "hospital diversions" because their emergency departments are closed because of lack of capacity, what is the plan to provide emergency entry points if any of the ERS in the CHA or BMC systems are closed?
BMC and CHA are affiliated with, and help finance, more than thirty community health centers. Any loss of primary care capacity will diminish health care access and increase demands on other, more expensive parts of the health care system. Many of the 442,000 state residents insured through the state's health reform law will find that they still have their insurance cards but they might not be able to go see the doctor who has been treating them, or perhaps find any doctor at all.
Cuts are not a plan. What is the state's plan for caring for the patients who will no longer be able to be served by BMC and CHA? Most of the expensive Boston teaching hospitals are already filled to capacity. Is the expectation simply that the poorest and neediest among us will have to travel further into the suburbs for the health care they need? Or just go without?
What is the state's long-term vision for the role of BMC and CHA in our health care system? What type of safety net system do we need in the face of the changes brought by health reform? How can we get there in a measured and thoughtful way?
The consequences of the proposed cuts to BMC and CHA are becoming clearer to a growing and diverse group of people, and we are coalescing to deliver a clear message to the state that it is time to work in partnership with CHA and BMC to develop a plan that preserves needed services for low-income patients and communities. As of today, there is no plan from the State about what will happen to patients if BMC and CHA close vital services.
We need lower costs and greater efficiency and quality throughout our health care system. BMC and CHA cannot be exempt from these imperatives. But developing thoughtful plans to transition to a more cost-effective care and delivery systems is not the same as forcing change through the blunt instrument of budget cuts. It requires thoughtful leadership, a clear vision, agreement on the facts, skillful politics, and close collaboration. I am confident that we have all of these abilities among the people who need to participate in such a process, and all would be willing to participate.
If Massachusetts doesn't navigate skillfully and thoughtfully the tricky waters of how to finance and preserve the vital services provided by its two major safety net providers, its failure will have devastating effects on the public health, and on the national conversation about health reform.
Celia Wcislo is a board member of the Massachusetts Connector Authority, Assistant Division Director for 1199SEIU United Healthcare Workers East, and an Executive Board member of the Service Employees International Union.
This program aired on December 5, 2008. The audio for this program is not available.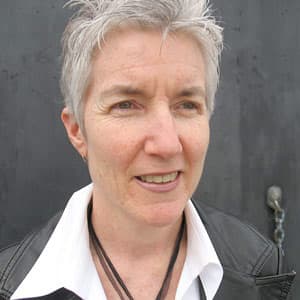 Martha Bebinger Reporter
Martha Bebinger covers health care and other general assignments for WBUR.