Bake Or Break, Part 2: Workforce Worries
This article is more than 12 years old.
By Meghna Chakrabarti (WBUR)
Throughout the coming weeks and months, we'll occasionally check in with one local company, to report how it's handling the growing economic challenges. It's Dancing Deer Baking Company — Boston-based, privately held.
In this second installment, we reports on how Dancing Deer workers are grappling with tough economic times.
TONY ROSA: This is wrong! We've got to switch it!
Tony Rosa has a problem. The quality control manager who likes to say that a 'broken cookie is a broken heart' has a cookie without a box.
ROSA: I'm in a five-minute jam with Sonia over here, so I won't be able to run over here and do lunch.
Rosa runs across the production floor. The assembly line leaders who work for him spend much of their time running, too, because once assembly starts on the packing lines, it's difficult to stop.
ROSA: Watch out, watch out, watch out!
Rosa weaves past rising mountains of boxed brownies, darts behind forklifts, and around two 75-foot conveyor belts.
LINE WORKER: Move out of the way, we're going to run this line!
Thirty women in sweatshirts and hairnets stuff cookies into decorative boxes, and tie red ribbons around the packages as they roll by. And like a vigorous football coach, Rosa runs along side and pushes his team to move as fast as they can.
ROSA: Every time I come to work, there's a smile on my face. I love the people that work here!
Rosa's passion is common at Dancing Deer. Even though this is the toughest economy workers have ever faced in the company's 18-year history, the mood on the production floor, like the pace, is up. Milton Torres strides across the bakery carrying a large steel bowl full of pink icing. He is cheerful and fiercely loyal.
MILTON TORRES: I love working here. It's because I spend so many years at this company. You never get bored. You're always doing something different.
Ten years ago, when Torres first found work at Dancing Deer, he was an 18-year old kid, fresh from El Salvador, with little English and an anger management problem.
But Torres flourished. He began as a temporary dishwasher, got promoted to packer, then baker, and now runs the test kitchen.
TORRES: We're using this icing to make the shortbread cookies.
It's a full-time permanent job, with benefits. One that pays more than 12-dollars an hour. Torres says he's grateful for it.
TORRES: You have a job these days and you try to keep the job because there?s not many jobs outside. But I have so many opportunities to leave this job, but one of the reasons I stay is that I really enjoy my job every day.
Which is why he feels positive about the company's future. Many workers share Torres's enthusiasm. That may be because this is a company that, until now, has never known anything but growth. Since Dancing Deer's incorporation in 1994, the full-time staff has blossomed from two to 85. The seasonal work force peaks at 250 employees in December. In a bounty reflective of the go-go 90s, Dancing Deer launched an employee profit-sharing program. Production scaled up high enough that Dancing Deer recently moved to a massive new facility in Readville, and invested significant capital in automation.
But production manager Tim Ryan says he knows new assets, like an ultra-sonic brownie cutter, don't sit well with some workers.
TIM RYAN: I know the first questions are why are we buying all this machinery, why can't we work overtime? But one thing I've stressed is that we're telling you to work faster so you still have a job to work at. If we're making an investment in a job that used to take 10 hours and cut it down to three, maybe you won't be working overtime but you are going to be working year round.
And, Ryan adds, hopefully in a higher skilled, higher paying position.
However, with the economy at its knees, those new jobs aren't guaranteed. In this recession, worry is trickling up. Up from Milton Torres on the production floor to the desk of Tim Ryan, who's worried if he'll be able to give his employees enough hours. And up from Tim Ryan to the corner office of CEO Trish Karter.
TRISH KARTER: I should be concerned! We've never been in a climate like this.
Karter's eyes are red. She's been putting in 12-hour days herself, trying to keep in shape by riding an exercise bike in the office while making calls to customers. She says the company has already seen losses this season, and that e-commerce sales could flatline. So the calls now are necessary to reach the company's baseline for targets next year, and to keep her workers employed.
KARTER: We'll go through our annual downsizing of seasonal staff. Our permanent staff, I hope, will still be our permanent staff. Things would have to get unhappy for that to change. It's hard. Yeah, it's pressure.
ROSA: It goes on top, tie it up and you're all set. Put it there on the line because they're shipping it over there.
It's the peak of the holiday season for Dancing Deer. The bakery is heaving with activity. So, Karter says the workforce hasn't yet felt the full long-term effects of this economy, and she doesn't know what those effects will be. All of which may mean that the growth that once allowed ambitious employees to graduate to higher paying jobs could be at an end. Employees like Milton Torres, and quality control manager, Tony Rosa.
ROSA: Whatever is going to happen is already happening. What we can do on our end is what we have to do. Things are going downhill but you've got to be upbeat and look on the positive side of things. Eventually things will change, it won't stay the way it is. It will change, it will take time, but things will get back to normal.
For now, Rosa says his main concern is getting cookies in boxes and out the door as fast as he possibly can.
ROSA: She's still got a big stack of holiday cookies!
LINE WORKER: I'm going to ship out holiday cheer. They're always behind us!
This program aired on December 18, 2008. The audio for this program is not available.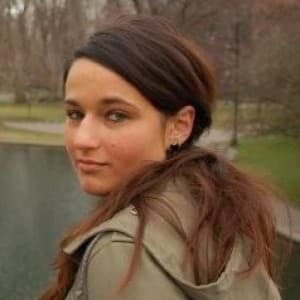 Lisa Tobin Senior Podcast Producer
Lisa Tobin was formerly WBUR's senior podcast producer.