"Keeping Communication Lines Open in the Healthcare Labor Debate" by Lynn Nicholas
This article is more than 12 years old.
Our recent presidential election was a stirring reminder of the power of the ballot box. Pending federal legislation on the Employee Free Choice Act (EFCA) threatens that basic democratic value and could significantly change labor relations in the United States.
In Massachusetts, hospital workers have always acted independently around unionizing; some hospital employees have chosen unions, while others have not. Our state's hospitals value employees as essential contributors to a quality healthcare system, and have a long history of collaborating with their employees – union and non-union – to provide the quality care for which the Commonwealth is nationally known.
The existing National Labor Relations Act (NLRA) is intended to protect a worker's individual right to decide whether or not to unionize through a democratic election process free from harassment, threats, or intimidation from either employer or union.
Under EFCA, the decision whether or not to unionize would no longer be made via a democratic voting process.
Instead, employers would be required to automatically recognize a union that presents union cards signed by 50 percent of an identified bargaining unit – also known as a mandatory card check. EFCA and card check strip employees of the most fundamental right of a democratic election process – the secret ballot.
By removing the familiar election process, EFCA would not allow employers and employees to engage in a full, two-sided conversation about whether a union would benefit an organization's mission and its workers. It would eliminate the ability of employees to make their decisions in a voting booth, away from the eyes of management, peers, and union organizers. And some employees wouldn't get to express any opinion on unionizing, whether through checking a card or voting secretly.
In addition, under EFCA, once a union is recognized by card check, the parties must immediately proceed to the bargaining table to agree on a first contract. If they reach no agreement within 120 days, the negotiation is then subject to binding interest arbitration. Arbitration would leave the first contract's terms to be decided by an outside third party, and would be binding for two years.
An alternative to EFCA, the Secret Ballot Protection Act (SBPA), was recently introduced in Congress and has the support of the American Hospital Association (AHA), among others. Given EFCA's threat to both workers' and employers' rights, we support the SBPA because it would ensure that workers in an appropriate collective bargaining unit are able to cast their votes on unionization in private. If there needs to be changes made in our nation's current labor laws in order to improve those laws, let's discuss change while still guaranteeing workers' rights to make an informed decision through casting a secret ballot vote for or against unionization.
The quality of Massachusetts healthcare is in the hands of our healthcare workers. We owe it to them to preserve the basic democratic protections that have been their right for decades under the NLRA. We need to let hospital employees make their own choices in an atmosphere of open communication among unions, employers, and most importantly employees. Our health depends on it.
Lynn Nicholas, FACHE, President & CEO
Massachusetts Hospital Association
This program aired on March 16, 2009. The audio for this program is not available.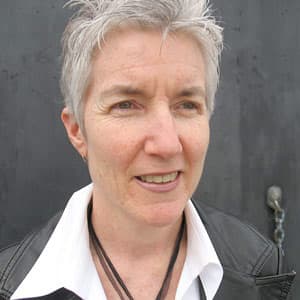 Martha Bebinger Reporter
Martha Bebinger covers health care and other general assignments for WBUR.