Non-Profits Team Up To Vie For State Funds
This article is more than 10 years old.
By Martha Bebinger (WBUR)
http://audio.wbur.org/storage/2009/03/morningedition_0330_1.mp3
The down economy has meant more than $2 billion in state budget cuts, and it's likely more are coming. The decline in state support for public programs has pitted many non-profits against one another as they compete for an ever-shrinking pool of state money.
Some of those groups are now teaming up, in the hopes of convincing Massachusetts voters that more taxes are needed in order to sustain state services.
"I'm Kyle DeMeo, with Strategies for Children and the Early Education for All Campaign."
"I'm Tilly Teixeira, I'm a member of Mass. Senior Action Council."
Representatives of 15 social service groups sit at gray square folding tables ready to bond about their shared anxiety: State budget cuts.
"We've seen cuts affect investments in high quality early education programming and access to high quality programs," Kyle DeMeo says.
"Home care has now been cut back to the 1990 and the population is much bigger," says Tilly Teixeira.
"We're fighting for our own piece of the pie," explains Yawu Miller. "But the pie is shrinking."
Miller is project director for One Massachusetts, the network offering these workshops about how to re-establish the value of state government and the need to support it.
"We've had more than 40 tax cuts in Massachusetts over the last 10 years and it's taken a toll on our state budget," Miller says. "So a lot of us got together and started talking about how can we work together to increase this pie. And one of the greatest obstacles to this is [that] there's a pervasive negative attitude about government."
When Miller said "pie," you knew he was talking about state revenue, and that growing it probably means higher state taxes. But right away, I flashed to cherries under a lattice crust. It's a comforting, pleasurable image, and that's really the point of this workshop. Words, images and stories are the key to winning or losing the fight for public support.
"Think about the terrible welfare reform debates of the '90s and how all you had to do was say something about welfare moms and Cadillacs or whatever and that triggered a whole image behind the policy," Patrick Bresette says.
Bresette is with Demos, a New York-based group that does public policy research and advocacy. He's in Boston, blending cognitive science, cultural anthropology, linguistics and media studies into a presentation about how to reframe the image of government — an admittedly lofty goal.
Bresette plays clips from random interviews on the street in several cities.
"What do you think of the government?" an interviewer asks on a video.
"Oh my gosh," one person replies. Many others laugh in response.
"I try to keep my head down and not get involved," another says.
"This kind of almost universal, nervous cynical laughter was the first response," Bresette says. "The research team was a little flipped out about that at first, like, 'Uh-oh, this might be a bigger task than we thought.'"
Bresette says there are ways to navigate the minefield of deep public cynicism grounded in images of bickering, corrupt politicians and a lumbering bureaucracy that takes your money and gives it to someone else. But as researchers asked more probing questions, people interviewed do still see a unique role for government, as opposed to the private sector. They mention education, health care, roads...
"Clean water, safe food, protecting and empowering all of us in times of need," Bresette ticks off some needs where government needs to take a role. "And we have to help connect the dots and help people see their self interest in the larger common interest of the work of government."
The Demos group has some examples: A campaign to increase childhood immunizations that seemed initially to blame parents, but switched to a message about protecting the public's health. A wilderness preservation group that started with a list of what had been lost, but switched to stressing the history and beauty of land still available to save.
Images, like a hole in the ozone, help people connect to a problem they can grasp — in this case, global warming.
Bresette urges these social service leaders to package words and images in "The Little Engine that Could" story, not one based on "Chicken Little."
"The research is pretty clear that crisis stories do not lead to engagement," explains Bresette. "People hunker down and [think] it's just like, 'One more thing I can't possibly fix.'"
"But a lot of elected officials, if not everyone I've ever worked with, really responds more to the crisis," says a government relations employee for Cambridge Health Alliance.
"The laundry list of bad things that are going to happen, they sort of respond to that."
Bresette jumps in to say, "They want to be the hero. They want to be able to say, 'I've protected the services for 4,000 people in my district, et cetera.' But to the extent that you can also help them tell a story that's about the bigger community impact, they've got the bully pulpit."
The Demos analysis also suggests that the current barrage of economic crisis stories make people think government cutbacks are the only answer.
"So that people can keep more of their money in this incredible downturn, government spending would be bad and obviously any discussion of new taxes would be insane," Bresette says. "That's kind of a dominant media story about the budget situation. But there's a very powerful case to be made that this is exactly the kind of times for which we created our public systems, and that any responsible look at a problem like this would require us looking at both revenues and spending issues."
"When I first became organizer in the senior community, it was imbedded that, you know, 'Oh, we can't raise taxes,' and I would say, 'Why?'" says Pam Edwards, with Massachusetts Senior Action Council. She says once citizens understand what they get for their tax dollars, they will support a tax increase.
"It's not hard to change public opinion. You know, whenever you get down and you ask people, 'What's wrong with taxes?' the only thing that they're gonna say is, 'I think the government already has enough money, they're just not spending it wisely.' And then we say, 'Well who's fault is that?' So I appreciate this [workshop] because it did give me some more ideas how to grow from that and to frame our message better."
The group also leaves armed with charts from the Massachusetts Budget and Policy Center that explain how income and tax cuts have reduced state revenue while expenses have increased. The Center says Massachusetts taxpayers give about 10.5 percent of their income to state and local governments when you factor in all taxes.
One Massachusetts does not have a specific proposal for how much that needs to increase. The network's goal is a fair, adequate and stable tax system that will raise sufficient revenue to fund needed services by 2013.
This program aired on March 30, 2009. The audio for this program is not available.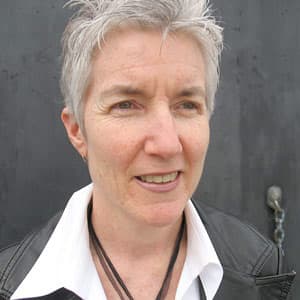 Martha Bebinger Reporter
Martha Bebinger covers health care and other general assignments for WBUR.