Body Fat Testing In Schools Praised And Criticized
This article is more than 11 years old.
All public school students in Massachusetts will soon be screened to determine if they're overweight, now that state health officials have approved body mass index, or BMI, testing for children in the first, fourth, seventh and tenth grades. It's part of a statewide campaign to fight childhood obesity.
But critics say weight screening could hurt kids' self-esteem. And they argue that BMI testing won't help chubby kids gets thinner unless schools do more to promote good health.
"So, Henry, do you want to get the milk out," Jennifer Kay Goodman asks her 7-year-old son.
Breakfast is always healthy at Jennifer Kay Goodman's house in Cambridge. She and her husband Brad and their seven-year-old son Henry might have eggs on whole wheat English muffins, or cereal with chopped bananas. Or, like on this morning, leftovers.
"Last night I just did a big tray of baked oatmeal," she says.
So it rubs her the wrong way when Henry's public school in Cambridge sends home annual reports saying his BMI, which measures body fat, is too high.
Henry weighs 67 pounds and he doesn't look overweight, although Jennifer describes him as a "solid kid." She says he's an active first grader who eats well and skis, bikes, and plays soccer.
"We eat tons of fruits and vegetables and whole grains. We exercise all the time," Goodman says. "The frustrating thing for me for BMI — it's a random number that doesn't really show the whole picture."
Still, state public health officials say body mass index is an important piece of a larger picture that tells if a child needs to trim down.
Cambridge schools have been doing BMI testing since 2003. But now it will be phased in statewide over the next two school years.
State public health commissioner John Auerbach — who had a platter of fresh cut fruit for visitors in his office yesterday — says kids and their families need to know that obesity is linked to serious illnesses.
"We now are seeing 30 percent of school children across the Commonwealth who are overweight," Auerbach explains. "We are hearing fairly frequently from school nurses who say to us, 'In the last few years I'm seeing children with Type 2 diabetes.' It's a new phenomenon."
And Auerbach says that phenomenon has to stop. So students' BMIs will be calculated every four years and then given to their parents or guardians.
Getting that calculation means measuring a student's height and weight, and some critics of the new rule say that could be embarrassing.
Rebecca Manley is founder of a Newton nonprofit called the Multiservice Eating Disorders Association. She worries BMI screening could cause health problems rather than cure them.
"We had one school in particular where a whole group of girls started crash-dieting because they were all comparing their BMI results," Manley says. "For fourth and fifth grade girls, this should not be an issue."
State health officials say screenings will be done in private, and results will be mailed home rather than carried home by kids, to prevent that kind of scenario. Parents can also opt their kids out if they don't want them screened for body fat.
But Carole Allen says the educational materials that will accompany BMI results could be helpful to parents who don't know how to help overweight kids.
Dr. Allen is president of the Massachusetts chapter of the American Academy of Pediatrics.
"They can't imagine cooking a different way, shopping a different way, getting more exercise, motivating their child," Dr. Allen observes. "They don't maybe understand the relationship to television, which is a huge factor for a lot of kids."
Allen also says schools themselves need to do more to help students be healthy, from serving nutritious lunches to offering recess to teaching gym.
"Phys ed has gotten a smaller and smaller piece of importance in the school day," says Allen. "There's MCAS, there's all these other pressures. And somebody needs to understand that physical education for kids — that that's just as important for children's development."
At the Josiah Quincy Elementary School in Chinatown in downtown Boston, principal Suzanne Lee estimates that about a quarter of her students are overweight.
"You can see the ones that have a hard time walking up and down the stairs. Or because we are in the city, we walk to a lot of places — those kids have a hard time keeping up with the rest of the class. I mean, they're huffing and puffing. That is not good," says Lee.
So the Quincy School makes an aggressive effort to get its students active.
There's after-school basketball. There's a morning walking club. There's even a contest where three times a day students stop whatever they're doing and exercise for about five minutes. The class that does the most exercise wins a "golden sneaker" award for the month.
"We really believe in this whole notion of healthy body, healthy mind — that you need to combine the two," Lee esplains. "You cannot have one without the other."
State health officials hope that kind of focus on fitness, paired with BMI screening, could be a successful formula for healthy weight.
This program aired on April 9, 2009. The audio for this program is not available.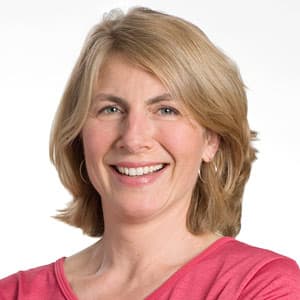 Sacha Pfeiffer Host, All Things Considered
Sacha Pfeiffer was formerly the host of WBUR's All Things Considered.