Beth Israel Deaconess Cited For Infection Control Problems
This article is more than 11 years old.
State health officials have cited Beth Israel Deaconess Medical Center for having "serious deficiencies" in its infection control program.
The citation came after 18 mothers and 19 infants contracted antibiotic-resistant staph infections after staying in the hospital's obstetrics and newborn sections.
Public information about the cluster of infections first appeared yesterday morning on a blog called "Running a Hospital" that's written by Beth Israel Deaconess CEO Paul Levy. The Massachusetts Department of Public Health then issued a statement saying it had found major failures in the hospital's effort to limit infections.
Paul Dreyer heads the state's Bureau of Health Care Safety and Quality.
PAUL DREYER: "We found serious problems with Beth Israel's infection control program hospital-wide."
State and hospital officials have not yet identified specifically what types of violations Beth Israel Deaconess was cited for. But Dreyer says they could range from poor hand washing to unclean medical devices.
PAUL DREYER: "There could be one piece of unsterile equipment, there could be one health care worker who is either colonized or infected who's contaminating many different people."
The infection control failures at Beth Israel are not believed to have caused the maternity ward infections. But the problems were discovered during that investigation.
The infected patients had been at the hospital between November and last month, and their infections occurred after they had been discharged. Ten of them had to be rehospitalized for treatment. Beth Israel describes the bacterial infections as superficial skin and breast infections, such as diaper rash and mastitis.
The staph infections are a strain called MRSA that's become a growing national problem in hospitals. Dreyer of the state public health department says the cluster at Beth Israel is especially large.
PAUL DREYER: "We don't often see this many people — over 30 mothers and infants — coming down with MRSA on a single service. That's very unusual."
The hospital says all patients have been successfully treated. Anita Barry of the Boston Public Health Commission, which has also been helping investigate the outbreak, says the source of the infections has not been found.
ANITA BARRY: "At this point, I feel like we don't have enough information to say that these infections were acquired in the hospital, or whether they were acquired outside the hospital."
When Beth Israel Deaconess learned that some of its former patients had infections, it began to contact pediatricians and obstetricians to try to locate other former patients who might also be infected. Barry says that outreach may have identified mothers and babies whose infections might otherwise have gone unreported. And she says those patients could have acquired their infections somewhere in the community.
ANITA BARRY: "It could be that there's some common connection outside the hospital — perhaps a new mom's group, perhaps a play group, perhaps a common pediatrician's office — that hasn't been identified that would tie some of these cases together."
Beth Israel said yesterday that CEO Paul Levy's blog would serve as its comment. The hospital had been due to file paperwork yesterday detailing how it plans to fix its infection control problems. But it received an extension and is now expected to submit the report today or Monday.
This program aired on April 10, 2009. The audio for this program is not available.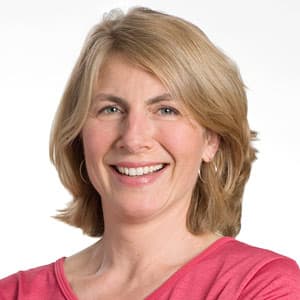 Sacha Pfeiffer Host, All Things Considered
Sacha Pfeiffer was formerly the host of WBUR's All Things Considered.