The Boston Marathon As Mass Casualty Training
06:56
Play
This article is more than 12 years old.
For runners, the Boston Marathon – the oldest in the country, with Heartbreak Hill and storied champions – is legendary. In public health circles, it's known as one of the largest planned mass casualties in the country.
Roughly 1,300 medical responders are mobilizing on the morning of the marathon, ready to treat an expected 800 to 900 runners whose bodies will crack in the strain of running 26.2 miles.
Preparations have been underway for months; the goal is to be ready for the unexpected.
At the final meeting of the marathon's all-volunteer medical team, four days to the starting gun in Hopkinton, Chris Troyanos is getting a final status check from field team leaders in charge of medical records, equipment, ambulances, runner-family relations, security.
"All right, so I'm going to start at the back of the room," Troyanos calls out. "Communications. Steve and Paul, all set, we got enough shadow for everybody. Medical kits are all set. Right, Brent? For the buses. Brian, finish line? Blair, communications from the state side? State police."
Everything is falling into place until Troyanos, medical coordinator for the Boston Marathon, gets to the DMAT, or Disaster Medical Assistance Team's coordinator.
"Slight curve ball," Troyanos says. "We're not sure, but MA-2, they're on alert now."
MA-2, one of the state's Disaster Medical Assistance Teams, may be called to North Dakota at any moment to aid the latest flooding victims. Troyanos is counting on them to be in Natick for one of three field clinics the DMAT teams run during the marathon.
"So if that happens," Troyanos says, "I think that our best bet is to go with two units, in Wellesley and Newton, and not do Natick. Just logistically, it's going to be very difficult to fill that, so that's kind of the game plan right now."
The game plan is layers of medical care. Red Cross volunteers are setting up 26 first aid tents — one each mile. Police, fire, EMS and public-health officials in each of eight communities that "host" the marathon are also part of the medical team.
Behind every team leader is a small army of volunteers.
Steve Schwarm assigns ham radio operators to every medical operation on the course. They also walk the route between stations, looking for runners who need help. All ambulance dispatches are placed through ham radios. He calls the roughly 250 hams that participate the "communications of last resort" when a real disaster strikes.
"The reason why we do this for the Boston Marathon is that cell phones stop working when the lead runner goes by," he says. "They stop working for about an hour because everybody's trying to call somebody and the cell phone system just can't handle the capacity."
Michelle Kavanos runs what's called the sweeps unit. Her territory is the 1.5 miles after the finish line, which can include thousands of runners at any given moment.
"We have 130 medical personnel who walk among the runners, triaging them as they cross the finish line," she says.
Kavanos' team watches for the obvious — a runner who collapses, is vomiting or seems delirious. Discerning between expected post-marathon pain and something more serious can be tricky.
"A lot of people who come and run 26.2 miles, they get to the other side and want to keep moving," Kavanos says. "Sometimes it can be an interesting event as we realize they need help, but they're not ready to realize they need help yet."
Heat stroke specialist Doug Casa is one of dozens of endurance exercise researchers who briefed medical volunteers for the marathon at various conferences over the past week.
"You could die with a 106.2 degree temperature if you're not treated well, and you could easily live, I've had many people survive, with 111 and 112 that were cooled rapidly," he tells them.
Casa, who says cold water immersion is critical to saving a heat stroke victim, does not expect much call for the large plastic bath tubs that will be on hand in the medical tents.
Medical responders are also cautiously optimistic that hyponatremia, the condition that caused the last death in Boston in 2002, will not be a widespread threat. It occurs when runners drink too much water, which leads to swelling and can cause heart failure.
McLean Hospital's chief of medicine, Arthur Siegel, says many slower marathoners, who are more likely to stop often at water stations, don't understand this threat.
"The old message: drink, drink, drink, is dangerous for the new marathoner. Which is why Boston uniquely has these weigh stations," Siegel says.
Scales where runners can check to make sure they didn't gain weight, a sign of hyponatremia, will be available in two massive white tents that volunteers from Boston University began setting up the day before the marathon in Copley Square.
Finish-line team member Brian Fitzgerald helps the students space more than 150 cots, dozens of tables and chairs, partitions and hundreds of blankets to keep runners warm.
Fitzgerald pictures the scene on the day of the marathon. "It'll be like a mash unit. You'll come in here and people will be screaming, in cramps and there'll be IVs hanging from the ceiling. It's multi-disciplinary and it's amazing to watch."
He says chill will be the main concern as runners face a cold 25- to 30-mile-an-hour headwind from Cleveland Circle into Boston.
Ten hospitals along the route are also staffed up. Some have already activated their command centers and will use the marathon to test their disaster drill plans. At least eight state agencies have been part of the planning in case something unexpected goes wrong during the marathon.
Mary Clark is the director of emergency preparedness at the Department of Public Health. She calls the marathon a "tremendous opportunity" to test the plans the city would use in an unplanned casualty incident.
Clark says that because of the marathon, Boston is in better shape than many cities to handle a public health disaster.
"Because there are so many people there," Clark says. "Twenty-six thousand runners, 7,000 volunteers, 1 million spectators — you can't get that situation very often to be able to test what you would do in an event that you haven't planned."
The Boston Marathon will continue to be a rich testing ground for marathon medicine and mass casualty planning, particularly as baby boomers age.
This year, for example, race officials have agreed to let a runner who has chronic obstructive pulmonary disease, or COPD, and needs oxygen support, enter the race.
Right now, race officials rely on runners to alert them to medical conditions that might affect treatment during their run. The number of Boston Marathon entrants age 40 to 59 more than doubled between 2004 and 2007.
This program aired on April 20, 2009.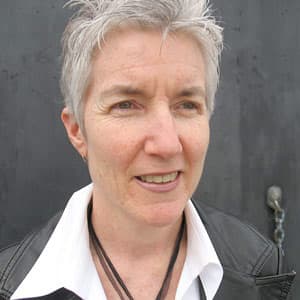 Martha Bebinger Reporter
Martha Bebinger covers health care and other general assignments for WBUR.