DiMasi Indictment Rocks Statehouse
02:57
Play
This article is more than 11 years old.
Former House Speaker Salvatore DiMasi faces federal corruption charges (PDF). Prosecutors say he used his power and influence to help a software firm secure just over $20 million from the state in exchange for $57,000 in kickbacks. DiMasi says he always did what was best for the people of the commonwealth. Three associates who allegedly conspired in and benefited from the scheme are also charged.
At the Statehouse, reaction ranges from sadness to frustration to indignation as the third consecutive speaker is called into federal court.
Federal prosecutors say the scheme began in December 2004. The recently-elected Speaker DiMasi, one of his close friends and a sales agent for the software firm, Cognos, allegedly arranged for the firm to begin monthly payments to DiMasi. The $5,000 payments would be funneled through another attorney, who usually got to keep $1,000. On Tuesday, acting U.S. Attorney Michael Loucks highlighted one period, when the flow of money stopped. Loucks says DiMasi asked what was wrong, and a check arrived.
"DiMasi told the attorney he wanted all of it and the attorney complied, sending DiMasi a $25,000 check. DiMasi instructed the attorney to break the payment into four checks, to backdate them, in an effort to disguise them to refer to them as payments for referral fees," Loucks says.
In return, says Loucks, DiMasi used his position and influence to push through two software contracts for Cognos, worth just over $20 million, over the initial objections of executive branch leaders. DiMasi and three alleged associates are each charged with conspiracy, mail and wire fraud. Many of these details were originally reported in Boston Globe articles that built pressure for DiMasi's resignation earlier this year. The charge that he benefited personally is new. All of the alleged misconduct, says Loucks, occurred while DiMasi was House speaker.
"And in a time period when he owed the citizens of Massachusetts the duty of honest services. The duty to perform his responsibilities free from deceit, fraud, dishonesty, concealment, conflict of interest, self enrichment and the secret personal enrichment of his friends and associates," says Loucks.
"Every decision I have ever made as a speaker or as a state representative was always made in the best interests of my constituents and of the people of the Commonwealth of Massachusetts," DiMasi said in a brief response to the charges outside the federal courthouse in Boston.
While speaker, he denied any wrongdoing related to the Cognos contracts. His lawyer, Thomas Kiley, stopped short Tuesday of saying that DiMasi is not guilty.
"He has never, ever broken the trust of the people of the Commonwealth or his district," Kiley says. "What he has done, as the many other hardworking men and women in the state legislature, the citizen legislators that we elect, he has earned a living. And for that he is charged today."
On Beacon Hill, leaders are not interpreting the allegations as earning a living. Senate President Therese Murray calls the charges "troubling and serious." DiMasi's replacement, House Speaker Robert DeLeo, says they "underscore the pressing need to restore faith and trust in government." And Gov. Deval Patrick says they are a serious breach of public trust.
"All of us who work in this building have got to redouble our efforts to restore the public's confidence in our and state government's ability to do the public's business appropriately, with integrity, every day and in every decision and that is my personal commitment," Patrick says.
TVs throughout the State House were tuned to coverage of the indictment Tuesday. House Minority Leader Brad Jones shook his head as he watched. Jones says the charges highlight bigger problems in the House.
"We've gotten to the point where Democratic members are perfectly happy to defer decision making to the speaker and power to the speaker," says Jones. "But I think it's also up to the public to look and say, this is a by-product of one-party government."
The reaction among Democrats who served under DiMasi ranged from sad to frustrated to angry. Many want to put what they call "Sal's problems" in the rearview mirror and are relieved to hear federal prosecutors say they don't anticipate related charges against any other state officials.
"If other things popped out of this thing as we move forward, it would be devastating to the Commonwealth and to this legislative branch. We have enough to deal with up here on Beacon Hill without having an unethical cloud hang over our head," says Rep. Marty Walsh of Boston.
The legislature does have the unresolved issue of two different ethics bills which House and Senate negotiators are beginning work on. Common Cause Director Pam Wilmot is urging the committee to adopt portions of the House version that would make using a powerful position for personal benefit, as DiMasi is charged with doing, a criminal act under state law.
"We do have work to do," Wilmot explains. "It is absolutely imperative that our public officials serve the public interest and not their own self interest. This is a sad tale of that gone awry."
Federal prosecutors say the software company Cognos cooperated in the investigation. It's current owner, IBM, did not respond to a request for comment. DiMasi and his three alleged co-conspirators face up to 20 years on each of the mail and wire fraud charges and up to five years on the conspiracy count.
This program aired on June 3, 2009.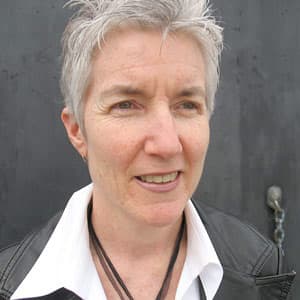 Martha Bebinger Reporter
Martha Bebinger covers health care and other general assignments for WBUR.