Managing Health Care Quality and Costs At Mount Auburn Hospital
This article is more than 12 years old.
On Thursday, a special commission on health care payments is expected to recommend dramatic changes that could affect almost 1/6th (16.3%) of the state's economy. The commission wants to shift from paying providers based on the volume of tests or procedures patients receive…to a system where providers are rewarded for working within a budget by keeping patients healthy. There are a few health systems in Massachusetts that are already doing this…and doing it successfully according to the commission. One is Mount Auburn hospital in Cambridge.
(transcript of story)
RACHEL HAFT: I love vaccines. EILEEN: I do too. HAFT: Good for you (laughs).
EILEEN: I think medicine helps people.
Eileen, a patient who prefers we use just her first name, sits in a green print Johnny, her legs dangling off the edge of an exam table. She looks down at her primary care doctor, Rachel Haft, who is about to deliver one of those annual exam reminders most patients don't want to hear.
HAFT: Alright, a colonoscopy, oh, ew, well, um
Eileen's enthusiasm for medicine vanishes. Her message is firm. She'll do it if she doesn't have to drink that jug of gag you in the throat liquid.
EILEEN: I mean that's really, really important to me.
Haft agrees to look for a gastroenterologist who uses one of the alternatives, a tiny bottle of liquid she says tastes like brine.
HAFT: We can call the endoscopy suite and find out who it is, but I really want you to get that test. It clearly saves lives, I'm sorry to be a nudge.
EILEEN: I need to be nudged on that one.
Increasing the rate of colonoscopies for patients over 50 is one of several prevention campaigns underway at Mount Auburn hospital.
The hospital and its physician group, in a typical team effort, are combing electronic records to see which patients are due for an exam, sending out form letters personalized for each patient by their doctor, then calling to book appointments.
BARBARA SPIVAK: Its significantly cheaper to book and have a colonoscopy than it is to wait for that patient to get a screen than to wait for that patient to get colon cancer 5 years from now.
Barbara Spivak is an internist and the head of the physicians group at Mount Auburn, where doing what's cheaper and better for the patient is also good for the hospital. 35% of Mount Auburn's revenue comes from what are called global payments. This is a set amount of money, based on the age, sex and health of a group of patients in a Blue Cross, Harvard Pilgrim or Tuft health plan. All three insurers have at least one such contract with Mount Auburn, but not all agree this way of paying providers could be expanded statewide. The health plan members sign up with primary care provider based at Mount Auburn. The hospital and its physician group are responsible for all the care that patient needs every year. For the last almost 20 years, Mount Auburn and its doctors have ended the year with a surplus on plans funded by global payments. But Spivak stresses that saving money is not the primary goal.
SPIVAK: We don't manage to keep costs down, in any way at all. We manage to give the best care possible. And that's the way we've managed to get our physicians to buy into this.
Mount Auburn spends money from global payments up front to keep patients healthy. Each patient has a case manager who monitors whether the man, woman or child is getting recommended care, whether they know where to get physical therapy or other follow-up treatments after hospital stays and whether their asthma or diabetes is under control. There are pharmacists who ask patients, when their doctors agree, to switch to cheaper generic drugs. Pharmacists also review the records of patients with 9 or more prescriptions and make sure the most expensive drugs are only used when necessary. Doctors visit nursing homes to help avoid repeat hospitalizations. Spivak says these salaries and additional expenses come back in savings.
SPIVAK: Global payments work when people take a portion of their money and put it into developing an infrastructure that helps manage the care of patients and coordinates the care. We believe in the long run that that will keep costs down.
Mount Auburn says those pharmacists who check prescription drug spending consistently help hold the hospital's rate of increase below the statewide average. The case managers and doctors who visit seniors after a hospital stay have cut Mount Auburn's rate of readmissions to 12-14% as compared to 18-20% nationally. If you compare what Medicare pays Mount Auburn for procedures ranging from hip replacements, removing a gall bladder and treating pneumonia…Mount Auburn saves Medicare 27% or so as compared to the highest paid teaching hospitals in Boston, but Mount Auburn costs Medicare 7% or so more than a nearby community hospital. Some of these differences can be explained by the training and research expenses at larger teaching hospitals and lower expenses at community hospitals.
HAFT: I want to go through social history, so wearing a seatbelt? Yes. Airbag in your vehicle? Absolutely. Smoke detectors, carbon monoxide detectors?
EILEEN: Yes, I am Mrs. Safety.
HAFT: That's wonderful.
Eileen and other patients at Mount Auburn have no idea whether their care is managed under a global payment. They don't pay more to see doctors outside Mount Auburn or to have surgery at another hospital…but Mount Auburn must pay for that care out of its global payment. A comparison of patient satisfaction scores statewide finds that patients are mostly happy with the care they get at Mount Auburn.
HAFT: (Typing furiously) "So cholesterol, even though we're working to control them...
Dr. Haft types furiously on her laptop, using an electronic health record that connects all Mount Auburn providers. It's one of the advantages for Haft of being connected to a larger network and institution. She, like most primary care doctors in the state, is in a small practice. Many other individual or small physician groups are wary of global payments because they would have to join a larger health care network that would manage all of a patient's care. There are fears about the financial risk if the cost of that care runs over budget. Mount Auburn doctors were nervous and angry at first; it was 2-4 years before they were comfortable with this payment arrangement. Coming in under budget year after year has helped. Doctors and hospitals share the surplus based, in part on, whether they meet set patient quality measures…like the appropriate use of antibiotics. Haft and colleagues have required monthly meetings where they share ideas about difficult cases and get feedback on their care.
HAFT: I would rather have my colleagues tell me, you should get this test this frequently, than have an insurance company tell me. When you have the kind of system that's been set up by the Mount Auburn you can execute a program like this very successfully and it can really be terrific for patients.
But Mount Auburn's comfort level and success with global payments is very unusual among hospitals, says president and CEO Jeanette Clough.
JEANETTE CLOUGH: I don't know anybody else in the Boston area who's doing it in any sort of, of depth.
Mount Auburn is also unusual, says Clough because primary care doctors are largely in charge of resources and how the global payments are dispersed.
CLOUGH: That's completely upside down from the way a lot of other places are structured where the specialists are, for the most part in charge on the physician side and the hospital is definitely in charge as it relates to the way that we do care.
HAFT: Checking your bone density, in the neck of the femur bone, you were somewhat close to osteoporosis, so...
Dr. Haft and Eileen talk about medications that could strengthen the top of her femur and avoid a hip fracture… down the line.
EILEEN: When you hear that an older person has fractured a hip it is almost, I hate to say this, it's almost a death sentence. I really want to have as healthy a life as I can for as long as I can.
Mount Auburn stresses more preventive care to help patients like Eileen live long and healthy lives. But for global payments to work, this up front spending would have to be offset be less spending for more expensive care, for example, at the end of life. It's a gamble the special commission looking at how to reorganize health care payments in Massachusetts seems ready to take.
Martha Bebinger
This program aired on July 14, 2009. The audio for this program is not available.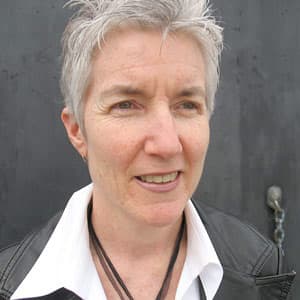 Martha Bebinger Reporter
Martha Bebinger covers health care and other general assignments for WBUR.