Mass. Tobacco Farmers Weather The Worst Crop Of Their Lifetimes
05:11
Play
This article is more than 10 years old.
Take the MassPike west until it drops into the Connecticut River Valley around Hadley on down to Southwick, and you land at the home of one of Massachusetts' little-known historic crops.
"A lot of people don't realize that we produce some of the finest cigar wrappers in the world," says farmer Allan Zuchowski.
Zuchowski descends from the Polish immigrants who started growing tobacco commercially here during the Civil War, when the North needed a new supply. Turns out the normally sweltering, muggy summers in this hazy valley are ideal for cultivating the broadleaf variety that's wound around cigars.
[soundslide]http://www.wbur.org/files/soundslides/2009/wbur_0804_tobacco-crop[/soundslide]
"Today is perfect," Zuchowski says, looking out across his farm. "Hot and humid, exactly what this crop likes. But it was damaged when we had the cool and the cloudy and the wet."
Zuchowski shows the damage by walking through his field, plucking what should be deep green leaves that are as big as a broadsheet newspaper. But some leaves are stunted and furled inward. Others bear blotches of pale green. And still more are dinged with brown speckles.
All from a variety of plant diseases that thrived in the cool, damp weather when these tobacco plants were young and weak.
"This is an advanced case of the disease, and that is just not a good leaf" Zuchowski says, ripping it from the plant.
"A cigar wrapper has to burn evenly, otherwise the cigar won't work properly," he adds. "This will cure brittle and dry and these small spots, they will fall out. So you'll have a leaf peppered with holes, and it'll be totally useless as a wrapper."
Zuchowski's crop is ruined. "All my life, this is the worst," he says. "And I can say probably the same for my neighbors around me."
Joe Czajkowski farms up the road from Zuchowski. He only knows of one area farmer who's going to harvest any tobacco this summer. "It was like the perfect storm for tobacco," Czajkowski says. "It's a goner. The crop is just not marketable to any company. There's no quality there."
Ted Smiarowski of the federal Farm Service Agency says three-quarters of the Massachusetts tobacco crop is a total loss. "The sad part, too, is that a lot of locals work on these farms for jobs," Smiarowski says, "and they're not working this year on them. Because there's nothing to harvest."
That means less money spent at Sofia's Polish-American Café in Hadley, where kapusta and kielbasa warm on the stove.  Owner Kristina Beaudry, born Nikonczyk, says her healthy plates are popular among the college and high-school kids who earn around eight bucks an hour tending to the labor intensive rows of tobacco. Two of her sons are on those crews, too.
"The high school kids and stuff, they'll come in here and order just six, eight pirogues at a time to eat," Beaudry says. "Gives 'em energy, go back to work."
Not this summer.  Some of the larger farms here that hire seasonal workers from Jamaica have sent them home already. While tobacco may be the hardest hit, other crops are having a tough go of it right now, too.
"They need some sun and some dry weather to kind of get things moving," says Lorie Warren, who monitors New England weather and crops for the U.S. Department of Agriculture. She says the cool, moist weather has given Massachusetts farmers an enduring headache.
"You know the tomato crop's been hit by blight, which is exacerbated by wet conditions. Mold grows on your berries. If the ground doesn't dry out, then you can't get your farm equipment into the fields to cultivate," Warren says. "So you've got slugs running rampant, you've got bugs going crazy because they can get in there. You know as soon as you spray, it turns right around and rains and everything goes away and you have to run in there and do it all over again."
Even with warmer weather this week and last, Warren says it's still below average — it should be even hotter right now. Unless it dries out soon, more Massachusetts crops could face the same fate as tobacco.
Pulling out damaged leaves on his Hadley farm, Allan Zuchowski is thankful that he bought crop insurance this year. It means he will plow his tobacco under and receive a modest settlement. If he hadn't paid for insurance, he'd have sell his specialty crop as scrap-grade tobacco.
Those broad leaves, cultivated to wrap around the finest cigars, would end up in cheap chew. "This is supposed to be the highest, the champagne of the tobacco industry," Zuchowski says. "And we'd be producing gut-rot."
Other Massachusetts farmers with other crops still in the field are hoping for better weather to avoid such an insult on top of economic injury.
This program aired on August 4, 2009.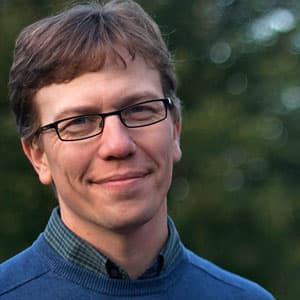 Curt Nickisch Business & Technology Reporter
Curt Nickisch was formerly WBUR's business and technology reporter.