Study: Not Treating Prostate Cancer Could Be Good Choice
01:43
Play
This article is more than 11 years old.
Advances in prostate cancer screening have helped save thousands of men's lives. But early detection can lead to treatments that cause terrible side effects, even though the cancers were so small they posed no long-term health risks.
Now, new research out of Beth Israel Deaconess Medical Center in Boston shows that some men diagnosed with prostate cancer could be better off not getting treatment at all.
When scientists developed the prostate cancer test called PSA screening about 20 years ago, it began to find prostate cancers at much earlier stages. That meant men could start aggressive early treatment. But PSA screening has also been criticized for driving so much early detection that prostate cancer is now overdiagnosed.
"PSA screening is a double-edged sword," said Martin Sanda, director of the Prostate Cancer Center at Beth Israel Deaconess, and an associate professor at Harvard Medical School.
Sanda said early detection has reduced prostate cancer deaths, but, he added, "the flip side is that in detecting these cancers so early, we recognize that they are not tumors that are apt to cause any harm in the near-term — or foreseeable future — for many men."
Some men with prostate cancer can live their whole lives without any symptoms. But many men get treatment anyway as soon as they're diagnosed. And those treatments — usually surgery or radiation — can cause sexual dysfunction and urinary and bowel problems that diminish their quality of life.
So Sanda and a group of other researchers at Brigham and Women's Hospital, the Harvard School of Public Health, and the University of California at San Francisco, looked at more than 3,300 men diagnosed with prostate cancer between 1986 and 2007 and studied the outcomes of those who decided not to get treatment right away — or at all.
"About half of the patients who didn't undergo treatment immediately, meaning in the first year when they were diagnosed, were still doing fine and had not undergone treatment 10 or 15 years later, which is quite a lot of patients," Sanda said.
The study also shows that the difference in death rates between men who had and hadn't sought treatment was statistically insignificant. Sanda cautioned that the men who didn't seek treatment had been diagnosed with small, low-risk tumors. So the no-treatment option isn't right for everyone, he said.
But Sanda said that what he calls "watchful waiting" is one of the options that men with low-risk prostate tumors should consider.
"Throwing yet another option in the mix in many ways doesn't make the decision easier for patients or their doctors," he said. "But it's a very important option to put on the table: Is this man's cancer one that needs to be treated right away, or is it one that can be monitored?"
The idea that a cancer wouldn't immediately be treated can require a major change of thinking.
"When I was in medical school, I was told that if it's a tumor, when in doubt, cut it out," said Jonathan W. Simons, president and chief executive officer of the Prostate Cancer Foundation in Santa Monica, Calif. "This study shows that if it's a very low-grade, low-stage, low-risk tumor, patients should understand they may not need surgery immediately, or radiation."
Simons also said the new study suggests PSA screening has a potentially new role: to help patients determine what kind of prostate cancer they have — low-risk or high-risk — and plan their treatment regimens accordingly.
But he noted the decision not to treat prostate cancer immediately requires a different kind of commitment.
"In making the decision that you may not need surgery, you have to make the decision that you need to be much more carefully monitored the rest of your life," he said.
And for many men diagnosed with prostate cancer, that lifelong vigilance could be worth the trade-off.
This program aired on August 31, 2009.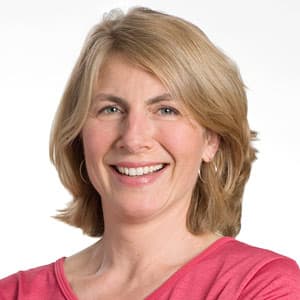 Sacha Pfeiffer Host, All Things Considered
Sacha Pfeiffer was formerly the host of WBUR's All Things Considered.