Mass. Senate Delays Debate On Interim Kennedy Succession Bill
This article is more than 10 years old.
After meeting for less than five minutes Friday, Massachusetts Republicans temporarily blocked Senate debate on a bill allowing Gov. Deval Patrick to name an interim appointment to the Senate seat left vacant by the death of Edward M. Kennedy.
The Republicans, who hold just five of 40 seats in the Senate, objected to the bill being taken up without formal notice. Under Senate rules, the objection means the bill can't be debated until the next formal session, which is scheduled for Monday at 1 p.m.
It was the first of several sessions expected to be stalled by parliamentary procedures.
"It's been on a fast track, the pace of the debate should slow a little bit," said Sen. Bruce E. Tarr, a Gloucester Republican, who raised the objection. "People should have the opportunity to hear more from their constituents. We want to ensure the process is full in terms of the ability for people to consider exactly what's happening here," he said.
Republicans say they could delay the bill by about a week, although it appears a full debate and a vote could come by Tuesday or Wednesday.
The move came a day after the Massachusetts House voted 95-58 in favor of the bill, with 42 House Democrats joining all 16 Republicans in opposition.
The interim appointee would serve until a special election on Jan. 19, 2010.
Supporters of the legislation, including House Speaker Robert DeLeo, a Democrat, say the interim appointment is needed because Kennedy's staff has been ordered by the U.S. Senate secretary to shut down the office and halt work on any pending constituent matters.
Supporters also expect several pieces of key legislation, including health care reform, to come up before the end of the year — and they say every vote counts.
Opponents of the bill argue the move is partisan, and that Democratic lawmakers, who stripped the governor of appointing authority back in 2004, should live with their actions.
The Democratic legislature feared then-Gov Mitt. Romney could appoint a Republican to fill a seat left vacant by Sen. John Kerry, had Kerry won his bid to become president.
Kennedy, in a letter sent to lawmakers before his death, urged the change in law saying "it is vital for this Commonwealth to have two voices speaking for the needs of its citizens."
Kennedy died of brain cancer last month.
The debate is being followed closely in Washington, where Democrats hope to regain a 60-vote, filibuster-proof margin in the U.S. Senate ahead of any debate on President Obama's health care overhaul.
Massachusetts Sen. John Kerry, Senate Democratic Leader Harry Reid of Nevada and Massachusetts' all-Democratic delegation to the U.S. House also back the change, saying they need all the votes they can to support the health care change.
Obama presidential counselor David Axelrod has contacted Massachusetts officials and the Massachusetts branch of Obama's political arm, Organizing for America, has sent out e-mails advocating for the change.
U.S. Rep. Barney Frank, D-Mass. said Friday that qualms about whether to allow the interim appointment shouldn't be used to help defeat major policy issues like expanding Americans access to health care.
"Public policy questions important to everyone in America shouldn't be decided by a tragedy of death or some other non-electoral factor," Frank said.
The bill initially would have required the appointee be from the same party as the person who created the vacancy, a Democrat in the case of Kennedy's successor.
That requirement was stripped after critics in the House raised constitutional concerns and noted that more than half of voters in Massachusetts aren't enrolled in any party and would be barred from consideration.
Patrick has said he would extract from the appointee a promise not to be a candidate in the special election.
Those said to be under consideration for an interim appointment include former Gov. Michael Dukakis, former Democratic National Committee Chairman Paul Kirk Jr.; former Massachusetts Senate President Robert Travaglini, former Kennedy staff chief Nick Littlefield, Harvard Law School Professor Charles Ogletree and former state Treasurer Shannon O'Brien.
Candidates seeking the Democratic nomination in the special election include Attorney General Martha Coakley, U.S. Rep. Michael Capuano and Boston Celtics co-owner Stephen Pagliuca. State Sen. Scott Brown and Canton Selectman Bob Burr are seeking the Republican nomination.
Party primaries are scheduled for Dec. 8.
This program aired on September 18, 2009. The audio for this program is not available.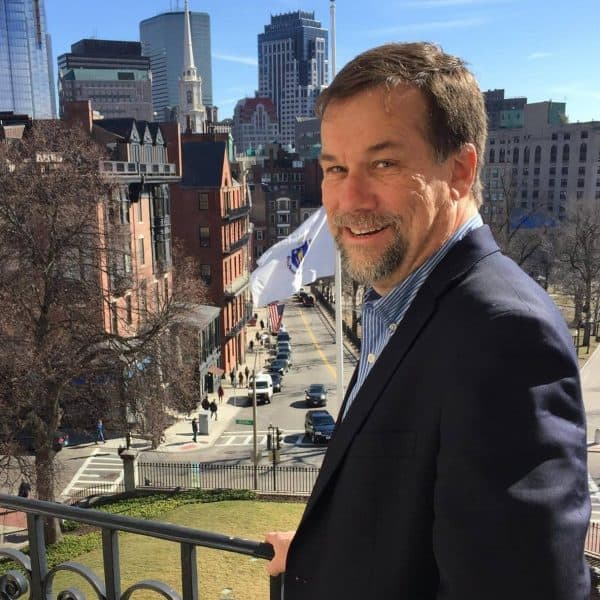 Steve Brown Senior Reporter/Anchor
Steve Brown is a veteran broadcast journalist who serves as WBUR's senior State House reporter.