Want The Swine Flu Vaccine? That May Take Good Luck And Good Timing
04:07
Play
This article is more than 10 years old.
With the H1N1 swine flu vaccine in high demand and short supply in Massachusetts and nationwide, people considered "high-risk" are supposed to be vaccinated first. But some high-risk patients can't find the vaccine even though some seemingly healthier patients can. That has many people wondering if there's any rhyme or reason to how the vaccine is being divvied up.
---
Ann Crisafulli is at a pediatrician's office for her 11-year-old son's physical. She'd scheduled it months ago, but while she's here she has a question about the H1N1 vaccine: When will it be available, and how soon can her son get it?
She's worried because he has asthma, which puts him at higher risk of complications from the flu.
"It was funny because one of my friends had said that her daughter had got the H1N1 vaccine, but you hear on the news that nobody has it yet," Crisafulli said. "So how can she get it if they don't have it? It just seemed kind of weird."
Not just weird, but also mysterious to a lot of people. Public health guidelines say high-risk groups get the vaccine first. That includes pregnant women, health care workers and children. But Crisafulli doesn't see much consistency in how the vaccine is being handed out.
"Why does one doctor's office have it and no other?" she asked. "And are they holding it back, which I don't think that they would do? But you never know."
Crisafulli's pediatrician, Dr. Ben Kruskal, works for Harvard Vanguard, which finally got its first shipment of the H1N1 vaccine last week. But most of that is already gone because Harvard Vanguard only got enough for 1 percent of its 400,000 patients.
"I think people are all using the same broad principles, which is trying to assess who needs the vaccine the most," Dr. Kruskal said. "But, at this point, it's hard to say that there isn't some randomness or luck built into the process."
Dr. Kruskal told Crisafulli her son would probably get a dose while he was there. But the supply is so small, Kruskal said, that even some high-risk patients, like teenagers, aren't always making the cut.
"You know, the CDC includes all people under age 24 in the high-risk group," Kruskal noted. "But we clearly don't have enough to even give it to all those people who have appointments."
Cambridge pediatrician Michael Yogman has the same dilemma. So far, his office has received a few hundred doses, but it needs a few thousand. And the vaccine comes in different types — some only for babies, some only for pregnant women, and so on.
That's why Dr. Yogman describes the process of matching vaccines to patients as a "jigsaw puzzle."
"Although you'd like to do all the high-risk asthmatics, if all we're getting is nasal vaccine, we can't give it to them," Yogman said. "So then what do we do?"
What he does is give it to a patient who can take the nasal vaccine, even if that person isn't as high-risk as someone else. Because the vaccine isn't helping anyone if it just sits in a refrigerator. And if a doctor's office doesn't seem to be using its vaccine supply, it won't get as many shipments in the future.
"Some people who perhaps aren't in the high-priority groups are getting it because we either give it to them when we see them," Yogman said, "or we're going to be faced with trying to get 3,000 people in between two weeks in mid-December when greater supplies are available."
That's not a stampede any doctor wants.
So decisions about which patients get doses often come down to who already has an appointment scheduled. Or whether the type of vaccine on hand is safe for the patient on the examining table.
And sometimes, Dr. Yogman said, it's just good timing.
"There was one patient, when they walked into my examining room there was no vaccine," Yogman recalled. "By the time we finished and walked out, I saw a box on the floor. I said, 'Wait a minute.' I unpacked it and gave them the vaccine. That's luck."
That kind of random fortune helps explain why some people who have the same doctor have been able to get the vaccine and others haven't.
And different providers are taking different approaches. In Brookline, for example, the public health department has too few doses to hold a public clinic, so it's asking school nurses to identify which students need the vaccine.
So if you want a dose, your best bet is to keep calling — and get your name on as many waiting lists as possible.
This program aired on October 29, 2009.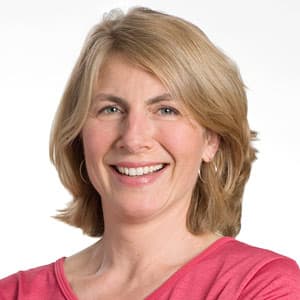 Sacha Pfeiffer Host, All Things Considered
Sacha Pfeiffer was formerly the host of WBUR's All Things Considered.