For Khazei, Being The 'Underdog' Is Nothing New
06:51
Play
This article is more than 11 years old.
Massachusetts U.S. Senate candidate Alan Khazei is used to being the underdog. Even though he's been at or near the bottom in most polls of the four Democratic contenders vying for the late Edward M. Kennedy's Senate seat, he says he's not discouraged.
Khazei says he's been successful before when the odds were against him. In fact, on the campaign trail, he often tells a story about just that — a story he says made him decide to run for office. But it's a story not everyone agrees with.
At a Jamaica Plain coffee shop in between campaign appearances on a busy Saturday in November, Alan Khazei sits down for a brief interview and breakfast. When asked if he wanted to eat before the interview started, Khazei replied, "No, I can eat and talk. I'll have that one bite and then I'll go."
Many of his supporters say that is quintessential Khazei — a driven, intense multi-tasker who convinces people to believe in his vision. They say it was that single-minded pursuit of a goal that helped Khazei in 1988 when he co-founded the service program City Year, which is described as an urban Peace Corps.
They also say those traits bolstered Khazei's image on the national stage during his unconventional and ultimately successful fight 15 years later over proposed funding cuts to AmeriCorps, the national network of community service programs.
Khazei says that fight changed his life. "For me it was a turning point because I realized that at that point service was good, but it wasn't good enough," Khazei said. "Fifteen, 16 years of work ... not just by me, but by an entire movement all over the country — because of partisan politics — could all be washed down the drain. ... That was pivotal."
That pivotal moment was in 2003 and the movement was the national service movement. Khazei was a leader in the movement. City Year was a model for AmeriCorps, participants in both work in service projects in exchange for education grants.
AmeriCorps became hugely popular after Sept. 11. In his 2002 State of the Union address, then President George W. Bush promised to boost enrollment in service programs and created the USA Freedom Corps.
"We need mentors to love children, especially children whose parents are in prison." Bush said in the speech. "And we need more talented teachers in troubled schools. USA Freedom Corps will expand and improve the good efforts of AmeriCorps and Senior Corps to recruit more than 200,000 new volunteers."
But just weeks later, amid a surge of new volunteers, lawmakers discovered that AmeriCorps enrolled more people than it could afford to pay education grants. There was a lot of finger pointing about complicated funding mechanisms and management. Instead of increasing participation, lawmakers ended up suggesting an 80 percent funding cut to AmeriCorps.
Rob Waldron, the former head of Jump Start in Boston, which works with disadvantaged preschoolers, remembers being notified that he would quickly lose some $5 million in federal funding.
"We heard from the government that in a month or two that was going away," Waldron said. "It wasn't because they didn't want to give it to us but it was because of a bureaucratic problem in Washington. And Alan gave me a call and said, 'We're gonna win this thing.' And I said, 'Alan, we have 60 days. That's just not possible. I appreciate your optimism.'"
But Khazei ended up convincing Waldron and hundreds of other service group leaders to fight. They wrote letters and editorials, they rallied business leaders and educators and Waldron was among those who went to Washington and tried to persuade politicians like then Republican and now Democratic Sen. Arlen Specter to maintain AmeriCorps funding.
"I remember about 45 days in when Arlen Specter basically screamed at me, like, 'I will never do this,'" Waldron said. "Literally, spit came out of his mouth and landed on my cheek. And that man about 40 days later voted for this legislation."
What Waldon and many others say was key in the AmeriCorps funding fight was Khazei's idea to hold a citizens hearing in Washington where people would testify for 100 hours — four days consecutively — about the benefits and the breadth of AmeriCorps programs. Seven hundred people showed up, more than 50 members of Congress testified. CNN followed some of the hearings.
Michael Brown, who co-founded City Year with Khazei and has worked with him since they were roommates at Harvard University, remembers when Khazei first suggested the hearing to other community service leaders during a conference call.
"There was some push back on the call like ... 'Why don't we do 10 hours? Why don't we do 24 hours?' And Alan was like, 'No we've got to do 100 hours. There are so many people that want to testify and it's got to capture people's imaginations,'" Brown said.
"And people said 'OK...' and organizations started signing up for hours in the middle of the night and saying 'I'll get people.'" Brown recalled. "It was really a magical moment ... a kind of Mr. Smith goes to Washington kind of moment."
Brown says that analogy is fitting for Khazei, whom he describes as a tremendously idealistic relentless optimist. But not everyone agrees that Khazei was the ordinary little guy who successfully took on the Washington big wigs.
"There's the sizzle and there's the steak," said Leslie Lenkowsky. In 2003, Lenkowsky was CEO of the Corporation for National and Community Service, the federal agency that oversees AmeriCorps. He says Khazei's citizen hearing was helpful, but was not the deciding factor in getting lawmakers to retain AmeriCorps funding and increase it by $100 million the following year.
"Alan and his colleagues had lots of sizzle, lots of visibility, lots of PR and so on." Lenkowsky said. "But the problem was discovered by the Bush administration, the key proposal was made by the Bush administration, the deal that ultimately came out of it was negotiated ultimately before Alan became involved."
Khazei, his supporters and a former Bush administration official all dispute Lenkowsky's take on what happened in 2003, but there's no question that AmeriCorps continues to grow. The White House reported a 234 percent increase in AmeriCorps online volunteer applications in early 2009 over the previous year.
President Obama has promised to more than double AmeriCorps members over the next eight years as part of the Edward M. Kennedy Serve America Act — a bill named after the man Khazei is trying to replace in the Senate.
This program aired on December 2, 2009.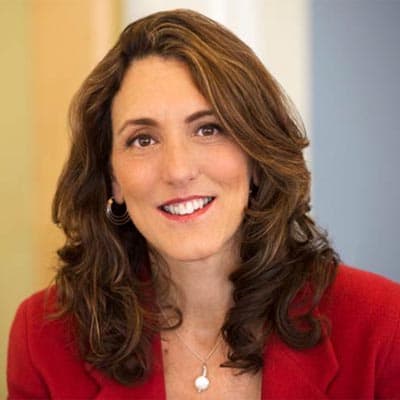 Deborah Becker Host/Reporter
Deborah Becker is a senior correspondent and host at WBUR. Her reporting focuses on mental health, criminal justice and education.