At Victory Farm, Vets Work On Civilian Return
03:18
Play
This article is more than 11 years old.
Down a dirt road in the woods of southwestern New Hampshire, under a rustic wooden sign like the gates of a frontier fort, read, "Veteran's Victory Farm." Up a broad clearing that looked out on Mount Monadnock, a couple of cows grazed in the pasture, goats wandered and ex-soldiers, some in fatigues, carried out new duties.
"Chickens, pigs and cows — whatever team is short a man. When a guy comes in, he's considered a trainee for the first three months. After that, you work your way up and become a team specialist," said Jimmy, describing the regimented duties at Victory. He did not want to disclose his full name for fear of "embarrassing his family."
Jimmy left the Army as a Sergeant two years ago. But he's still too close to Iraq and Afghanistan, where he did back-to-back tours with only a month in between.
"This is pretty much the best and most enjoyable place I've ever been in my life," Jimmy said of Victory. "I've never been happier than I've been here."
At his feet were a flock of golden birds, buff orpingtons, that he's raising for meat, and his egg-laying charges, a flock of New Hampshire reds.
Twenty-nine years old, he's been on the farm in Fitzwilliam since April, the same month he stopped doing drugs for the first time since 2006.
He points to one of the farm's dogs at his side: "Him and puppy girl help. It's like having two little psychiatrists 24 hours a day."
Many of the veterans end up at Veteran's Victory Farm because they are homeless, and they've ended up homeless because, in many cases, they're addicted. And many ended up addicted because they've been trying to cope with post-traumatic stress or traumatic brain injuries.
The farm is one of several programs and facilities of Veteran Homestead, Inc., a private non-profit that treats veterans for medical and psychological problems. The 18 veterans who live and work on the farm arrived because no other therapy and counseling programs worked for them.
Another veteran who also declined to give his full name, John, stroked a former race horse. He went to Victory to do what he couldn't do back in Connecticut, which was to put two stints in Iraq and the memories of Ramadi, a city in central Iraq, behind him.
"Ramadi is what I call hell; Ramadi was real bad," said John. "Mortars, all day and all night. I mean, a lot of close calls. For the longest time I slept with my boots on."
After his first tour he came back to the States for a rest that was too short.
"Newly-fixed potholes, that's a key sign of an IED in Iraq. So I'm swerving around those; I don't know how many accidents I almost caused."
John continued: "I knew I wasn't right, I knew there was a problem. And the easiest way to fix it was to self-medicate myself with alcohol."
And everyone wanted to know about Iraq upon his return.
"Everyone bombarding you. Bombarded with TV. Bombarded with the news," said John. "When you get home you just don't want to talk about things."
After the second tour, John's panic attacks became more common, and his drinking harder. He took a job as a truck driver at an airport that used air cannons to scare off flocks of birds.
"I was hitting the brakes, trying to duck under the seat," recalled John.
On this remote farm, where only a hunter's occasional rifle shot breaks the tranquility, John looked after a calf and a cow who responded to him but were skittish toward outsiders.
"This is the perfect environment," said John. "It's quiet. You're able to get your head back together."
I put the question of "farm therapy" to Leslie Lightfoot, the founder of the farm and the founder of Veteran Homestead. She's the daughter of a farmer and she's been a combat psychologist since the end of the Vietnam War.
"There's been all kinds of research on animal therapy that proves that it's really good," she said. "But when you're down there digging in the dirt with the guys, and you start to talk to them, they're not threatened by the shrink behind the desk. To this point [in their lives] they didn't know how valuable they were; this animal depends on them."
What doesn't work, Lightfoot and her nurses said, is seeing a veteran for 15 minutes every two weeks, giving him a prescription and thinking you're going to help him. That is what the vets at Victory said they got from the Veterans Administration. And it wasn't enough.
"When I leave here, this is what I want to do. I want to find another farm," said Jimmy.
Outside the farmhouse, Jimmy the Sergeant and John said that Victory has helped them to recover from both addiction and the wounds of war. They are permitted to stay for up to two years, and the goal is the healthy return to civilian life they couldn't make before.
The Victory Farm is just one model for treatment and Leslie Lightfoot and Veteran Homestead have recently launched a second model, a residential facility linked to Mount Wachusetts Community College, designed to treat both veterans and the families of veterans returning from Iraq and Afghanistan with traumatic brain injuries and post traumatic stress.
This program aired on December 29, 2009.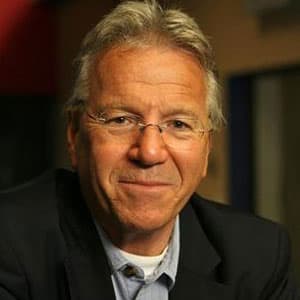 David Boeri Senior Reporter
Now retired, David Boeri was a senior reporter at WBUR.