All About Sport In Olympian's Youth Ski League
This article is more than 11 years old.
Bill Koch excelled at competition in his day. The Brattleboro, Vt., native won a silver medal in Nordic skiing at the 1976 Winter Olympics. But these days, the youth ski league that bears his name is offering a balance of learning and fun for cross-country skiers between the ages of 3 and 14.
Zoe and Max, veteran members of the Bill Koch Ski League, know the importance of the right wax to ensure optimum performance on the cross-country ski trails. Several weeks ago, at a Sunday morning team practice at the Weston Ski Center, Zoe, 13, not only helped some of the younger skiers prepare for their lesson, she also explained how she'd come by her expertise.
"Everyone thinks of Eastern Mass., which is our team, as flatlanders, because in Vermont there are hills and stuff," Zoe said. "But all our coaches are like scientists, so we have really intense waxes and everyone thinks we're like losers because of that, but it's fun. It's really fun."

Actually, this particular day was probably less fun than some for Zoe and her fellow cross-country skiers, because they weren't racing. The first hour of their time on the snow was spent in drills and technical work, after which there was time for games, but there were no stopwatches and no ribbons.
According to Koch, de-emphasis of competition is intentional. In fact, Koch made it a condition when he lent the clubs in Massachusetts, Maine, New Hampshire, Vermont and New York his name.
"I said yes, contingent upon the whole idea that it's just fun and participatory for all levels of kids," Koch said. "That it's not serious racing, if you will, not getting into the Little League syndrome. At the end of the year, that's why we call our final event a festival instead of a championship. We do some racing, but we also do lots of other fun stuff, too."
The parents at the ski center have absorbed Koch's message. John LaChance has two children in the program. Also a coach, he especially enjoys taking his athletes out on trails with headlamps after dark.
"Especially with the younger kids, they just love being out there when we start talking about wolves and bears," LaChance said. "Sometimes I feel a little guilty as a coach when I'm telling a group of 9-year-olds about wolves, and one little boy goes, 'Are there really wolves out here?' and I go, 'He's not gonna sleep tonight. I'm gonna get a call from a parent.' "
The talk of wolves, bears and festivals notwithstanding, two weeks later, the members of the Eastern Massachusetts Chapter of the Bill Koch Ski League have gathered to race on a clear, sunny Sunday.
Anne Celi, of Belmont, and her family fell in love with the ski program their first day on the course.
"We came out here, and it was just this beautiful February morning and the sun was shining, and everybody was tinkling their little bells, and people were skiing around," Celi recalled. "We're not kidding ourselves. Our kids know who comes in first and second, and what their times are and if they're doing better, but I really do think there's a very nice community element."
The community's oldest kids are members of a group called Norway, since Norway's Olympians generally excel at cross-country skiing. Two of the groups made up of younger children are called France and Sweden, and the group containing the littlest skiers is called the Power Pops. That's because at some point the littlest kids said they no longer wanted to be called lollipops.
Among the Pops is Shay, a 7-year-old who has been skiing for a couple of years, but began getting acquainted with the sport much earlier. "I started the team when I was 5, and then I think I started in a little thing," the young skier said. "I went around in a little stroller thing when I was 2."
When the time comes for the sprint races to begin, the challenge is organization. When the competition is completed, 90 kids ranging in age from 6 to 13 will each have raced around the same course twice, which means that four to seven of them take off from the starting line every two minutes.
Dorothy Kern played professional basketball in what used to be East Germany and cross-trained with cross-country skiing. Kern coaches for Eastern Mass. and her daughter, Julia, skis. When Kern takes a break from giving her charges tips on how to gain speed on the turns and explode over the tops of the hills, she acknowledges that some of the younger kids seem to be having as much fun tossing snow at each other as they have had on skis.
"That's where everybody started, and it's really the passion for the sport," Kern said. "Because these kids are between 3 and 14 years old, and what's really important is that we don't over train the kids. There's nothing better than being out in the sun and the snow."
In two weeks, the world's best cross-country skiers will be competing at the 2010 Winter Olympics in Vancouver. A few of the skiers from the U.S. are considered potential medal winners. That is a circumstance that delights the cross-country skier after whom the clubs around New England are named, Koch.
"I'd like to think that it would be a great boost for cross-country skiing," the former Olympian said. "Because I think that, really, of anything that I've ever done in my life, activity-wise, nothing is finer. I like to say that the more people that cross-country ski, the better off the world would be. And I truly do believe that."
It will be at least the 2014 Winter Games before anybody currently sliding around the track in Weston in a Bill Koch League bib competes for the U.S; maybe more like 2018. Maybe some of the hopefuls will be watching this winter's competition on television, though if the weather around Boston is cold and dry, it's more likely they'll be out skiing.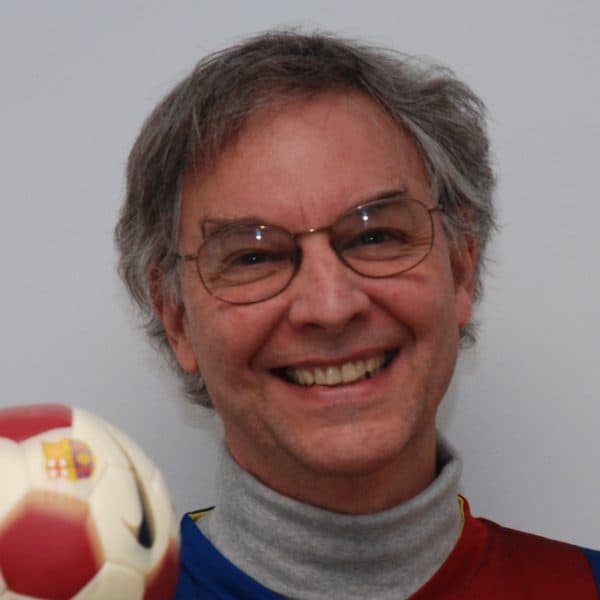 Bill Littlefield Host, Only A Game
Bill Littlefield was the host of Only A Game from 1993 until 2018.