Mass. Prepares For Major Storm — Then Waits
This article is more than 10 years old.
Whoever wrote the Boy Scout motto would be proud.
Massachusetts was more than prepared for what had been predicted to be a major snowstorm, but by mid-afternoon many people were left wondering: Why all the fuss?
As of late Wednesday morning, 800 pieces of Massachusetts Department of Transportation equipment were out pre-treating roads and highways. Up to 4,000 plows were at the ready. Forecasters expected the snow to start piling up around noon, with snowfall rates around two inches an hour.
Meteorologists have now downgraded snow forecasts for the Boston area to about three to six inches, from the four to eight inches originally predicted. But Channel 5 meteorologist Harvey Leonard said dangerous conditions are still possible.
"It's going to be getting a little bit colder, not dramatically so, but enough to make this mixture become all snow," Leonard said. "It should become a little bit heavier, but not as heavy as they've had down south, and that will give us a few to several inches of snow and will turn roads into slippery roads as we go through the rest of the evening commute."
In southeastern Massachusetts, where the snow was supposed to be heaviest, temperatures above freezing kept it mostly a snow-rain mix until late afternoon.
Despite the tame start to the storm, preparations and precautions were shifted into high gear.
Several school districts, including Boston, canceled classes all day. Many communities that did have school dismissed students early.
Gov. Deval Patrick told non-essential state employees to stay home, and Registry of Motor Vehicle branches in southeastern Massachusetts were closed.
Previous storms have already strained the state's snow removal budget, but Patrick said the state will use whatever resources are necessary to deal with the snow. "We have some authority in the state budget that we have worked out in the last couple of years to be able essentially to deficit spend, as this is one of those things you have to pay for," the governor said.
At Boston's Logan Airport, dozens of flights into and out of Boston were canceled, especially flights to mid-Atlantic cities that have been paralyzed by the second major storm in four days.
State officials were concerned about the afternoon commute. Had the storm stuck to the original forecast, there was the potential for gridlock.
So far this winter, there have been three major snowstorms, but each one fell on a weekend, so snow removal crews didn't have to deal with commuters and schools were not open.
This program aired on February 10, 2010. The audio for this program is not available.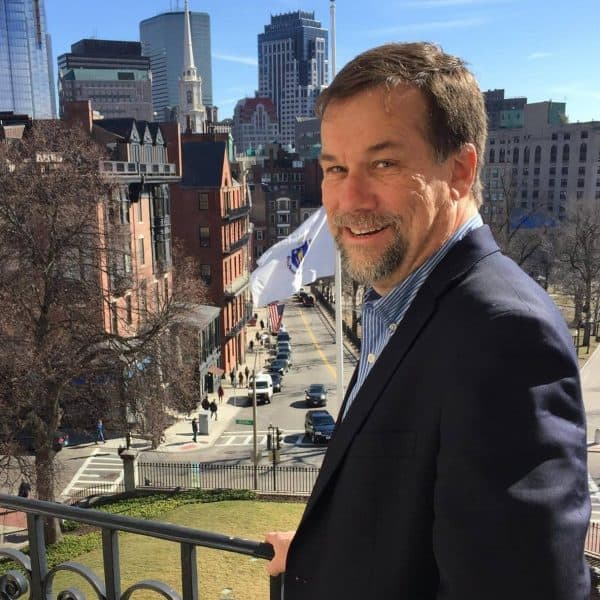 Steve Brown Senior Reporter/Anchor
Steve Brown is a veteran broadcast journalist who serves as WBUR's senior State House reporter.