Helping In Haiti: Questions & Answers
02:24
Play
This article is more than 10 years old.
BOSTON — Hundreds of medical workers from the Boston area have traveled to Haiti in the past month to help earthquake victims. For the most part, the urgent medical emergencies have been taken care of. But there is now a growing focus on the long-term health needs of quake victims and their families, and Massachusetts is continuing to play a role in Haiti's ongoing recovery.
---
The major injuries immediately after the Jan. 12 earthquake were crush wounds and compound fractures. What new health problems are emerging?
There's a tremendous demand for ongoing surgical care, especially for the hundreds of people who have had arms or legs amputated and now need prosthetic devices. Infectious diseases are spreading because of terrible sanitation and a lack of clean water. There are also many people who had chronic health problems before the earthquake hit, such as diabetes and high blood pressure, who now can't get those conditions treated. Another huge worry is mental health. Thousands of Haitians have lost their families and homes, and they need emotional and mental health services to help them cope with these massive traumas.
When earthquake victims in Haiti have been treated and are ready to be discharged, where are they going?
That's a giant problem right now. So many houses were destroyed that many people recovering from injuries have no homes to return to. Partners In Health, the Boston nonprofit that's a major player in Haiti's earthquake recovery, has been approached by the U.S. Navy about this very issue. So the organization is trying to expand its capacity to accommodate some of these victims. A big focus for all medical workers in Haiti now is simply finding patients a decent place to live, adequate food and water, and other basics.
"[U.S. Navy officials] were saying, 'Well, we've got these patients on our hospital ship, the Comfort, out in the harbor of Port-au-Prince. We're ready to discharge. Where can we send them? We can't just put them on a helicopter and drop them off in Port-au-Prince. Can you take them?' "
-- Andrew Marx, Partners In Health
How many earthquake victims are being flown to the Boston area for medical care?
Some, but not many. A few injured children arrived at Massachusetts hospitals last week. But most of those evacuations are being arranged and paid for by private groups or anonymous donors. The federal government has decided to send earthquake victims who need extensive medical care to hospitals in Florida and Georgia.
Is Massachusetts still expecting the federal government to send any earthquake victims to this state?
No federal evacuees are currently expected in Massachusetts. But that could change at any time, so the state says it's ready for anything. If quake victims are sent to Massachusetts, state health officials probably won't even know in advance what their injuries are.
"So it would be triaging them right at the airport to assess their medical needs. We'd also need Creole speakers at the airport. We would then need EMS transports to get them to whatever hospitals they need to go to. So there are a lot of issues and logistics to be worked out."
-- Jennifer Manley, Massachusetts Department of Public Health
Are any Boston-area groups involved in rebuilding hospitals in Haiti?
Partners In Health had been working with Brigham & Women's Hospital on a plan to build a new hospital in a rural area in Haiti. But that plan changed after the earthquake. They now want to build a medical school because one of Haiti's few, and possibly its only, med school collapsed in the quake. If a new school is built, it will supply Haiti with medical workers for years to come. Meanwhile, the St. Boniface Haiti Foundation in Randolph is looking into starting a group home in Haiti for people with spinal cord injuries.
What can Massachusetts doctors do if they still want to help in Haiti in some way?
Local hospitals, especially Massachusetts General Hospital, Brigham & Women's Hospital, and Children's Hospital, are still sending health care workers to Haiti. Partners In Health is helping doctors who want to make the trip find a place to work and get flights to the island. And some doctors who want to help in Haiti, but who can't leave Boston for various reasons, are covering shifts for other doctors who are able to go. So there are still many ways to offer assistance.
"What we're trying to do is keep a roster of health professionals who are interested in going to Haiti. You know, the needs will go on for very a long time, so knowing who is available and who has skills that will be needed is about the best thing people can do and will be hugely helpful."
-- Jennifer Watson, Brigham & Women's Hospital
Some doctors who have treated earthquake victims in Haiti in recent weeks say the experience was reminiscent of practicing "Civil War medicine." Is that still the case?
Most medical facilities in Haiti are much better stocked with supplies and equipment now. Immediately after the quake, some medical workers were sending home reports of license plates being used as splints, vodka being used as a sterilizer, and operating rooms being set up in tents because existing buildings couldn't be trusted to withstand an aftershock. But Partners In Health alone says it has shipped about 100 tons of medical supplies to Port-au-Prince, including big items such as anesthesia machines. So there are fewer reports now of doctors treating patients without the help of electricity or pain killers.
This program aired on February 18, 2010.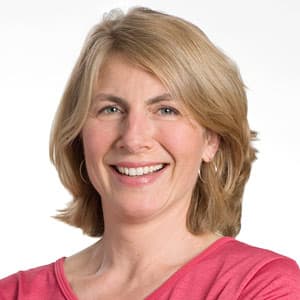 Sacha Pfeiffer Host, All Things Considered
Sacha Pfeiffer was formerly the host of WBUR's All Things Considered.