Study: Knowledge Gap Could Explain Higher Lung Cancer Rate Among Blacks
This article is more than 11 years old.
New research out of Boston could help explain why African-Americans have higher rates of lung cancer than any other racial group. A study released Monday by the Dana-Farber Cancer Institute says blacks are less likely than whites to seek treatment for the disease and to know how to recognize and prevent it.
To conduct their study, researchers surveyed more than 1,500 black and white people who don't have lung cancer on their beliefs about the disease.
The surveys found that African-Americans are less likely to link lung cancer with smoking, even though tobacco is responsible for almost 90 percent of all lung cancer cases, and more likely to expect pain or other symptoms before a positive diagnosis, which isn't always the case.
In addition, "African-Americans were more reluctant to go the doctor because they were afraid they were going to be told they had something," said Dr. Christopher Lathan, a Dana-Farber oncologist who led the research.
These findings suggest that the reason African-Americans have the highest incidence of lung cancer may be more complicated than previously thought, Lathan said.
Past studies have suggested that African-Americans get lung cancer at higher rates due in part to inequities within the health care system, such as differences in access to care and quality of care among blacks and whites.
But if blacks hold mistaken beliefs about lung cancer, as the Dana-Farber research indicates, that could interfere with their ability to prevent and treat the disease, according to the researchers. For example, African-Americans tend to be diagnosed with lung cancer later than whites, when the disease is more advanced and more difficult to treat.
"This tells us that if we're going to try to fix this situation, we have to get away from thinking about it as just one issue," said Lathan, who is also an instructor at Harvard Medical School.
To better educate blacks about lung cancer, Lathan recommends that informational campaigns about the disease be more specifically targeted to African-American communities.
"This study doesn't answer all our questions," he added, "but it definitely lets us know that there are things we could do in our own public service messages about smoking and about lung cancer in particular."
According to Dana-Farber, lung cancer is the leading cause of cancer deaths in the United States and only 15 percent of patients survive for five years after a positive diagnosis. Furthermore, the disease is rarely accompanied by early warning signs; by the time symptoms such as coughing or spitting up blood appear, the cancer is usually at an advanced stage.
Early-stage lung cancer is curable, however, and the primary recommendation for decreasing the chance of getting the disease is to avoid smoking and tobacco smoke.
The study, which was funded by the National Cancer Institute, appears in the journal Cancer.
This program aired on February 22, 2010. The audio for this program is not available.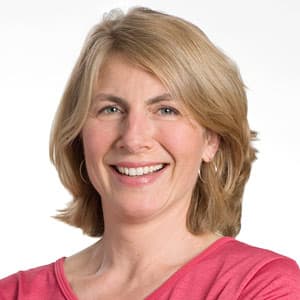 Sacha Pfeiffer Host, All Things Considered
Sacha Pfeiffer was formerly the host of WBUR's All Things Considered.