Three Theaters Forge One New Festival
This article is more than 10 years old.
For the first time, three Boston area arts organizations are banding together for a co-production.
They're going to need a pretty big stage. Or a bunch of them.
This weekend, the American Repertory Theater in Cambridge, the Huntington Theatre Company and the Institute of Contemporary Art will join forces for a pow-wow devoted to nurturing and launching fresh, new voices in American theater. At the Emerging America Festival, performers, directors, writers and theater companies will be strutting their stuff at venues run by all three institutions.
While Emerging America was created to introduce audiences to some of the country's hottest talent, A.R.T. Artistic Director Diane Paulus said it will also put Cambridge-Boston — (she merges the two cities when speaking about them) — on the map as a cultural mecca. She sees the festival as an opportunity to bring some "creative branding" to an area brimming with theater and performing arts companies, both big and tiny.
"We need to make noise so people know we're here."
-- Diane Paulis, artistic director, A.R.T.
"We need to make noise so that the world knows we're here," she said. "I think the intent for Emerging America is to become a nationally recognized festival that people are traveling to Boston to attend."
Emerging America Comes Forth
When Paulus moved to the Boston area a year ago to take the helm at the A.R.T., she said she was blown away by the tremendous amount of creative capital she found here.
At that point, Paulus already knew Peter DuBois, the Artistic Director at the Huntington Theatre Company. They both left behind busy directing careers in New York City before heading north to Boston. So the two creative transplants hooked up and started brainstorming.
Then, after meeting ICA Museum Director Jill Medvedow, Paulus said the three institutions seemed to form a geographic triangle — and together the artistic leaders triangulated a vision for the performing arts scene in Greater Boston. The concept for Emerging America was born.
"The idea of cross-institutional partnerships seemed exactly what could be fresh and new and necessary for Boston-Cambridge to claim it's power as an arts town," Paulus said.
David Henry, Director of Public Programs at the ICA, sees the collaboration as a way for the ICA to highlight the museum's dramatic side - along with it's state-of-the-art performance space.
"The fact that the three institutions would come together, the fact that they would recognize our role in presenting contemporary theater in this town," Henry continued, "and the fact of drawing a little more attention to the contemporary art world, we thought this was all good for this."
The ICA's choice of programming for the festival certainly makes sense for the venue. In addition to a huge, opening night performance bash, a play about Mike Disfarmer, a reclusive Arkansas photographer, will also hit the museum's waterfront stage.
"We look for things that try to cross boundaries and connect ideas in different ways," Henry said.
A Theater Mash-Up
"It means that we will make mistakes. It means that we will be celebrating triumphs. It means an open bar and lots of sexy unwashed artist types milling about."
-- Ryan Landry, playwright and actor
And that's what all three institutions will be doing over the weekend as they each present its own unique take on the current state of contemporary theater.
There will be full-length plays, one-act plays, solo works, puppet pieces, parties, experiments and lots of dialogue.
The festival has also produced podcasts and audio walking tours, meant to be listened to while roaming through the streets in Cambridge and Boston. Artists and local personalities will narrate some. There are also a selection of short, site-specific audio plays created by Huntington Theatre Playwrighting Fellows.
Playwright and actor Ryan Landry wrote and reads the podcast, "Helen Hangs Up." Landry is part of a Boston theater company called The Gold Dust Orphans. During the festival, they'll also be giving a performance of 15 original scenes, songs and dances chosen from 37 productions.
In an e-mail, Landry mused that the fact that the festival is new and untested comes with all the drama that goes along with taking artistic risks.
"It means that we will make mistakes," he wrote. "It means that we will be celebrating triumphs. It means an open bar and lots of sexy unwashed artist types milling about. IT MEANS THAT ART STILL MEANS SOMETHING." (The caps are all his.)
Driving Interest In The New
The weekend's line-up is diverse — for good reason, said Diane Paulus. While the festival is designed to be surprising, raucous and fun, its also driven by necessity.
It isn't always easy to get audiences excited about new works, according to Paulus. Theater-goers have an affection for their Chekhov, Albee and Williams. (And who can blame them?) Paulus says creating an appetite for emerging talent needs to be part of the game plan at all theater companies.
Plus, said Paulus, pooling resources in the midst of a recession makes a lot of sense.
"There is strength in numbers," she said.
---
More:
This program aired on May 13, 2010. The audio for this program is not available.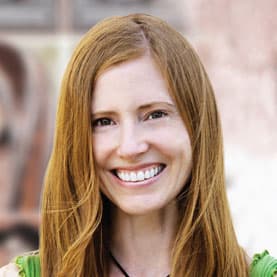 Andrea Shea Senior Arts Reporter
Andrea Shea is WBUR's arts reporter.