Bach Goes Electric With The Borromeo Quartet
07:12
Play
This article is more than 10 years old.
http://www.youtube.com/watch?v=VIwmJjTE1x0
Electronic effects are nothing new for rock musicians. Guitarists in countless bands — from Radiohead to U2 to Boston's own Mission of Burma — use electronic pedals and programs to alter the sound of their instruments. But what about a classical violinist playing his precious antique violin?
For Nicholas Kitchen and Boston's Borromeo Quartet, going "electric" is a radical proposition.
Thursday night the four musicians are playing something they've dubbed "Bach's Electric Chords" at the Isabella Stewart Gardner Museum. The string players have been working out the technical kinks in their program at rehearsals over the past few weeks.
"This is very interesting to me in many ways, but also scary in many ways because I'm not quite sure what it is I'm even trying to produce exactly."

Yeesun Kim
At the New England Conservatory, the sound of a classical quartet getting in tune is pretty typical. But the amount of electronic gear at the Borremeo musicians' feet is not.
Their delicate, age-old instruments are lightly connected to effects pedals. Long black chords snake under small rugs and across the floor. There are feather-light microphones, laptops and amplifiers. The musicians, sitting up right in chairs, are even wearing ear buds, including Borromeo founder Nicholas Kitchen.
Since 1989, Kitchen and his quartet have played classical music in some of the world's greatest concert halls. But these days he's fostering a serious appreciation of rock musicians.
"They've really learned an art of what can be done with the electronic signal," Kitchen says, "and they treat it with great imagination, great love for what is possible. And yet we haven't melded that with the tradition that we also love, which is of old instruments." Then he adds, with a laugh, "I guess here we are with them, well, joined at the hip some how."
Kitchen is creating a new kind of musical instrument: a type of organ, he says, using his quartet and electronic processing.
The experiment began with Kitchen's love of Bach's organ music. He re-arranged one piece — the "C Minor Passacaglia Fugue" — for cello, viola and two violins. Now the four musicians are teasing out new sounds, using hints reverb and distortion.
To demonstrate, Kitchen plays his violin without effects. It sounds beautiful, pure and just as you'd expect in the hands of an accomplished string musician.
Then he pushes a button with his toes, activating one of more than 300 preset effects programmed into the pedal board.
The result is subtle, but decidedly bigger. Reverb expands the violin's sound by an octave.
"They all have really colorful titles," Kitchen says, talking about the presets, "which I think is a nice dip in to the history of Rock and Roll."
Then he reads a few titles off the effects menu on his laptop screen.
"Plexi lead, Class A, 30 TB, Sunny Rainy Day, Smooth Criminal, K-Rock, Ogre, Burning Fish, Black Face. There are a lot of fun ones here," he says, including, "Misfit Toys, which we're actually using at one point."
These classical musicians look a little like fish out of water, tapping on pedals, clicking through options.
Next, the cello is transformed into something like a "super bass." It drones and fills the room with deep, warm, somewhat ominous sounds.
"As you can see that's a little different than your normal string quartet stuff," Kitchen says.
It's certainly dramatic, then Kitchen clarifies: "That one's called 'Beat the Dragon'."
"Beat the Dragon" isn't something cellist Yeesun Kim is used to.
"This is very interesting to me in many ways," she says, "but also scary in many ways because I'm not quite sure what it is I'm even trying to produce exactly."
Even so, she's going along with Kitchen's experiment.
Then there's the quartet's second violinist, Khristopher Tong, who admits, "I thought he was crazy, like I usually do, but I thought it was awesome."
"It really is a different instrument. I have to say with this particular crazy idea I wasn't sure how we'd do, but you just have to try it, so we're trying it, and it's pretty fun, actually."
Tong says he's getting in touch with his inner rock musician. So is violist Mai Motobuchi. She's playing the pedal board with her bare feet, and is thinking about buying an electric viola.
But Nicholas Kitchen, the Borromeo's founder and arranger of "Bach Goes Electric," is wary of taking his experiment too far. This isn't a rock band after all, and he says using too much distortion could be dangerous.
To make his point Kitchen and the quartet musicians add an effect they would never use in performance. It growls, but sounds pretty tame to a rock fan. For classical musicians, though, it sounds pretty gnarly.
Still, the Borremeo musicians keep clicking through their palette of effects, with the goal of playing the Bach Fugue in an artful way that evokes the elegance of an organ. And, at this point, Kitchen says they're just about there.
---
Bach's Electric Chords: Guitar-Pedal Counterpoint for String Quartet  performs Oct. 7 at 6:30 p.m. at The Isabella Stewart Gardner Museum and Oct. 14 at 6:30 p.m. in Williams Hall at the New England Conservatory.
This program aired on October 7, 2010.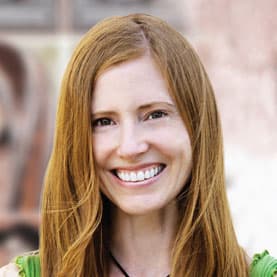 Andrea Shea Senior Arts Reporter
Andrea Shea is WBUR's arts reporter.