Kareem The Dream, And The Author
03:19
Play
This article is more than 10 years old.
Sunday afternoon in Worcester, as the technicians in the Hanover Theater made adjustments to their sound system, Howard Borer discussed the man who would soon be speaking to several hundred people under the auspices of the federation. Borer, the executive director of the Jewish Federation of Central Massachusetts, acknowledged that he'd never heard the speaker but was excited by the federation's choice.
"It's fascinating that you have an African-American Muslim speaking on behalf of the Jews," Borer said. "And he's talking about experiences that both African-Americans and the Jews experienced in trying to fight bigotry and prejudice."
The man Borer described was instantly recognizable when he strode on to the stage because he is a little over seven feet tall.
Kareem Abdul-Jabbar, best known for scoring more points than anybody else in the history of the National Basketball Association, is also an author, actor of sorts, coach, and lecturer. His subject on Sunday was "Brothers In Arms," a book he co-wrote several years ago. It's the story of the 761st Tank Battalion, a unit of African-American soldiers who endured racism and bigotry, distinguished themselves in battle during World War II, and participated in the liberation of several concentration camps in Germany.
As Abdul-Jabbar pointed out in his presentation, prior to the Second World War, black soldiers and sailors had been saddled with menial work. Even during that war, black units that had been trained to fight were often prevented from doing so. As a child, Abdul-Jabbar knew one of the men who had served with the 761st Tank Battalion, Leonard "Smitty" Smith. The desire to tell the story of what Smith and his comrades had accomplished drove Abdul-Jabbar to investigate the circumstances of the 761st and to write the book.
When he'd completed his remarks, the author invoked a wider context for his work.
"Knowledge is power," he told his audience. "When you have the power of knowledge, you're able to make changes."
The subject of Abdul-Jabbar's lecture notwithstanding, when he offered to take questions from the audience, the first person to reach the microphone did not have the 761st on his mind.
"Who's your favorite NBA player to play against?" asked a boy far too young to have seen the player in action.
The speaker handled the jump in subject with grace, citing hall of famer Nate Thurmond, late of the Warriors, Bulls, and Cavaliers, as the man who played him hardest.
About half of the questions that followed had to do with basketball, and one particularly personal inquiry came from a fan who wanted to know why the speaker had chosen to attend UCLA rather than Holy Cross right there in Worcester, where Kareem's high school coach had just assumed control of the program.
"I came up here and visited Holy Cross, and then visited Los Angeles," Abdul-Jabbar said. "The difference in the weather, and UCLA had co-eds, those were big factors in my choosing to go to UCLA. And Coach Wooden was a pretty good coach."
After Abdul-Jabbar had left the stage, I asked him whether it bothered him that so many of the audience members wanted to hear about basketball rather than the subject of his book.
"It's okay," he said. "You know, people wouldn't come here if I hadn't had the basketball career I had. They wouldn't know who I was, and they probably wouldn't have bought my book. So it's just the prominence I achieved as an athlete that gives me access to the public that a lot of authors don't have, and I've tried to use it in the most positive way I can."
Though his subject had been the achievements of a particular battalion of black soldiers during World War II, Kareem Abdul-Jabbar, who was born Lew Alcindor, was obviously aware of the symbolic importance of the appearance of a man who has embraced Islam at an event sponsored by a Jewish Federation. His attempt to encourage tolerance and understanding is on-going, wide-ranging, and, he acknowledged, often challenging.
"It's not a difficult fight," Abdul-Jabbar said. "It is discouraging that we have to have this fight now. I remember when I was learning about Islam back in the '60s. I went to a book store in Brooklyn, an Arab area of Brooklyn, and that bookstore had been there since the 1920s. Muslims have been living here in America under the radar for a very long time. But all of a sudden now, they're a problem."
In addition to as-told-to autobiographies and "Brothers In Arms", Abdul-Jabbar has written or co-written "Black Profiles in Courage", "A Season on the Reservation", which is about his time coaching Apache children, and "On The Shoulders of Giants: A Journey Through the Harlem Renaissance", the story of the Harlem Rens basketball team. Lately he's been involved in making a film based on that story.
If people who know Abdul-Jabbar only as the NBA's leading scorer are surprised by these achievements, it is perhaps because they have taken for granted the sort of stereotype which Abdul-Jabbar proves hollow simply by being who he is.
"The way I tell people, I probably would have been a writer or a teacher if I had had to have a real job, but basketball loomed its head and gave me an outlet for having a career," Abdul-Jabbar said. "I always enjoyed reading, and tried my hand at writing as early as grade school and was always pretty good at it. So it's just something that came naturally to me."
With that, the author and former basketball player stood up, and then stood up some more, reached down to shake my hand, and left the room. For the next hour or so, as a long line of potential readers shuffled past him in the lobby of the Hanover Theater, Abdul-Jabbar signed copies of his book about the 761st — and answered the occasional question about his sky hook, too.
This program aired on October 23, 2010.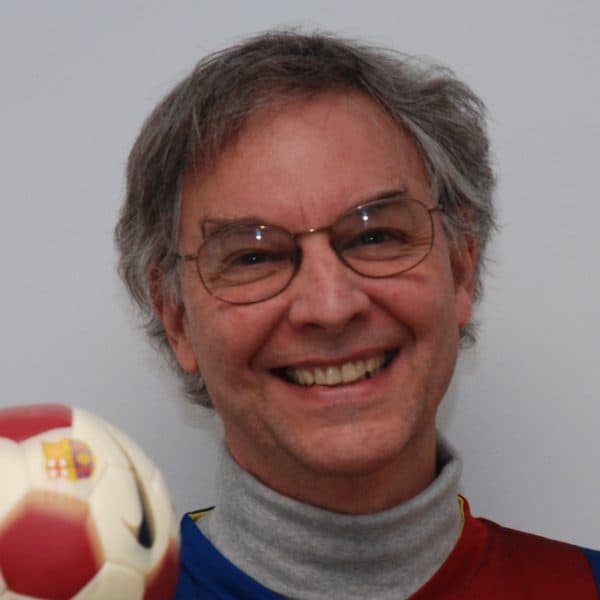 Bill Littlefield Host, Only A Game
Bill Littlefield was the host of Only A Game from 1993 until 2018.