Love It Or Hate It? Nominate The 'Worst Public Art In New England'
02:36
Play
This article is more than 10 years old.
Have you ever walked past a piece of public art and marveled at how misguided it seems? Maybe you've even had a visceral response, and fantasized about making it go away.
If so, Boston Phoenix art critic and blogger Greg Cook feels your pain.
Cook knows oh so well how public art has long been a contentious issue in Boston. Some people love it, some hate it — others think it should be better. Now he's asking us — the public — to nominate the "Worst Public Art in New England."
To talk about his project, Cook and I met at the Boston Irish Famine Memorial in Downtown Crossing. It is two bronze-cast sculptures that depict the Irish immigrant story — before and after. One shows a desperate, emaciated family of three. The second trio is healthy and hopeful since coming to Boston. And they're all covered in pigeon poop.
"I don't think the poop is the problem," Cook said with a laugh, "that's the nature of public things like buildings and stuff. That's not the issue. I don't want to get distracted by pigeons."
The "issue" is that this $1 million historical memorial tops the list in Cook's "Worst Public Art in New England" project, now posted on his blog, The New England Journal of Aesthetic Research.
It sounds like art bashing, but Cook says that's not the point. He says he wants to spark dialogue.
"I'm soliciting nominations," he explained, reporting he's gotten about two dozen so far. Then Cook said, "we're going to have some sort of vote through the New England Journal of Aesthetic Research about what is the worst piece of public art in the area, and then organize a campaign to try to get it removed and then replaced."
Other nominees include the cement, human figures in Somerville's Davis Square, the granite benches at the Downtown Crossing T station and the giant whale mural off Route 93 in Boston's South End.
But why do people despise the Boston Irish Famine Memorial?
Cook read off a list of comments that came in with the nominations.
"Simple-minded, facile, maudlin, utterly appalling and embarrassing, poorly executed, the most-cheesy memorial to human tragedy in Boston," he said.
I pointed to the word "cringing." "Yea, cringing," Cook said, adding, "the Disney realism is a joke."
It sounds like art bashing, but Cook says that's not the point. He wants to spark dialogue, and ask why we — the public — feel like we're stuck with public art once it's installed.
"And I don't mean to be sort of flip or move too fast on it," Cook clarified, "it's not just about trying to like, willy-nilly get rid of stuff, it's about seriously asking the community about what doesn't work and how can we make it better?"
Of course not everybody hates the Boston Irish Famine Memorial. Boston resident Jack Timolty, 53, comes to see it quite often. Sitting next to me in front of the statues he explained, "I'm Irish myself, so my parents were Irish immigrants coming over to this country. And I've heard a lot about the potato famine in Ireland, and it needs to be remembered."
In response to that point, Cook said that if this memorial wins — or loses, as it were — its replacement would also honor the famine.
But what does the city of Boston think of Cook's "Worst Public Art" crusade?
Karin Goodfellow, director for the Boston Arts Commission, can respond to that.
"People have strong opinions," she said, "And I think it's great to give them a place to voice them."
Goodfellow oversees the notoriously tricky public art process for the city. Artists have criticized its complexity for years. She said she recently launched a website to democratize and streamline the system that puts pieces in the ground. It takes years — and lots of money. So then, what does Goodfellow think about the Boston Irish Famine Memorial's fate?
The commission director said legal issues, red tape, big name supporters like the Yawkey Foundation — not to mention personal taste — make its removal pretty unlikely.
But, you might be surprised that among the Boston Famine Memorial's critics is the artist who made it.
"Working on public art is very tricky," sculptor Robert Shure admitted, as so many public artists do.
I visited him at Skylight Studios, his company in Woburn. Recalling the piece's history, the artist said a committee came up with the concept for the Famine Memorial in 1998 — not him. Then he executed their design — too quickly.
"Of course I was a lot younger then, and if I had to do it all over again I probably would've tried to get more time," Shure said. "But I mean, when you're dealing with committees and you're trying to earn a livelihood, it's very difficult, especially if you're not a politician and you're an artist."
Shure knows how un-popular the Irish Famine Memorial has been with critics over the years. He also admitted it doesn't feel very good to know it tops Greg Cook's list of bad public art. But the sculptor has gotten plenty of commissions besides the Boston Famine Memorial — including a plaque for the Ted Williams Tunnel, and the bronze markers along the Freedom Trail — so this one particular piece hasn't hurt his ability to make a living.
And so, now, what are we — the public — supposed to take away from all of this?
It's a tough one. As always, art is a subjective experience. And — good or bad, like it or not — public art is all around us.
What do you think of it?
Greg Cook, the art critic behind "Worst Public Art in New England" wants to know — and, as he puts it, "May the best worst piece win."
This program aired on October 25, 2010.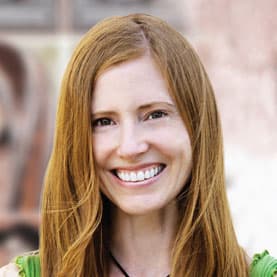 Andrea Shea Senior Arts Reporter
Andrea Shea is WBUR's arts reporter.