Education: Important To The State But Largely Ignored On Campaign
04:28
Play
This article is more than 10 years old.
Education commands a large part of the state budget, but most of those directly affected are too young to go to the polls on Tuesday.
Despite it's importance, the issue hasn't generated as much gubernatorial race attention in debates and on the campaign trail as jobs and health care.
The next governor will profoundly shape the state's education policy for the future, especially important during an administration that will be hampered by budget deficits.
"I think both the candidates are actually deeply committed to education," said Bill Guenther, president of Mass Insight Education.
Mass Insight Education is a nonpartisan organization and has not endorsed any candidates. The group, however, says that it is clear that the important issue of education has not received prime billing this election season, thanks to the economy.
"If we were having the conversation we ought to have, it's really about creating a consensus around the next set of measurable (educational) goals in the state," Guenther said. "The good news is that both (leading) candidates are focused on the achievement gap."
According to Guenther, education in Massachusetts is "recognized around the country as a national leader. But unfortunately, when you look underneath the hood, we're only average on the achievement gap. We're not doing any better than half of the other states in the country."
Even with budget deficits looming, the next governor will have to make decisions on key education policies if the state is to improve the achievement gap between students in low-income communities and students in richer schools.
"What we need to do is to use the opportunity of the crisis to take a look at how we're spending money, and... to encourage local officials and education leaders to take their own bold steps that they sometimes haven't taken in the past."
This program aired on October 30, 2010.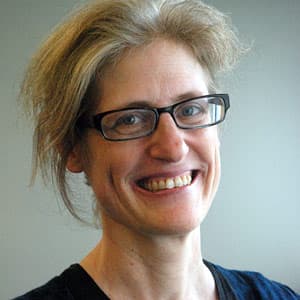 Sharon Brody News Anchor
Sharon Brody is the voice of WBUR's weekend mornings. On Saturdays and Sundays, she anchors the news for Weekend Edition and other popular programs.