Zombies Take Over Fenway
06:27
Play
This article is more than 9 years old.
Blood-curdling screams aren't usually heard at Fenway Park. Actually, let me rephrase that.
We've heard wails of profound disappointment seeping out of Fenway Park, especially this past playoff season. But now they're being replaced by the kind of ear-piercing screams we hear in horror movies. That's because the owners of Spooky World, the famous New Hampshire-based "scream park," have taken possession of the historic stadium — and they're dead set on terrorizing all the brave souls who dare to enter those hallowed grounds.
The Spooky World Warehouse
To find out more I traveled north to meet the masters of horror who have conjured The Fear at Fenway. Spooky World has been scaring the pants off paying customers for 20 years. The 40-acre park is nestled among yellowing cornfields on Route 3A in Litchfield, N.H. But the creepy sets — or haunts — intended for Fenway were built a few miles away in a 40,000 square-foot warehouse across the street from a crematorium.
The Spooky World team works hard at figuring out the best ways to exploit our nightmares — and our senses. They pump in music and the sounds of a distant rain storm approaching, and even smells — like musty perfume.
Inside the warehouse I'm greeted by Spooky World Director Mike Krausert and his sidekick: a monster-sized animatronic prop known as The Necromancer.
"He's over 20 feet tall, so when he stands up he's even bigger than what you're seeing now," Krausert explained, "and he reaches down at the people as they're walking into the park. He's kind of a grave collector or corpse collector."
And The Necromancer speaks in Latin. He's also a star attraction for the next two weeks at Fenway.
Krausert and his sizable crew actually replicated the stadium's dimensions inside this warehouse. They needed to make sure their massive scenes would fit perfectly during installation, including a cemetery with ornate mausoleums and headstones.
"We don't want you to feel like you're in the stadium while you're there," Krausert said as we walked past all manner of props.
There's also a haunted Victorian house known as Brigham Manor. To transform the constructed rooms into something real, the team scoured antique shops and estate auctions for vintage photographs, furniture and some gnarly looking taxidermy specimens.
In "the game room," Krausert pointed to a trick portrait with a sliding panel that drops down to reveal a vicious wolf. It growls and gnashes its teeth at passersby. This "haunt industry" veteran says there's an art to the business of scaring the willies out of us — and everybody is afraid of something.
The Trick To Haunts
It could be angry dogs. Or spiders. Or headless brides. Krausert and the Spooky World team work hard at figuring out the best ways to exploit our nightmares — and our senses. They pump in music and the sounds of a distant rain storm approaching. Even smells — like musty perfume.
"If we can keep you guessing then our job is much easier when we go to actually get you with 'the scare,' " Krausert said, revealing a trick of his trade. "Misdirection is key. It's kind of like a rollercoaster ride: we want to bring you up, and then hit you when you're right at the top, and then bring you down again." Then they let you think it's over — only to hit you again, "when you least expect it."
But creating this experience is no small task, according to Krausert.
"It takes a small army to pull this off, it really does," he said.
Spooky World employs hundreds of people at the height of the season, including actors, who dress as ghouls, creepy clowns, axe-murdering grandmothers and (of course) zombies.
"Our makeup room, at any given time, will have a cheerleader sitting next to a firefighter from Boston, sitting next to a kid who has like 15 piercings in his face and a purple Mohawk, but they all get along, and they all love Halloween!" Krausert said.
Hoards of actors are needed to mount the Fear at Fenway. Some do double duty constructing sets. Krausert walked me over to four young men wielding power tools. They're all huge fans of horror, including 29-year-old Marc Dahlquist.
"If we didn't have such a good time none of it would really be worth it," he said, adding, "the sleepless nights, the seven-day weeks for months on end..."
Twenty-five-year-old Chase Denamur plays a character called Cannibal, and he actually lives at Spooky World, "On the grounds of the arcade, above the catacombs," he said.
It's like working with a big, fear-loving family.
Todd Richardson, 36, said he's been "haunting" throughout New England for 19 years. Now he teams up with his brother-in-horror, Nick Wessely, to handle the lighting, animatronics and special effects at Spooky World. Wessley is also the raspy voice of Spooky World in television commercials.
"Spooky World presents Nightmare New England," he intoned, on cue, "voted by Yahoo as was of the most fearsome places on earth.'"
The 'Trifecta Of Horror'
Then there's the "Trifecta of Terror," who run and fund the whole show. Remember Director Mike Krausert? He's part of that triangle, along with fellow "hauntrepreneurs" Wayne Caulfield and Michael Accomando. They purchased Spooky World in 2008 from the founding owner, David Berolino.
"If somebody had said to me how much time and energy and work it was going to take, I never, ever, ever, ever would've believed it," Accomando said.
But he said the three of them work very well together.
"You know, I can't say that it's all roses, there are shouting matches that take place because there's so much passion between everybody here," he said.
It's an expensive passion because to make money in the $6 billion a year "haunt industry," you need to spend money. Halloween is the second largest commercial holiday in the U.S. after Christmas, and I wondered if these guys have turned a profit since buying Spooky World.
"Wayne's more into the numbers, I'll let him scare you with those," Accomando said with a laugh, "there's nothing scarier than those."
Caulfield said they invested $3 million in the scream park over the past three years. They hope this will be the year they invest when they make some money.
They're close to reaching their goal of 60,000 patrons, he said. Last year they had 51,000. They want to attract 50,000 customers to Fenway at $45 a ticket.
When I asked about the budget for the stadium event, Accomando paused and replied with an air of humor, "By the time it's said and done it will cost $1.5 million to produce the entire show — and that just shows you how we're committed to this project. So we put all our chips on it, and we're hoping that –- or I should say we're expecting –- the results to be successful."
The Spooky World team will know in a matter of weeks. For now, though, they're simply looking forward to the sound of our screams.
And this warning: While The Fear at Fenway features toned-down matinee shows for families, things promise to get heart-poundingly gory at night — after the sun goes down.
The Fear At Fenway runs through Nov. 6. Tickets are $45.
This program aired on October 21, 2011.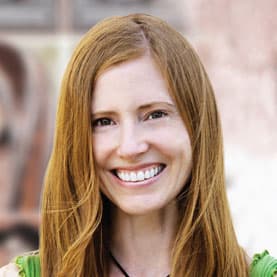 Andrea Shea Senior Arts Reporter
Andrea Shea is WBUR's arts reporter.